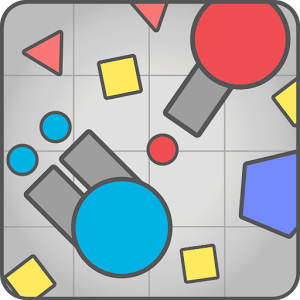 diep.io
From the creator of Agar.io, the newest online smash hit game comes to mobile! Upgrade your tank, shoot down other players and reach the top of the leaderboard!
Shoot and destroy blocks and other players to earn XP, level up your tank and unlock new classes, weapons and abilities! Will you choose the rapid-fire machine gun, control a swarm of guided missiles, shoot in all directions or something else?
MASSIVELY MULTIPLAYER ONLINE ACTION!
Play with dozens of other players at once on huge servers packed with excitement!
MOVE, SHOOT AND SURVIVE!
Destroy blocks and other players to gain XP, but don't get shot down yourself! Stay safe out there!
LEVEL UP AND BOOST YOUR STATS!
Choose which stats to increase and change the way your tank plays! Do you want extra bullet damage or a fast movement speed? It's all down to you!
CHOOSE FROM DIFFERENT TANK CLASSES!
Upgrade your tank to a new class. Machine guns, guided missiles, cannons in every direction… there's a world of choice!
OPTIMIZED FOR MOBILE!
diep.io on mobile offers the same great experience as the hit web game, with new controls perfect for touchscreens!
KEY FEATURES
- Online multiplayer action!
- Dozens of players in each game!
- Fast-paced tank on tank warfare!
- Level up a variety of stats!
- Upgrade into many different tank classes!
- Easy to play but challenging to master!
- Free to play!

This game requires an internet connection.
Don't miss out on the latest news:
Like diep.io on Facebook: http://facebook.com/officialdiepio
Follow us on Twitter: http://twitter.com/official_diepio
------------------------------------
Find out more about Miniclip: http://www.miniclip.com
TERMS AND CONDITIONS: http://www.miniclip.com/terms-and-conditions
PRIVACY POLICY: http://www.miniclip.com/privacy
Developer
Miniclip.com
Category
Action
Last Update
November 29, 2016
Update notes
* New game mode: Tag
* New tanks added: Smasher, Landmine, Auto Gunner, Auto 5, Auto 3, Spread Shot, Streamliner, Auto Trapper
* Bug fixes and performance improvements

Grab a Tank and Hit the Battlefied
The battlefield is no place for the weak or timid. It's time to show the world what you're made of in diep.io, one of the most addictive tank battle games on Android. Based on the hit web game, diep.io puts you in the seat of a tank bent on the destruction of all who stand in your way. Fight against multiple online opponents in real-time as you destroy obstacles and opponents alike. Earn experience points to level up and choose which stats you want to upgrade. Choose from several tank classes and upgrade you tank to features such as spray shots, machine guns, guided missiles and a lot more. diep.io for Android devices takes the best of the browser game and transports to your mobile device for optimal gameplay and enjoyment. Fight with all your might and watch as you climb the leaderboards when you play diep.io on PC and Mac by clicking the link above.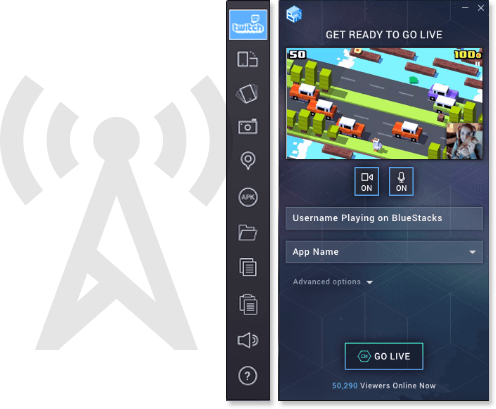 Twitch Broadcasting is Now a Reality for Everybody
The world of Twitch broadcasting is fun and exciting, and it's now accessible to everybody. Some of the biggest names in the gaming industry come to Twitch to show off their latest game exploits live or compete in special tournaments. Broadcasting on Twitch is free and has a lot of great benefits, like meeting diep.io all over the world. Every single day, there are millions of gamers visiting Twitch.tv to watch live video game footage that spans all genres and platforms. While watching these live broadcasts, users can interact with other viewers and the broadcasters themselves. You can join in the fun with BlueStacks 2 and the new one-click broadcasting controls.