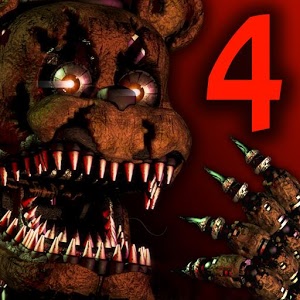 Five Nights at Freddy's 4
NOTE: This game requires at least 512 megs of RAM. Phones with less than that may crash!
This is a 2-night demo of the game. If you enjoyed it, get the full version here: https://play.google.com/store/apps/details?id=com.scottgames.fnaf4
In this last chapter of the Five Nights at Freddy's original story, you must once again defend yourself against Freddy Fazbear, Chica, Bonnie, Foxy, and even worse things that lurk in the shadows. Playing as a child whose role is yet unknown, you must safeguard yourself until 6am by watching the doors, as well as warding off unwanted creatures that may venture into your closet or onto the bed behind you.
You have only a flashlight to protect yourself. It will scare away things that may be creeping at the far end of the hallways, but be careful, and listen. If something has crept too close, then shining lights in its eyes will be your end.
Developer
Scott Cawthon
Category
Action
Last Update
July 25, 2015

Scare the Bejeezus Out of Yourself
Once a loved childhood character, Freddy Fazbear would entertain throngs of children and adults. When a mystical force caused the robotic characters to go a little wacky, they escaped and have begun to strike terror in the hearts of children. As a young child home alone, it is now your duty to ward of Freddy and his evil friends. Armed with only a flashlight, you must survive until 6 am... if you can.

Just as the other games in the Freddy series, this one is full of dark corners, moving things in the shadows, and a whole lotta scares! If you think you have what it takes, Play Bigger with the new Bluestacks Android Emulator. With this powerful but tiny tool, you can install and play almost any Android app right on your computer. In a game where sound is just as important as visuals, being able to clearly hear the monsters in the dark is very important to your survival. When you play Five Nights at Freddy's 4 on PC or Mac, you get the advantage of using your computer's sound system, giving you a more clear idea of what is banging around in the dark.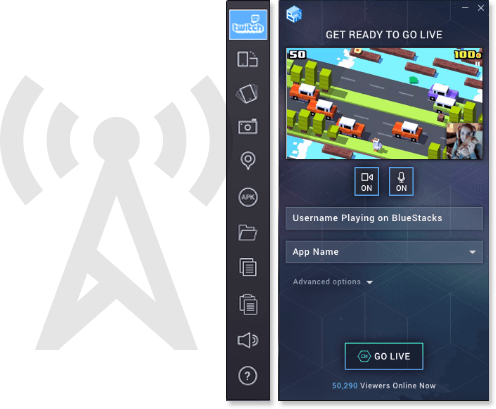 Make This a Night to Remember
Freddy Fazbear's Pizza has had a pretty memorable past, but now it is time to look to the future. Share this bright new Freddy future with the world when you stream Five Nights at Freddy's 4 on Twitch.tv. Twitch has become the largest social network dedicated to gamers and the fans that love them. Users can come and watch some of their favorite players tackle the craziest challenges and chat with others live. With the free BlueStacks 2 gaming app, you can now broadcast your Five Nights at Freddy's 4 gameplay footage to twitch with simple, one-click controls.