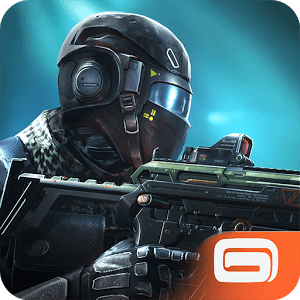 Modern Combat 5: Blackout
> "It plays as good as it looks." – IGN
> "Amps everything up to the next level." – 148Apps
> "Sharp controls, impressive graphics." – Pocket Gamer
War has evolved, and so has the best FPS on mobile!
Step onto the battlefield with the game that raised the bar for first-person shooters. Create a squad, add your friends and test your skills in dynamic multiplayer warfare against online rivals from around the world!
Prefer to work alone? Then step into the thrilling solo campaign as you shoot your way through one dire situation after another to save a world on the brink of anarchy and expose a lunatic's apocalyptic plans.
CHOOSE YOUR FAVORITE CLASS
> 7 customizable classes that you can level up across single- and multiplayer
> Find the playstyle that suits you: Assault, Heavy, Recon, Sniper, Support, Bounty Hunter or Sapper
> Activate class-specific skills by earning and spending Skill Points
HIGH-POWERED MULTIPLAYER
> Watch players in battle with the new Spectator mode
> Epic team clashes in Squad vs. Squad matches
> Talk to other players in Global and Squad Chat
> Individual and Squad leaderboards
> Win cool rewards in the limited-time events
UNIFIED GAME PROGRESSION
> Accumulate XP and level up by playing both single-player missions and multiplayer matches
> Unlock higher-tier weapons by mastering lower-tier ones
> Customize the perfect weapon using a host of attachments and jump straight into the action
INTENSE SOLO CAMPAIGN
> Fast-paced story missions with various challenges taking you from Tokyo to Venice
> Play the new Spec-Ops missions for a real FPS adrenaline rush
> Flawless graphics, music and voice performances perfectly adapted for a shooter game
HIGHLY CUSTOMIZABLE CONTROLS
> Intuitive, highly customizable controls so you can play the game just the way you want
Modern Combat 5 supports HID game controllers. Moga Pro is also supported, in mode B (HID Mode).
Modern Combat 5 requires an Internet connection.
_____________________________________________
Visit our official site at http://www.gameloft.com
Follow us on Twitter at http://glft.co/GameloftonTwitter or like us on Facebook at http://facebook.com/Gameloft to get more info about all our upcoming titles.
Check out our videos and game trailers on http://www.youtube.com/Gameloft
Discover our blog at http://glft.co/Gameloft_Official_Blog for the inside scoop on everything Gameloft.
_____________________________________________
This app allows you to purchase virtual items within the app and may contain third-party advertisements that may redirect you to a third-party site.
Terms of Use: http://www.gameloft.com/conditions/
Privacy Policy: http://www.gameloft.com/privacy-notice/
End-User License Agreement: http://www.gameloft.com/eula/
Developer
Gameloft
Category
Action
Last Update
November 8, 2016
Update notes
NEW TIER OF WEAPONS – PRESTIGE: 7 deadly new weapons that will change the course of a battle
PLAY VIA DATA CONNECTION: Update 12 will experiment with 3G/4G support for all games
SQUADS REVAMPED: Squads can now earn levels, which in turn award passive perks for all members
SINGLE-PLAYER IMPROVED: Rewards have been improved when finishing a chapter both on the first run as well as on replays
RUSH MODE IMPROVED: Spotter feature added to give a continued role to players killed in a match
The World is on the Brink of War
The world sits on the brink of destruction, and it is up to your team of specialized soldiers to hold it all together. Somewhere in the dark, a lunatic holds the world's armed forces at bay. By assembling the greatest fighting team ever, you can stop this madman and bring peace to the world once again. Modern Combat 5: Blackout is an intense first-person shooter with amazing graphics and realistic sounds. Fight in several solo missions or battle it out with your friends in multiplayer mode.

Make your gaming experience even more realistic by downloading the new BlueStacks Android Emulator app for PC. This free program gives you the power to play any Android game right on your home computer. Instead of fumbling around a small touch screen trying to hit enemies you can barely see, you can now use the deadly accuracy of your mouse to blast your way through any dire situation. Accumulate experience points more quickly with the BlueStacks advantage and rise through the ranks. Win more PvP challenges by playing bigger and download BlueStacks from the link above.