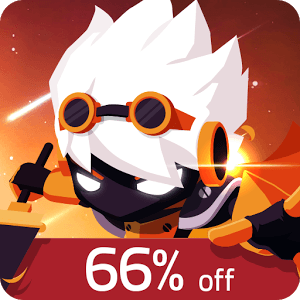 Star Knight
*** 66% OFF for a limited time! *** Global release celebration!

Easy games are no fun! If you are tired of meaningless automatic actions, Star Knight is the perfect game for you!

A fantastic balance between gorgeous graphics, adventure, and action, challenge yourself to the high level action platform game, Star Knight!

The peaceful planet Gaon is under attack by hordes of monsters, and Dark Dragon Nidhogg took away the sun.
Can the knight 'Naro' overcome the challenges ahead and bring back peace?

* Complete the beautiful yet different stages!

- Try again and again to reach the objective of stages full of various terrain and unique traps.
- Defeat increasingly powerful and diverse enemies. You will be rewarded with satisfying hits during your attack!
- Overcome bosses with special and powerful patterns and claim your reward!

* Collect and grow your character!

- Purchase powerful weapons with the coins you've collected! Better swords can contain more skills.
- Collect runes to claim more powerful and impressive skills.
- Find hidden items and jewel chests. Your character will become more powerful!

* Participate in the competitive arena mode!

- Fight as you wish in the simple stages of arena mode, and claim coins!
- Survive the endless wave of enemies as long as you can and compete with other players!
Developer
LeftRight
Category
Action
Last Update
June 28, 2016
Update notes
구글 플레이 라이브러리 업데이트
클라우드 세이브 오류 - 스테이지 진행 초기화 오류 수정

The Sun Has Gone and Now Gaon Needs a Hero
There once was a peaceful land by the name of Gaon. The people of Gaon were happy in their lives and praised the Gods for their fortune. One day, the evil Dark Dragon Nidhogg came and forced the sun away from the planet. Now, hordes of monsters are invading Gaon and the people are in need of a hero to save them. Knight Naro is a brave fighter ready to take on this great challenge. Help Naro fight the forces of evil and darkness and return the sun to the people of Gaon in Star Knight.

Play through many beautifully designed levels that mix dark and light elements into a spectacular game. Every level is progressively tougher yet just as beautiful as the last. Don't get too engrossed in the beautiful scenery as the monsters and enemies are very real and looking to hunt you down.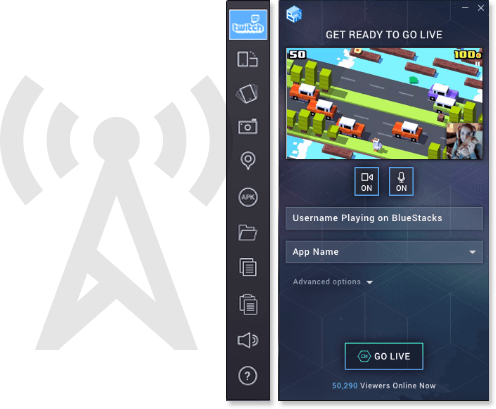 Bring Back the Sun and Defeat the Dark Dragon
All eyes are on you, Star Knight, as you attempt to defeat the evil Nidhogg and return the sun to the people of Gaon. This has never been truer than it is when you change the game with BlueStacks 2. Players can now share their favorite Android games and apps to the huge Twitch.tv community of gamers and fantasy lovers. Twitch allows players to broadcast their latest video game footage live to their network while others watch and interact live. Users can stream or view videos from a wide assortment of games covering every genre and platform, follow their favorite broadcasters, and even cultivate a following of their own. With BlueStacks 2, Twitch broadcasting is as easy as one click of a button. Start streaming Star Knight today.