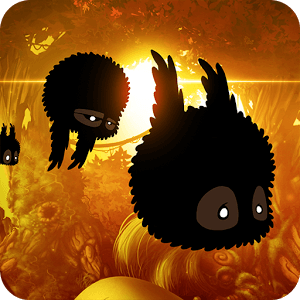 BADLAND
Fly and survive through the
Game of the Year
-winning action adventure BADLAND.
More than 40 MILLION players and counting!
★ 5/5 - AppSmile
★ 4/4 - Slide to Play
★ 5/5 - AppSpy
★ 9.2/10 - Multiplayer.it
★ 9/10 - Destructoid
★ 4.5/5 - TouchArcade
"BADLAND is one of the most beautiful games on Android and one of the must download games of 2013." -- Android Authority
"BADLAND is a standout game that we can't stop playing." -- AppSmile
"BADLAND's unique gameplay and atmosphere make it a must-download." -- Slide to Play
"BADLAND doesn't simply look pretty, it's an absolute treat to play" -- AppSpy
"A hallmark of excellence." -- Destructoid
★ WINNER ★ Outstanding Mobile Game -- Satellite Awards 2014
★ WINNER ★ Grand Prix -- the International Mobile Gaming Awards 2014
★ WINNER ★ Nordic Indie Sensation Award -- Nordic Game 2013
★ WINNER ★ Apple Design Award 2013
★ WINNER ★ Apple iPad Game of the Year 2013
★ WINNER ★ Best Project -- Game Connection Europe 2012
★ WINNER ★ SCEE Award -- Game Connection Europe 2012
OVERVIEW
BADLAND is an award-winning atmospheric side-scrolling action adventure platformer set in a gorgeous forest full of various inhabitants, trees and flowers. Although the forest appears to be right out of a beautiful fairy tale, there's something terribly wrong. The player controls one of the forest dwellers to find out what's going on, and discovers an astonishing number of imaginative traps and obstacles on the way.
BADLAND takes side-scrollers to the next level with its innovative physics-based gameplay combined with stunning, atmospheric graphics and audio.
BADLAND also features a highly original local multiplayer mode for up to four players on the same device, where the name of the game is survival of the fittest with no rules. It's totally OK to push your rivals in front of spinning circular saws to survive. Or, if that's too rough for you, you can also cooperate with your friends and play the modified single player campaign with up to four players.
FEATURES
• SINGLE PLAYER campaign with 100 truly unique levels and more coming in updates
• MULTIPLAYER mode for up to four players on the same device in 23 levels and more content in future updates
• COOPERATIVE mode for up to four players - Survive the modified single player campaign with your friends
• LEVEL EDITOR: Create levels, share & play!
• LEVEL WORLD: New levels to play all the time
• Intuitive one-touch controls combined with innovative level design
• Full support for game controllers
• Highly immersive audio-visual gaming experience
• Designed for Android phones, tablets and Android TV
• Supports Cloud Save and Immersive mode
• More levels and content coming in updates
Now featured on NVIDIA TegraZone. Plays great with full controller support on NVIDIA SHIELD Portable and SHIELD Tablet, and Android TV.
Follow us
Facebook - http://www.facebook.com/badlandgame
Twitter - http://www.twitter.com/badlandgame
Blog / www - http://www.badlandgame.com
BADLAND Forum - http://forum.badlandgame.com/index.php
Developer
Frogmind
Category
Adventure
Last Update
November 1, 2016
Update notes
- Eternal Day now has a selection of 40 of the best of the best levels. They feature creativity, playfulness and thinking outside the box to create something new and interesting within the BADLAND mechanics.
- Go check out the crazy levels from Eternal Day!
- Editor: Linker now works properly with Clony
- Fixed some impossible missions in Coop
- A bunch of smaller fixes
Huge thanks for creating already more than 70 000 levels (and counting) and for all your feedback and support!

Explore the Deep Forest in This Hauntingly Beautiful Gaming Experience
The forest is home to a whole host of different animals, species, monsters and more. While all may seem right as rain on the surface, there is something lurking underneath it all that just doesn't feel right. Take on the task of exploring the dark forest and learning all of its secrets on a quest to find out what is really going on. Enjoy challenging areas with plenty of physics-based gameplay and great multiplayer options.

Play BADLAND on PC and Mac to be truly immersed in this fantastical world that has to be seen to be believed. Install the new BlueStacks Android Emulator on your Windows computer to instantly open the door to the wide variety of apps and games that were only available for Android devices. Now they are all available to your computer thanks to the free BlueStacks tool. Click the link above to play BADLAND on PC and Mac using BlueStacks today.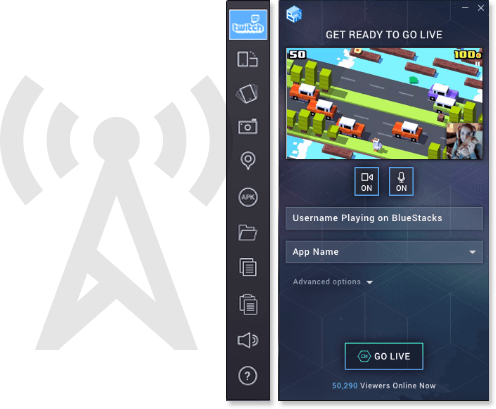 Stream BADLAND on Twitch With BlueStacks 2
It's no secret that gamers have always enjoyed watching footage of their favorite games getting the smackdown from a great player. In today's digital age, that has not changed and thanks to Twitch.tv, it has become one of the fast-growing hobbies within the gaming community. These days, it's common to find those who enjoy watching games more than they enjoy playing them. When you Play Bigger with BlueStack 2, you can join the throngs of gamers who are streaming BADLAND content on Twitch right now. Show your favorite levels and build up your own group of fans and followers.