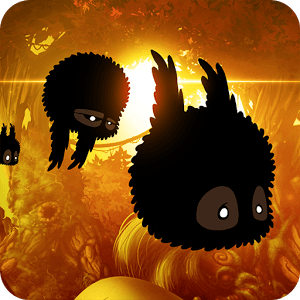 BADLAND
Überlebe deinen Flug durch das als
Spiel des Jahres
ausgezeichnete Action-Adventure BADLAND
Mehr als 40 MILLIONEN Spieler - Tendenz steigend!
★ 5/5 - AppSmile
★ 4/4 - Slide to Play
★ 5/5 - AppSpy
★ 9.2/10 - Multiplayer.it
★ 9/10 - Destructoid
★ 4.5/5 - TouchArcade
"BADLAND ist ein herausragendes Spiel, von dem wir nicht genug kriegen können." - AppSmile
"BADLANDs einzigartige Spielmechanik und Atmosphäre machen den Download des Spiels zu einem absoluten Muss." - Slide to Play
"BADLAND ist nicht nur hübsch anzuschauen, sondern auch ein absolutes Spielvergnügen" - AppSpy
"Ein Zeichen für Qualität." - Destructoid
★ GEWINNER des Nordic Indie Sensation Award der Nordic Game Konferenz 2013
★ GEWINNER der Kategorie "Best Project" der Game Connection Europe 2012
★ GEWINNER des "SCEE Award" der Game Connection Europe 2012
★ Selected Indie Game PAX 10 2013
BADLAND ist ein preisgekrönter, atmosphärischer Action-Adventure-Sidescroller und Plattformer, der in einem wunderschönen Wald voller unterschiedlicher Bewohner, Bäume und Blumen spielt. Zwar wirkt der Wald, als sei er einem zauberhaften Märchen entsprungen, doch scheint dort etwas ganz und gar nicht zu stimmen. Der Spieler steuert einen der Waldbewohner, um herauszufinden, was los ist. Auf seiner Reise entdeckt er eine erstaunliche Anzahl an einfallsreichen Fallen und Hindernissen.
Durch die Kombination seiner innovativen, physikbasierten Spielmechanik mit einem wunderschönen, atmosphärischen Grafik- und Audiodesign legt BADLAND die Messlatte für Sidescroller noch eine Stufe höher.
Zudem verfügt BADLAND über einen äußerst originellen lokalen Mehrspielermodus für bis zu vier Spieler, die mit demselben Gerät spielen. Im Mehrspielermodus kann nur der Stärkste überleben, Regeln gibt es keine. Es ist absolut in Ordnung, seine Kontrahenten gegen rotierende Kreissägen zu stoßen, um zu überleben.
• Einzelspieler-Kampagne mit 100+ einzigartigen Level
• Mehrspieler-Modus für bis zu vier Spieler, die auf demselben Gerät in 30+ Leveln spielen, von denen weitere in Updates folgen
• Koop-Modus für bis zu vier Spieler
• Überlebe die angepasste Einzelspielerkampagne gemeinsam mit deinen Freunden
• LEVEL-EDITOR: Erstelle Level, teile und spiele sie!
• Beginne von Anfang an oder modifiziere offizielle Level
• LEVELWELT: Konstant neue Level zum Spielen
• Intuitive One-Touch-Steuerung mit innovativem Leveldesign
• Sehr immersives audiovisuelles Spielerlebnis
• Unterstützt Android-Handys und -Tablets
• Weitere Level und Inhalte folgen in Updates
Folge uns:
Facebook - http://www.facebook.com/badlandgame
Twitter - http://www.twitter.com/badlandgame
Blog / www - http://www.badlandgame.com
BADLAND Forum - http://forum.badlandgame.com/index.php
Entwickler
Frogmind
Kategorie
Abenteuer
Letztes Update
1. November 2016
Update-Benachrichtigungen
- Eternal Day now has a selection of 40 of the best of the best levels. They feature creativity, playfulness and thinking outside the box to create something new and interesting within the BADLAND mechanics.
- Go check out the crazy levels from Eternal Day!
- Editor: Linker now works properly with Clony
- Fixed some impossible missions in Coop
- A bunch of smaller fixes
Huge thanks for creating already more than 70 000 levels (and counting) and for all your feedback and support!

Explore the Deep Forest in This Hauntingly Beautiful Gaming Experience
The forest is home to a whole host of different animals, species, monsters and more. While all may seem right as rain on the surface, there is something lurking underneath it all that just doesn't feel right. Take on the task of exploring the dark forest and learning all of its secrets on a quest to find out what is really going on. Enjoy challenging areas with plenty of physics-based gameplay and great multiplayer options.

Play BADLAND on PC and Mac to be truly immersed in this fantastical world that has to be seen to be believed. Install the new BlueStacks Android Emulator on your Windows computer to instantly open the door to the wide variety of apps and games that were only available for Android devices. Now they are all available to your computer thanks to the free BlueStacks tool. Click the link above to play BADLAND on PC and Mac using BlueStacks today.