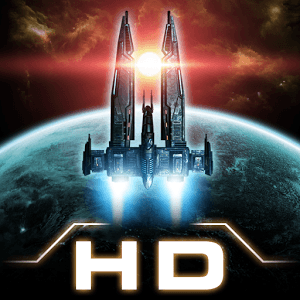 Galaxy on Fire 2
[ The eagerly anticipating "All Android" version of Deep Silver FISHLABS' genre-defining 3D open space shooter -- including the extensive Valkyrie™ and Supernova™ expansions! ]
# # # AN UNPRECEDENTED OUTER SPACE ADVENTURE # # #
Galaxy on Fire 2™ HD is the fully optimized Google Play version of Fishlabs' multi-award-winning space combat and trading simulation. With cutting-edge 3D graphics, an unprecedented depth of gameplay and 10+MM installs over all kinds of mobile platforms, the title is rightfully considered a benchmark of sci-fi gaming on smartphones and tablets by fans and media alike!
# # # A CONTINUOUS STREAM OF NEW ADVENTURES # # #
In the game, you take over the role of the hot-headed space war veteran Keith T. Maxwell and save the galaxy from its impeding destruction by the hands of devious alien raiders, ruthless space pirates and power-crazy madmen! Besides the 10+ hours campaign of the main game, you can also take on two additional adventures by unlocking the extensive story add-ons Valkyrie™ and Supernova™. Granting exclusive access to tons of new missions and content, they are available via in-app purchase and can be enjoyed right away, no matter how far you've progressed in the main storyline!
In addition, you can also buy various credit packs and purchase your own space station, the infamous Kaamo Club, in order to stock valuable goods and park or even pimp your favourite space ships.
# # # TRUST THE MEDIA # # #
The international press loves Galaxy on Fire 2™ HD and says "that currently there is no other game on Android that could rival GOF2 in terms of complexity" (Chip.de) and that it "takes mobile gaming to a whole new level with its amazing details and rich gameplay" (AndroidPolice.com).
# # # TRUST THE FANS # # #
The fans have given Galaxy on Fire 2™ HD thousands of 5-star ratings! According to them, it resembles "Elite on the Commodore 64, but with amazing graphics" (E.K. Hartley) and is "so addicting, I played for an hour and it felt like 15 minutes" (S. Wickstrom).
# # # HUNDREDS OF UNIQUE FEATURES # # #
• Achievements and leaderboards via Google Play game services (GPGS)
• A vast galaxy with over 30 star systems and more than 100 planets and space stations
• More than 50 customizable spaceships and hundreds of different weapons systems, power-ups and commodities
• A unique mixture of story-driven, mission-based and sandbox gameplay
• High-quality visuals including detailed 3D models, hi-res textures and breath-taking Special FX
• 3D sound, orchestral soundtrack and full voice-acting
• Action Freeze™: Take screenshots from any perspective and save them onto your device
• Full support of the differing resolutions and capabilities of 200+ Android-powered smartphones and tablets
# # # JOIN THE COMMUNITY # # #
Get in touch with thousands of other Galaxy on Fire 2™ fans through our official website, forums and social media profiles! We're looking forward to hear from you!
Official Galaxy on Fire Homepage - http://www.gofalliances.com/
Official Fishlabs Homepage - http://www.dsfishlabs.com/
Official Fishlabs Forums - http://forums.dsfishlabs.com/en
Official GOF2 HD Trailer - http://bit.ly/gof2-hd-trailer
Like GOF on Facebook - http://www.facebook.com/galaxyonfire
Like us on Facebook - http://www.facebook.com/fishlabs
Follow us on Twitter - http://www.twitter.com/dsfishlabs
Check us out on YouTube - http://www.youtube.com/fishlabsgames
# # # HARDWARE REQUIREMENTS # # #
Galaxy on Fire 2™ HD requires Android 3.0 or higher (i.e. Honeycomb, Ice Cream Sandwich or Jelly Bean).
Developer
Deep Silver
Category
Arcade
Last Update
July 7, 2015
Update notes
- minor bugfixes and improvements

Explore Space and Save Humanity on Your PC
As a space veteran, you are tasked with exploring deep space and saving mankind from a whole variety of aliens, raiders and evil creatures. Thanks to a malfunctioning hyperdrive, Keith T. Maxwell is thrown 35 years into the future and lands on a mining planet he has never heard of. Maxwell's long history as a space war soldier and gun-for-hire will come into play as he battles a new threat called the Void, who seek to destroy the peace the universe has had for so long.

A science fiction story this large was meant to be played on the big screen. Download the new BlueStacks Android Emulator to harness this epic space adventure and bring it home to your PC. Once downloaded, the free BlueStacks app gives you the power to download and install Galaxy on Fire 2 on PC, as well as almost any other Android app. Experience the stunning visuals in HD on your screen while the amazing sound effects and music will take you to another galaxy. Thanks to your phone's internet connection, the game loads quickly every time.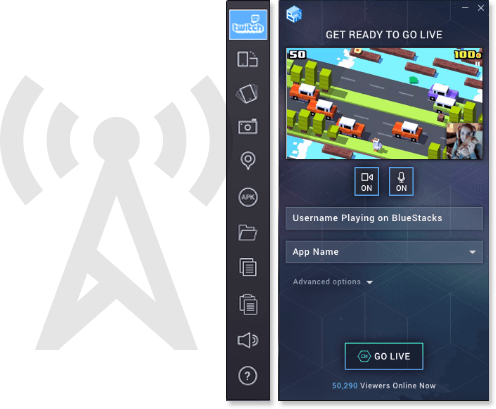 The Galaxy is on Fire for the World to Watch
In this new era of gaming that we now find ourselves in, it is more common to find players watching live Galaxy on Fire 2 broadcasts on Twitch.tv than ever before. This is because the newest version of the BlueStacks 2 player contains new Twitch compatibility. Now, with the easy to learn controls, any player can become a Twitch broadcaster and stream Galaxy on Fire 2 to millions of other fans. Twitch is more than a video sharing site, it has become the go-to spot for gamers to connect and find tips on almost any game imaginable.