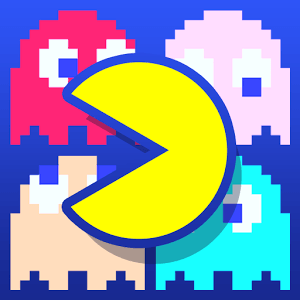 PAC-MAN
Enjoy everyone's favorite classic arcade game, PAC-MAN, for FREE!
Earn high scores as you eat fruit and run away from the Ghosts: Blinky, Pinky, Inky, and Clyde. Or, gobble a Power Pellet and get the Ghosts before they get you! PAC-MAN is the retro arcade game you know and love, but bigger and better than ever before! Join millions of fans worldwide and compete in Tournaments, experience new Mazes, earn Achievements, and win bragging rights at the top of the Leaderboards!
CLASSIC ARCADE ACTION
• The retro arcade classic version that feels just like it did in the arcades
• Old school challenge, with no quarters and no lines
• Avoid the ghosts and eat the fruit and dots, just like in the arcade
NEW MAZES
• Mazes of all shapes and sizes available to add to your collection
• Each maze requires different strategies. Can you master all the mazes?
FUN TOURNAMENTS
• Take the Tournament challenge! Play competitive games and win big
• The competition heats up with multipliers that increase your score
• Bonus rounds give you extra lives
• Reaction time and reflexes are key as you chomp towards the best score
ACHIEVEMENTS & LEADERBOARDS
• The classic old school game, now with EVEN MORE Achievements
• Leaderboard lets you challenge your friends and become the best retro gamer in the world
HINTS AND TIPS!
• Check out the Insider pro-tips to help you become a champion!
Discover the retro classic all over again! Bring the old school arcade action of PAC-MAN anywhere you go, now with updated Achievements, tournament play and Leaderboard support!
Download PAC-MAN today!
Like us on Facebook: https://www.facebook.com/PACMANForMobile
For more information on PAC-MAN checkout http://www.pacman.com/!
For more information on BANDAI NAMCO Entertainment America Inc:
Checkout our website: http://www.bandainamcoent.com/home.html
Follow us on Twitter: https://twitter.com/BNGAMobile
Subscribe to our Youtube channel: https://www.youtube.com/user/BNGAMobileTube
Games You May Like:
PAC-MAN CE DX
Outcast Odyssey
PAC-MAN Friends
Developer
BANDAI NAMCO Entertainment America Inc.
Category
Arcade
Last Update
November 22, 2016
Update notes
TRICK OR TREAT! Don't be scared of this update, PAC-MAN and the ghosts are here to bring you a HAPPY HALLOWEEN!

The Original is Back!
In the 1980s, there was one arcade game that managed to take the entire world by storm, and now, three decades later, our pellet chomping hero is still as popular and starring in a brand-new video game. Play PAC-MAN on Mac and PC to experience the ultimate gaming nostalgia! This new version of PAC-MAN is both new and familiar at the same time. Enjoy hours of fun chasing ghosts and chomping pellets old-school style with the classic arcade version of PAC-MAN. Tackle all new mazes and unlock even more challenging ones. Each maze will require a different strategy, so think carefully but act quickly. Show off your chomping skills by competing in global tournaments for cool prizes or breeze through some bonus rounds for an extra guy or two. The PAC-MAN we all know and love has come to Android in the best way possible. Flash back to your childhood and play PAC-MAN on Mac or PC today.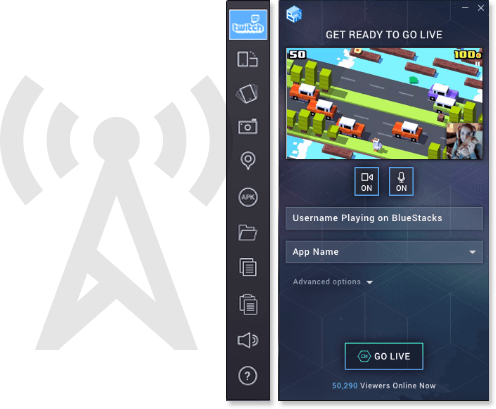 Gamers Love Watching the Classics
Dude, that is just a simple fact. Every gamer knows and respects the classics and generally enjoys watching other players take them on. Right now, there are thousands of live feeds on Twitch.tv featuring players broadcasting games from all eras and consoles. With the power of the BlueStacks Advantage, you now have one-click access to the world of Twitch broadcasting. Join millions of other gamers and app users on the largest social gaming site in the world. Follow the players you enjoy watching and chat live during broadcasts with other PAC-MAN fans from around the globe.