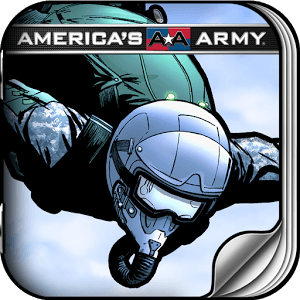 Americas Army
Note: This app is intended for Tablets 7" and above.
Introducing a free, ground-breaking digital comic reading experience for your Android tablet featuring heroes from America's Army! Brought to you by the same team that creates the highly successful America's Army PC game, this App allows readers to enjoy the America's Army comic series through revolutionary animated panels, authentic sound effects and bold musical scores.
Follow the saga of courageous U.S. Soldiers deployed to the war torn region of Czervenia, which serves as the main battlegrounds in the America's Army game, in this episodic and interactive comic book.
The App features our first two issues. The first issue, Knowledge is Power, immerses readers in the Ostregal Islands where a humanitarian mission soon turns mysterious and deadly when a Long Range Reconnaissance Team witnesses an ominous scientific discovery deep in an enemy forest - an impending threat that could jeopardize the mission and endanger the entire world.
In the second issue, Rise to the Challenge, Sergeant Roy Lacroix examines his life as he goes from his humble beginnings as a high school student to a Special Forces medic deployed in Czervenia while realizing the value his hard work and determination has meant to the people he's encountered along his journey.
Learn more about the U.S. Army by browsing through the interactive Intel Section that showcases state-of-the-art gear, weapons, aircraft and more!
Experience the official comic book of the United States Army. Download this innovative jump into digital comic technology and stay tuned for more free exciting issues and updates. HOOAH!
Developer
Army Game Studio
Category
Comics
Last Update
November 19, 2013
Update notes
Changes in Version 1.2.69661
- Support Transformer Prime Tablet
- Navigation Guidance for Issue 2
- Performance Tweaks
- Bug Fixes

Let the Games Begin with Blood and Glory on Your PC
The days of epic gladiator battles have returned in this action packed game. Take your place among some of the greatest fighters in history as you slash and swipe your way through intense battles. Hear the cheer of the crowd as they scream for more. As you battle your way through the ranks of gladiators, unlock a variety of weapons to unleash Hell on your opponents.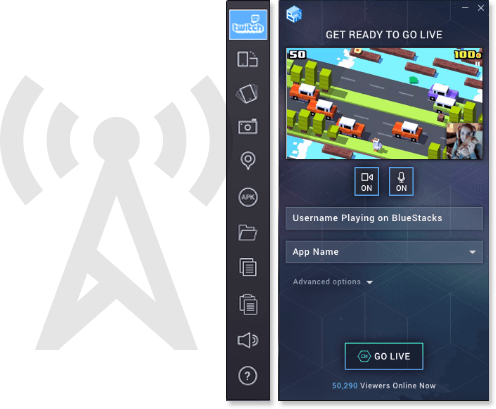 Bring the Entire World Into Your Living Room
Today's mobile gamer is looking for more than just a great game to play when they're alone. They want a gaming experience that is challenging and combines elements of solo play and a great social experience. With the new BlueStacks 2. gamers can now easily stream America's Army footage right onto the quickly growing Twitch.tv community of gamers. Easily find other fans and players of America's Army and share your own tips, tricks, and experiences with them via one-click controls in the new and improved BlueStacks 2 gaming app and player.