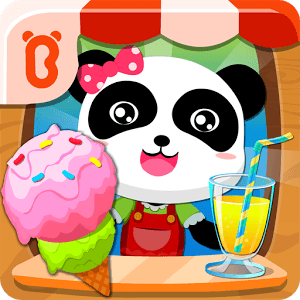 Ice Cream & Smoothies
Summer is here!
Miumiu, our little panda, is waiting for you to help her! It's so hot and there's nothing like ice cream, smoothies and juices! Let your children join the fun with our panda and her friends and learn while playing!
MANAGE YOUR OWN SHOP AND MAKE YOUR CUSTOMERS HAPPY
Ask them what they want and serve it up to your little friends, they would love it!
CREATE YOUR OWN RECIPIES (DIY Recipies)
Choose your favorite shapes, fruits and flavors! There are more than 10!
Mango
Banana
Strawberry
...

Fun features:
* Cute and fun animations and sound effects
* Your favorite characters and animals
* Learn everything about ice cream and smoothies!
* Kid-friendly interface
-- -- -- 
Design concepts:
We focus on inspirational learning;
We focus on skill-building;
We focus on bringing fun contents to our young audience;
Take the baby bus for an unique learning experience!
The series introduction:
Baby Bus is the first trusted brand in early childhood educational software. The mobile applications are designed and developed specifically for preschoolers, and they are divided into two groups by age, the Starter Group for toddlers between the ages of 1 and 3 and the Prodigy Group for children between the ages of 3 and 6.
The educational series in the Prodigy Group combines the main concepts of early childhood education to meet the needs of mastering different learning categories. The applications are aimed at the comprehensive and the analytic development in preschoolers.
Tips: In the search bar, enter "BabyBus" to find all of our products.
Contact us:
E-mail: en@babybus.com
Website: http://www.babybus.com
Facebook: https://www.facebook.com/BabyBusENGLISH
Twitter: https://twitter.com/BabyBus_apps
Developer
BabyBus Kids Games
Category
Educational
Last Update
December 23, 2016
Update notes
This upgrade
1. Bugs fixed.
Recent upgrades
1. Screen rotation feature avaliable.
2. HD logo avaliable.
3. Feedback feature improved.
4. Use the ¨previous¨ button to go back to the previous screen.
5. Unnecessary access request has been deleted.

When the Summer Gets Hot, It's Smoothie Time!
Are you looking for a new, family-friendly game for your children? Join the adorable panda Miumiu as get opens up her ice cream and smoothie stand for her friends. The sun is beating down and the temperature is rising. Miumiu's friends are all waiting in line to try some of her delicious treats. You have to help Miumiu serve her friends as you play through multiple scenarios. Find out what each one wants to order and then make their treat just like they want. Feel free to experiment and make your own treats using ten different flavors like mango, banana, and strawberry.

Your children will fall in love with the adorable animals and cute sound effects while you will enjoy knowing they are playing a non-violent game that actually teaches them in the process. Ice Cream & Smoothies is aimed at fostering your child's comprehensive and analytic development and learning skills.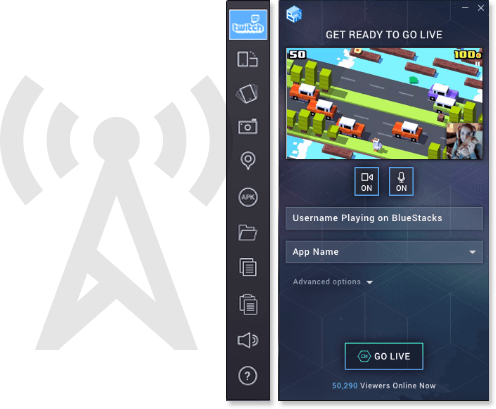 Twitch Broadcasting is Only a Click Away
One of the largest and most active online gaming communities is Twitch.tv. Every single day, you can find at least one million live video game broadcasts being hosted on Twitch. These live feeds cover games across all platforms and genres and players just like you. Join in the fun by playing Ice Cream & Smoothies on PC or Mac with the new and improved BlueStacks 2 player. Now, you simply need to click a button to begin streaming your mobile gaming world to the players on Twitch.tv. Follow the players you like, interact live with broadcasters, and make lots of new friends on Twitch.