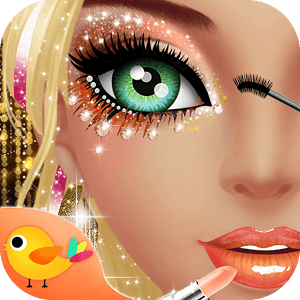 Make Up Me Superstar
Hurray! Dear fashion lovers, here comes our "Make-Up Me: Superstar", which is urgently looking for the most shining star.
Various haircuts, delicate accessories, styling glasses and dazzling cosmetics, all those things are offered to you, from soup to nuts. Wanna create a sweet and cute look? Or do you prefer to be an extraordinary rocker? Here, you can be the one as you wish. What's more, you can take a photo and sign your name to make it exclusive. Dear, a shining beauty like you shall always glitter. Come on! Let's makeup in style, and let's makeup for a while!
How to play:
Open the game, after you choose the skin color, you can show your special talent and taste of fashion bit by bit. Step One: pick a stylish haircut and color it with your creativity. Step Two: put on the eyeliner, blush, lipstick, etc. By the way, try some tattoos and beautiful rhinestones, and they sure won't let you down. Step Three, choose some chic accessories to adorn the look. Hair clips, earrings, glasses, don't miss any of them! Wow~ look at this girl! Let's take a photo for the beauty! Oh, see~ there is a "Quill Pen" in the bottom right corner! Tap it to sign your name and click "Ok" to confirm. Done! Your friends are waiting to see your work, share with them right now. Or you can tap "Contest" and submit it to challenge the best designs of the week! Honey, it's definitely the best game to spark the creativity and imagination. Let's go!
Features:
- Unusual fashion style builds the superstar
- Tons of cosmetics and accessories are free to choose
- The cool eye shadows set the face off to advantage
- Sign on the photo to make it exclusive
- Challenge the best designs every week
About Libii Game:
With over 200 million downloads and growing, Libii is committed to creating innovative games for kids. We'll keep working on establishing a good relationship with both parents and their children and bringing a healthy, happy atmosphere for them.
Visit us: http://www.libii.com/
Like us: http://www.facebook.com/LibiiGame
Contact us:
Got any ideas? Suggestions? Need technical support? Please feel free to contact us 24/7 at WeCare@libii.com
Need You Know:
This app is totally free to download and play, some basic items are also free to use, but some additional items need you to purchase and pay to unlock. Therefore, if you do not want to use these items, please turn off the in-app purchase in your settings. Thanks.
Developer
Libii
Category
Educational
Last Update
July 22, 2016

Become a Designer to the Stars!
It may seem like superstars are always made up to look beautiful, but the truth is, there are teams of people that are paid to make them look beautiful. Now, you have the chance to become one of these creative designers and make-up artists. Play Make-Up Me: Superstar on Mac and PC to begin your dream job as a fashion designer and make-up artist to the stars. Show off your creative side over and over again with a wide variety of hair styles and colors. Beauty begins from the top down, so after designing the great 'do, you can start creating a unique look with make-up, rhinestones, and a selection of top-of-the-line accessories and products. Put on the finishing touches to your star's lips and viola! Once you have completed you hot design, sign your name to your masterpiece and share it with your friends and family. There are even contests for you to enter your best designs into.