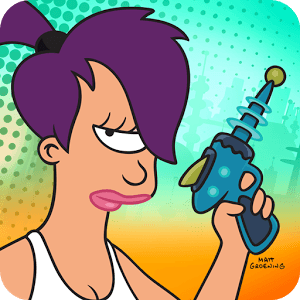 Futurama: Game of Drones
GOOD NEWS, EVERYONE!
This is Professor Farnsworth. I'm sending you off on a whirlwind of deadly, quite deadly, and very deadly missions! I've created an array of delivery drones to make your almost certain death more fun than my trip to Ecstasia 9, the fun planet!
Oh, and remember, the drones require almost constant attention, so you'll need to make sure they're arranged in groups of four or more. I also added some rather explodey doohickies, so look out for super drones like the triple-dipple laser drone, oh my.
I expect you to behave in a manner becoming of a Planet Express employee, so that means no destroying all humans, Bender! And you'll need to use each of your special abilities to get those packages delivered before we inevitably go bankrupt and you're all living on the streets!
Come along, off you go. It's time for my nap, oh yes.
*FUTURAMA: GAME OF DRONES FEATURES*
NOT SURE IF MATCH 3, OR… – This isn't Slurm Soda Crush Epic! You gotta match 4, dummy.
YOU'RE SPECIAL – Use your special delivery boy superpowers, like, erm… oh never mind
EXPLORE THE FUTURAMA UNIVERSE – And teach colorful aliens how to lurve

ALL GLORY TO THE HYPNOTOAD. DOWNLOAD FUTURAMA: GAME OF DRONES NOW! ALL GLORY TO THE HYPNOTOAD.
Developed in collaboration with The Simpsons creator, Matt Groening.
Futurama: Game of Drones is free to download and play, but it also allows you to purchase virtual items with real money inside the game. You can disable in-app purchases in your device's settings.
You may require an Internet connection to play Futurama: Game of Drones and access its social features. Futurama: Game of Drones may also contain advertising.
-------------------------------------------------------------------------
Facebook: https://www.facebook.com/FuturamaGameOfDrones
Support: https://wooga.helpshift.com/a/futurama/
Terms of Use: http://www.wooga.com/legal/terms-of-use/
Privacy Policy: http://www.wooga.com/legal/privacy-policy/
-------------------------------------------------------------------------
Developer
Wooga
Category
Puzzle
Last Update
November 23, 2016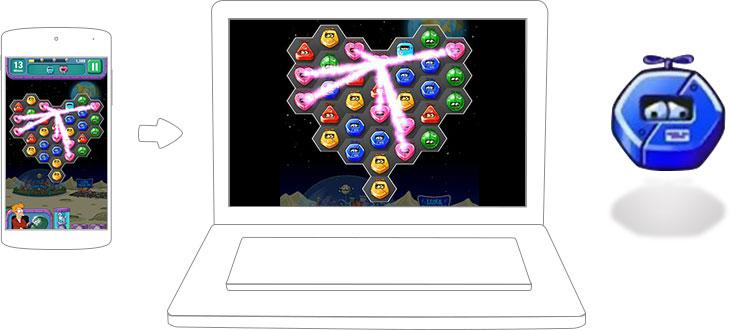 More Fun Than a Trip to Ecstasia 9 - the Fun Planet!
Professor Farnsworth has a few missions for the Planet Express crew that will most assuredly mean their glorious demise... I mean, horrible demise. A group of drones has been sent along to ensure this horribly glorious demise occurs perfectly. Help the Planet Express crew by matching 4 or more like-colored drones and watching them explode into a million pieces. Each crew member has their own unique special ability that will come in handy when delivering some of the more dangerous packages. Explore a vast 3D world full of your favorite Futurama characters and locations. Watch for power-ups and special boosts to give your crew a little extra push when the going gets tough.

The point is, there are some things to do and if y'all stop whining and get to moving, things can get done, so says Bender. Play Futurama: Game of Drones on Mac and PC right now.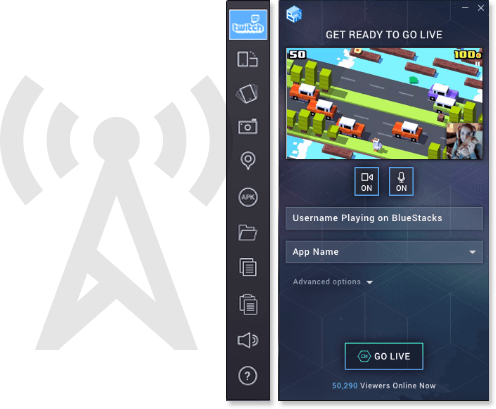 Time for Bender's Close-Up
When you play Futurama: Game of Drones on PC and Mac with the new BlueStacks 2, you now have access to the simplest Twitch broadcasting controls ever. Twitch.tv is changing the way we play video games by hosting more than one million live video game broadcasts and streams each day from players all over the world. Users can watch some of the biggest names in gaming or the kid next door in the same hour and have the ability to chat live during broadcasts with other players and the broadcasters themselves. With BlueStacks 2, all this is only a click away with the ease of one-button controls included in the latest version.