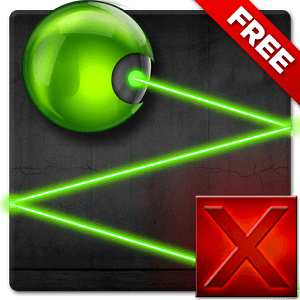 Laserbreak 2
Control your laser and use dozens of awesome physics objects to collect the coins and destroy the targets.
You'll have to use your brain power, forward thinking and creativity to solve the challenging, action packed physics puzzles.
Laserbreak 2 Physics Puzzle is very simple to learn, and increasingly difficult to master. Once you start playing, you won't be able to put it down!
Laserbreak 2 features:
• Up to 119 challenging, fun and action packed levels
• 28 levels on install PLUS one free extra level every day. Miss a day, get two levels tomorrow!
• Option to play future daily levels in advance
• Dozens of awesome objects including TNT, wormholes, launchers, elevators, magnets, fans and more!
• Unlock bonus levels by earning all 3 coins in each level
• Play all unlocked levels in any order you like - no need to complete the previous level
• Each level shows how many players have solved it. Discover how clever you are by trying to solve the most difficult levels
• Game play options let you control the laser speed, sound effects and more
• Much improved performance and smoother game play than the original
• 9 language options including Spanish, Russian, French, English, Portuguese, Chinese, Japanese, German and Italian
• Great brain training game
• No wifi? No problem. Play offline!
• 100% FREE TO PLAY. No purchases required to complete levels.

Physics Objects include:
• Balls - Roll the balls, catapult them, drop them - they are the most useful object!
• TNT - Ignite the explosives with the laser beam. Detonate it to blast other objects around, smash glass, knock over dominoes and more.
• Portals - Otherwise known as wormholes, they teleport objects from one place to another. Use them wisely!
• Magnets - Use magnets to control the path of the steel balls and hold steel crates in place.
• Ice - Melt the ice to reveal other objects inside! Melt it with the laser beam.
• Wood - Burn wood with the laser, opening up more paths for the balls to roll, or just for the laser beam to aim through.
• Glass - Glass reflects the laser beam and also holds other objects. You can smash it or crush it with other objects such as balls or crates.
• Reflective shapes - Turn the reflective triangle shapes to reflect the laser beam on different angles.
• Blocks - Reflective blocks to bounce the laser beam off. Non reflective blocks you have to think your way around.
• Launchers - Fling balls, crates and coins around!
Are you ready to take the Laserbreak 2 Physics Puzzle challenge? Play it FREE today!
Developer
errorsevendev
Category
Puzzle
Last Update
October 17, 2016
Update notes
• Level fixes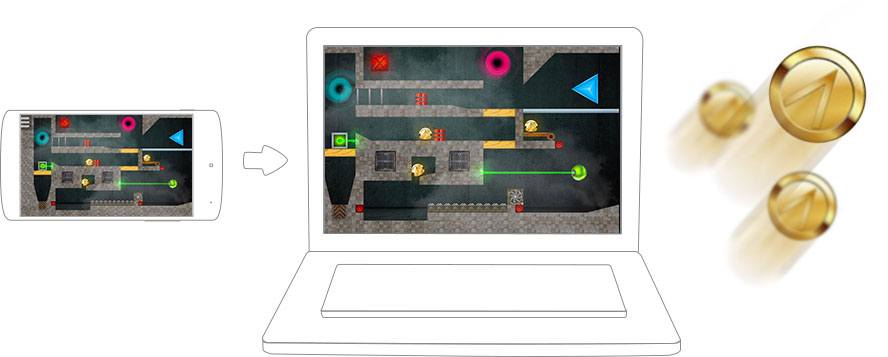 Finally, a Great Game for Everyone
Join the growing segment of mobile gamers fed up with the traditional pay to win and cheat model of most newer games. Play Laserbreak 2 on Mac and PC to experience and Android game that is actually made for everyone. Laserbreak 2 is a puzzle game where players attempt to smash coins and other objects using powerful lasers and common items. In the beginning, the challenges may seem simple, but as you progress through the 75 plus levels available, you will encounter more daring challenges and obstacles than you ever thought possible. Fans of the original Laserbreak will enjoy the greatly improved gameplay and performance over the original, while new gamers will marvel at the challenging levels and cool graphics.
Laserbreak 2 is truly a game for everyone and now it can be yours when you click the link above. Change the game and play Laserbreak 2 on PC or Mac with the new BlueStacks 2 Android emulator.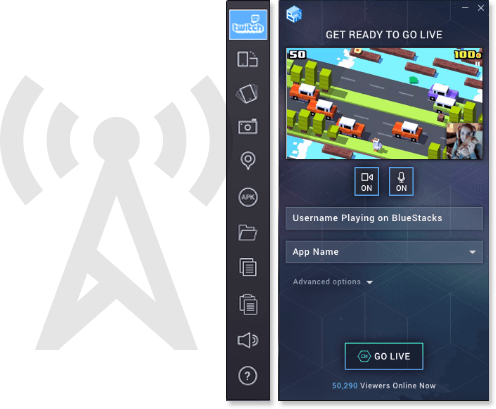 Show Your Skills With a Laser to Twitch Easily
BlueStacks 2 is proud to make your life more convenient by giving you a way to enjoy your favorite games and apps on your home computer or laptop, and now the latest feature to be added makes Twitch broadcasting a snap. BlueStacks 2 now includes one-click controls for users to begin streaming their mobile lives to the vast Twitch community of gamer and app fans. Twitch gives users a place to meet and connect through live chats while streaming broadcasts from some of the top players in the world. With more than a million live broadcasts each day, you never know what you will find broadcasting on Twitch.tv. Stream Laserbreak 2 and start building your own following.