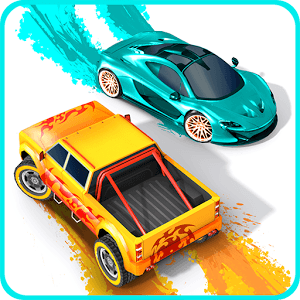 Splash Cars
Tired of the everyday grey? Color the world in a ride of your life!
** Over 5 million downloads worldwide **
* Reached TOP #10 in most countries in the world all thanks to you *
Team up with a friend or stranger and head on to 2 vs 2 paint battles. Splash Cars is a multiplayer game now!
There are more ways to win free cars, car paint jobs, blueprints and coins, and extend your battery capacity. Plus multiplayer runs on solar power, free of charge.
Riding a splash car is exactly what you'd expect. Fun! Paint oozes from your machine leaving a colorful trail behind.
But not everybody likes fun. The cops are always watching and will chase you to the ends of the world, when they see you drive free. They want to bust you for shaking up the established order.
Don't let them! Be quick and break the chase. Now's your chance to fully express yourself through color and style.
Each Splash Car now comes in three paint jobs. Stand out in the crowd and enjoy the new looks.
* 2 vs 2 multiplayer games
* Two Level League Competitions
* Race for freedom of expression
* Choose your own style from a range of original splash paint cars
* Stand from the pack with custom paint jobs
* Grow the racy art challenge in new and constantly growing neighborhoods
* Use bohemian power-ups to sabotage cops and supersize your car
* Convert public servants to aid you in your cause
You are special. You broke free from the shackles of conformity. You have the power to free other people as well. Paint their world a brighter color, convince them to join you in your cause.
Developer
Craneballs
Category
Racing
Last Update
July 27, 2016
Update notes
Splash Cars now on your Android TV!
Use your controller to drive Splash Cars and enjoy the game on your big screen in amazing 60 FPS.
Enjoy the leaderboards, 2v2 multiplayer, and intense action in the comfort of your couch.
Happy race-painting!

Paint the World and Break From the Mundane Gray
Every day can become so, well, everyday. It's time to spice up your life and add some color to the world. Play Splash Cars on your PC or Mac to experience racing and driving games like never before. As you travel through the high-speed world of Splash Cars, your vehicle oozes colorful paint to help bring your drab, gray world into the sparkling world of color. Watch out, though, as there are those in power that want to stop you from breaking free from conformity and creating a new world. The police and other public servants are out to re-gray the world and stop you at every turn.

Join the growing cause and fight to shake the shackles of society free from your life. This is your chance to make a difference and become a visionary. Click the button above to play Splash Cars on Mac and PC using the free BlueStacks 2 player.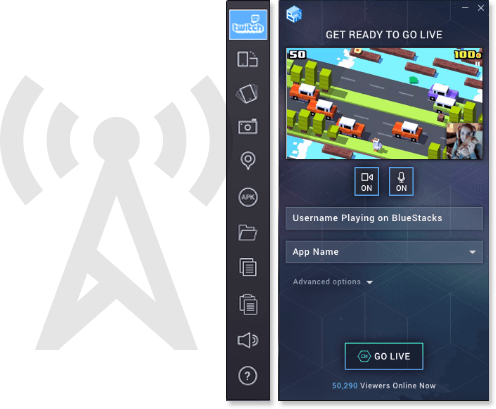 Paint Twitch.tv to Your Liking
Playing Bigger has many great advantages, but one of the coolest is the latest feature to be added to BlueStacks 2. Now, instead of needing a bunch of equipment and cables to mirror and stream your screen to the growing Twitch.tv community, you can simply use the one-click controls included in BlueStacks 2 to stream Splash Cars and start growing your own following of mold-breaking drivers and painters. Twitch is more than a place to share and view millions of live broadcasts, it is also a place to meet other gamers and app users from all over the world. Follow your favorite broadcasters, send messages, and even chat live during broadcasts and gaming streams.