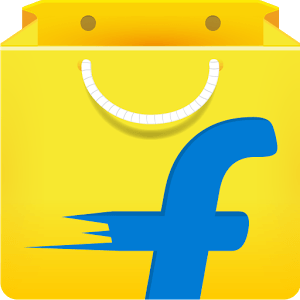 Flipkart app
INDIA's MOST POPULAR Shopping App. Trusted by over 7 Crore Indians.
Shop the Online Megastore with the free Flipkart Android app. Choose from the massive selection of original products in Fashion, Electronics, Books, Mobiles and other categories. Get timely alerts on great deals with substantial discounts, every day!
_____________________________________
India's No 1 Online Shopping App
• Happy Shopping: No Hassle Returns,100% Buyer Protection
• Smarter Search: Look up products using text, voice, barcode or guides
• Choice of Payments: Cash on Delivery, Credit/Debit Card, EMI, NetBanking, PayZippy
• Pinpoint Products: Find what you want with the sort and multi-filter functions.
• Never Miss an Offer: Get access to personalized and exclusive app-only deals.
• Personalized Alerts: Get notifications on personalized offers, price drops, order status, exclusive launches
• Product Suggestions: Relevant recommendations based on your shopping history
• Share with Friends: Suggest links to interesting products on Facebook, Twitter, Google+
• Examine Closely: View products in great detail with the large, multi-perspective images
• One-touch Wishlist: Add products to your Wishlist with just one tap
_____________________________________
PERMISSIONS:
In addition to basic permissions, the Flipkart app needs access to other functions on your device for it to support the above features -
• Device and App History: To detect critical crashes and recover the app state
• Identity: For native login functionality with your Google account
• Location: Providing location specific personalisation
• Photos/Media/Files: Caching images for better performance of the app. It also allows the app to save/share images
• Camera/Microphone: Camera is used for Barcode scanner and Microphone is used for voice search
• Wifi: To allow the app to connect to wi-fi and browse Flipkart on Wi-fi
• Device-id/Call-info: We use the Device-Id to identify the app and provide device specific offers. We do not check for call logs and neither do we make calls from the app.
• Profile / Contacts: To pre-fill your information wherever required so that you type less.
• SMS: To auto-verify One-Time Passcodes. We do not read existing messages.
_____________________________________
Browse and shop through various categories such as Fashion and Accessories, Electronics and Appliances, Books and Entertainment and Beauty and Personal Care, compare prices of mobiles, televisions and many more products, read buyers reviews, check out exclusive App deals, share your products with friends on Facebook, Twitter, Google+. The App allows you to shop, track or cancel your Flipkart orders from anywhere. The App allows you to search for products via text, voice or barcode inputs.
Flipkart's Free and Easy Returns policy ensures that you have a headache-free shopping experience. Problem resolution could be Replacement, Exchange (only for Apparel and Footwear) Or Refund, depending on the Seller's Return Policy.
Flipkart offers multiple payment options such as Cash on Delivery, Credit/Debit Card, EMI, Net Banking and Pay Zippy. With Cash on Delivery option you can pay in cash at the time of actual delivery of the product at your doorstep, without requiring you to make any advance payment online. EMI payments scheme is available for American Express, Citi, HDFC and ICICI bank credit card holders only.
The App also features Flipkart First which if you are a member you are entitled to Free Shipping on Your Orders, unlimited access to Free In-a-day Delivery, Priority Customer Service and Discounted Same Day Delivery.
The Apps notifies you with discounts, price drops, order status and exclusive launches, exclusive deals, Deals of the Day, what's Hot on Flipkart and category wise discounts making shopping easier for you.
Developer
Flipkart
Category
Shopping
Last Update
January 6, 2017
Update notes
WHATS NEW:
🔅 Minor UI enhancements
🔅 Tons of Under the hood Changes
🔅 Couple of Performance tweaks and some bug fixing
for v5.5
Happy Shopping!
Talk to us at 'app-feedback@flipkart.com'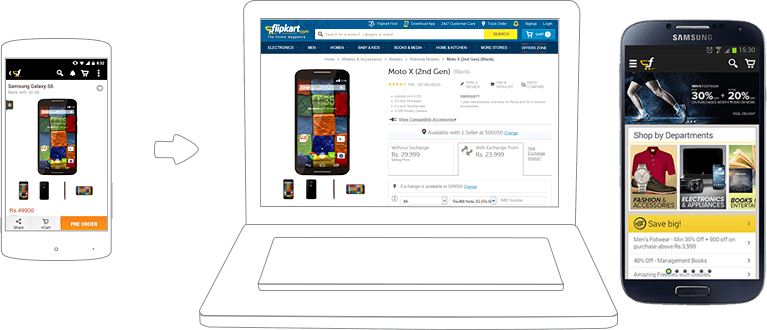 Shop One of the Largest Online Stores in the World
Online shopping has become the most common way to buy products these days. No more getting dressed, grabbing the kids and heading out to your local electronics or clothing store. Now you have the power to find everything you want right from the comfort of your own home. Save money by using the Flipkart Android app, India's number one shopping site. This online mega-store has everything you could want under one virtual roof: electronics, clothing, games and more. Using your social media services, you can even receive personalized discounts and a more enjoyable online shopping experience.

Shopping from your tiny mobile device can be annoying and downright tough sometimes. Your eyes can hurt from the straining to see the little images and reading text can be next to impossible at times. By downloading the new BlueStacks Android Emulator from the link above, you can install Flipkart on PC and stop straining to read product descriptions and compare items. By shopping Flipkart on your computer, you can shop, compare reviews and surf the web all at the same time, making comparison shopping and researching reviews so much easier.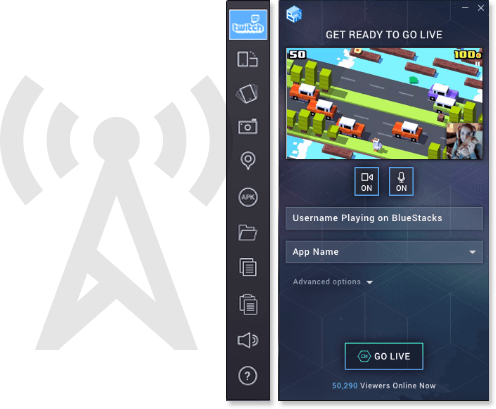 Enjoy Shopping Like Never Before!
BlueStacks 2 now comes with the ability to stream any mobile game and app footage directly to Twitch.tv. Instead of using a lot of new equipment and cables, BlueStacks 2 users can simply click, play, and share with one-touch controls. Twitch.tv is the largest gaming community on the internet and continues to grow every day. That's because, at any given time, you can find thousands of live video broadcasts of players enjoying a wide variety of apps and games. Join this die-hard gaming community and follow your favorite players, meet a lot of new friends, and share your Flipkart app shopping experience with millions of other users.