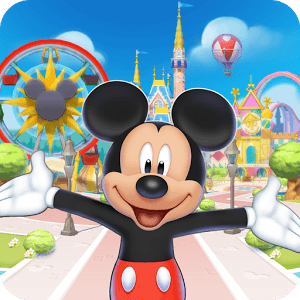 Disney Magic Kingdoms
WELCOME TO THE MOST MAGICAL PLACE ON MOBILE!
When Maleficent casts an evil spell on the Kingdom, ridding it of all of its powerful magic, can you help bring it all back? Relive the thrill of Disney Parks and create the most fantastical Park of your dreams in Disney Magic Kingdoms!
EXTRAORDINARY & TIMELESS DISNEY PARK ATTRACTIONS
• Charming attractions such as "it's a small world," the Monsters, Inc. Laugh Floor and Space Mountain from Disney Parks from around the world, including Disneyland, California Adventure, Walt Disney World, Tokyo Disneyland and Disneyland Paris!
• Dazzling new attractions such as WALL-E's House and Cyclops Sushi -- all uniquely inspired by their movies!
• Relive magical moments from the Parks with the entire family through lively Parades featuring beautiful floats and fireworks!
CHARACTERS SPANNING MORE THAN 90 YEARS OF DISNEY
• Share spectacular moments with beloved characters such as the ever-optimistic Mickey Mouse, the spirited princess Rapunzel, brave space ranger Buzz Lightyear, the sweet and sassy Tinker Bell and more fun characters!
• Play hundreds of whimsical, fun, and animated quests that bring every pixel of your Kingdom to life!
• Collect memorable Disney-themed items to free each character from Maleficent's evil spell!
PLAY A RIVETING TALE OF HEROES AND VILLAINS
• Unravel and play a magical story and an exciting adventure with every tap!
• Take a stand against menacing villains such as Pete, Mother Gothel, and Zurg to save the Kingdom!
Come and join us in the most magical free game on mobile! It's your world for the making!
Perfect to play for fans of Disney, Disneyland, theme park games, Pixar movie games, a fun game, tycoon games, free family games, and park builder games.
___
You can download and play this game for free. Please be informed that it also allows you to play using virtual currency, which can be acquired as you progress through the game, or by deciding to watch certain advertisements, or by paying with real money. Purchases of virtual currency using real money are performed using a credit card, or other form of payment associated with your account, and are activated when you input your Google Play account password, without the need to re-enter your credit card number or PIN.
In-app purchases can be restricted by adjusting the authentication settings within your Play Store settings (Google Play Store Home > Settings > Require authentication for purchases) and setting up a password for each purchase / Every 30 minutes or Never.
Disabling password protection may result in unauthorized purchases. We strongly encourage you to keep password protection turned on if you have children or if others could have access to your device.
This game contains advertising for Gameloft's products or some third parties which will redirect you to a third-party site. You can disable your device's ad identifier being used for interest-based advertising in the settings menu of your device. This option can be found in the Settings app > Accounts (Personal) > Google > Ads (Settings and Privacy) > Opt out of interest-based ads.
Certain aspects of this game will require the player to connect to the Internet.
_____________________________________________
Visit the official Gameloft site at http://www.gameloft.com
Follow Gameloft on Twitter at http://glft.co/GameloftonTwitter or like us on Facebook at http://facebook.com/Gameloft to get more info about all upcoming Gameloft titles.
Check out our videos and game trailers on http://www.youtube.com/Gameloft
Discover our blog at http://glft.co/Gameloft_Official_Blog for the inside scoop on everything Gameloft.
Terms of Use: http://www.gameloft.com/conditions/
Privacy Policy: http://www.gameloft.com/privacy-notice/
End-User License Agreement: http://www.gameloft.com/eula/?lang=en
Developer
Gameloft
Category
Simulation
Last Update
December 15, 2016
Update notes
FROZEN HAS ARRIVED WITH A NEW FOUR-WEEK EVENT!
Join Elsa, Anna, Olaf, Sven and Kristoff on a frosty journey to find the source of the storm that is brewing in the Kingdom. This update is crammed with plenty of festive new content, including Elsa's Ice Palace and holiday costumes for Mickey and Minnie!
• 6 New Characters
• 2 New Costumes
• 60+ New Quests
• 4 New Attractions
• 5 New Decorations
• 2 Concessions
• Frozen Parade Float
• New Limited-Time Enchanted Chest Content!

The Most Magical Place on Earth Just Became More Magical

Disney has long been known as one of the most beloved and entertaining companies for families and kids of all ages. In this new digital age, Disney wants to continue that long-standing tradition with their new mobile app Disney Magic Kingdoms. Join all of your favorite Disney stars as you build the ultimate Disney theme park while protecting it from evil of all sizes and shapes.

Maleficent has cast a powerful spell over the Disney Kingdom and stripped it of all its wonderful magic. Complete animated quests with all of your favorite characters to help bring the magic back to the Kingdom. Along the way, you will do battle with many great villains from the long Disney history and unlock rides that will remind you of a magical childhood full of fun and memories. Play Disney Magic Kingdoms on PC or Mac to experience the thrill of Disney adventure right in your own home.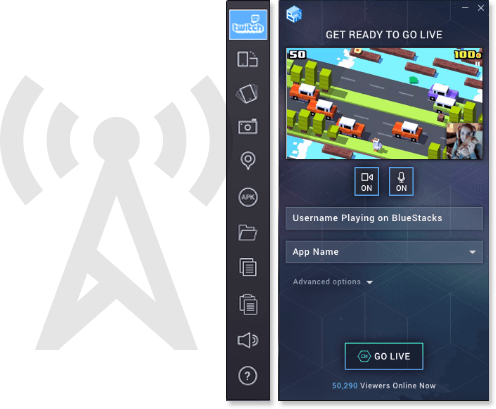 Share Disney Magic With the World
For nearly a century, Disney has brought the magic of fairy tales and amazing stories to adults and children all over the world. Now, you can continue that tradition when you broadcast Disney Magic Kingdoms to the vast network of Disney fans and passionate gamers on the Twitch.tv network. Each and every single day, you can find more than one million live video game streams on Twitch.tv, and now BlueStacks 2 allows you to easily join in the Twitch broadcasting excitement. With the simple click of a button, you can stream Disney magic to homes all over the globe.