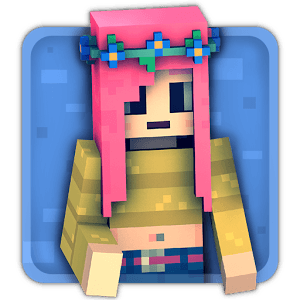 Girls Craft: Mine Exploration
Great game for girls! Feel like a princess! Play one of the best free games for teenage girls! Exploration moved to another level. This lite app (PE) for teenage Girls, inspired by the epic Pocket Edition game, gives you great opportunity to transform the terrain in 3D environment, and build a perfect cube girls world! Feel like a princess and live in a castle! Play in a creative mode with unlimited resources or mine deep into the cube girls world. Build your home with cubes. Design interior, build and design kitchen - start cooking! Build whole city with SPA, Nail Salon, Pet Shop, Make-up & beauty salon! No barbie dolls for little girls! No cute animals for babies! Serious pocket game for serious girls! Build your own shopping mall and take part in fashion show! Wear high heels shoes and explore randomly generated cube worlds, build and create amazing & perfect structures from the simplest of homes to the grandest of cube fortresses and castles! Create your pink kingdom! Use pink - girlish - blocks to build beautiful pink and colorful structures. Become an adventurer! Just cute cube world and your infinite creativity! Build perfect structures step by step, create awesome castles! Very quick and easy. All for free! This lite game contains: block placing, cube world, real time cute world generation. Build a girl's cube world! Explore the girl's cube world! Build SPA, Beauty Salon, Hair Salon and Pet Shop! In this incredible and totally free game (dedicated, and designed for girls and women!) you can destroy all the blocks, collect resources, survive and build beautiful & perfect cube buildings. This creative game for teenage girls (Pocket Ed) contains a large number of different cute blocks (pink, yellow, colorful) with which you can craft your own teenage girls cube world! You can plant flowers in garden, bake cakes, build a house for your pet and friends or even build your own palace! Be like a princess or queen! High resolution textures, very convenient and thoughtful game control, High FPS, without compromise! So plunge into the fantastic world of 'Girls Pocket Mine: Craft & Exploring' - with new cute cube worlds and adventures designed specially for girls! Place blocks / cubes move voxels, dig and mine.Craft and explore! One of the best cute free games for teenage girls! Go beyond your wildest dreams, make your own cube base, mine castle or kingdom! Transform the surface in a 3D environment. Build shelter, fight, grow, the only limit is your imagination! Start a Cube Craft! Build SPA, Beauty Salon, Hair Salon and Pet Shop!
Coming soon:
Multiplayer - girls game edition
Crafting items and weapons
Survival mode - girls game mode
Day & night
Cube Craft mode
Story mode (with dragons and bosses!)
Weather
Stats and inventory
Different worlds (hell, heaven, lair)
Shop with armors, weapons and unique elite swords
Build awesome structures
Explore the worlds
Be creative!
Developer
Play Cool Zombie Sport Games
Category
Simulation
Last Update
November 3, 2016
Update notes
- Mounting and riding some of the animals (like cows)!
- Cool crushing blocks effect
- More animals
- Special button for rotating elements
- From now on, game remembers player position
- Shadows on High Quality settings

What If Minecraft Was Created Especially for Girls?
Well, then you would have the cute Girls Craft: Mine Exploration video game. Much like the hit cube building and survival game, Girls Craft: Mine Exploration places you within a whole new world full of castles, animals, and more where you can build and craft just about anything your imagination can dream up. Choose from a variety of specially designed blocks that come in colors like pink and yellow and build the castle of your dreams. You can create an entire city for yourself, complete with Pet Shops, Spa, and Beauty Salons. Choose to build a mall and take part in your very first fashion show. The choices are endless and it's all up to you. Watch for updates coming soon that will add even more excitement, such as intense multiplayer, new items and weapons to craft, and day and night modes. Play Girls Craft: Mine Exploration to create your world.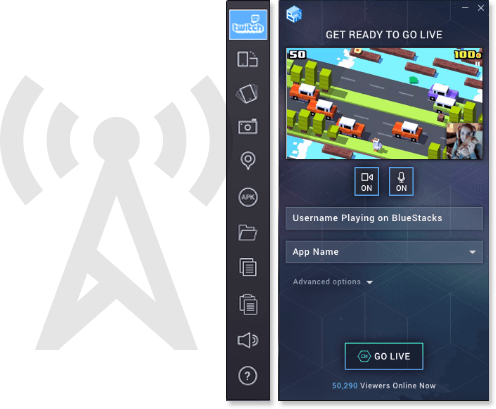 Broadcast Girls Craft: Mine Exploration to Twitch.tv

Make sure you are able to share your greatest creations and beautiful world with gamers from all over the globe. Use the new and improved BlueStacks 2 player to play Girls Craft: Mine Exploration on PC or Mac and you can broadcast your adventure to the world via Twitch.tv. Each day, millions of gamers come to Twitch to watch and share live video game footage while chatting with players and broadcasters. Join the Twitch Revolution and you can even start building your own following by sharing your own gaming footage. With the free BlueStacks 2 player, it only takes one click to start broadcasting.