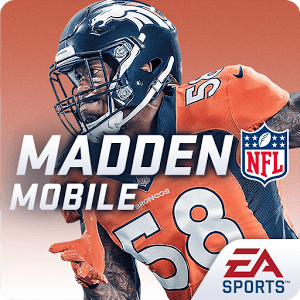 Madden NFL Mobile
THE 2016 MADDEN SEASON IS HERE! KICK OFF WITH NEW UPDATES INCLUDING QB SCRAMBLING, DEFENSIVE GAMEPLANS, AND OVER 350 NEW APP ENHANCEMENTS.
Become the GM of your favorite football franchise and handpick your team of NFL stars and legends. Get in the game anytime, anywhere with Daily Live Events, Head-to-Head challenges, Seasons, and newly designed Leagues. This is authentic NFL action like you've never seen on mobile.
BUILD YOUR TEAM OF TOP STARS AND LEGENDS
Select your favorite NFL franchise and become the GM. Load your team with current stars like Rob Gronkowski and Antonio Brown, or blockbuster legends like Jerry Rice. Draft real NFL pros from the past and present by opening packs, or through the Auction House. Develop your strategy, upgrade your roster, and take your team out on the field to compete with friends.
MAKE WINNING PLAYS, YOUR WAY
Go big or go home in genuine 16-game Seasons mode. Be the quarterback and go for the end zone with the new scramble feature, or score TDs running pass routes as your favorite receiver. Compete against friends and rivals in Head-to-Head mode and battle it out for gridiron glory. Join a League that matches your focus, whether it be earning achievements as a group, or taking on other Leagues in competitions. Plus, play quick Spontaneous Challenges in any mode for boosted rewards.
ELEVATE YOUR GAME IN DAILY LIVE EVENTS
Madden NFL Mobile connects you to the NFL every day, all year long. Instantly tap into fun, new challenges and incredible limited-time rewards each time you play. Live Events, in-season plays, mini-games, tiered multi-day sports events, and more – they're all based on the real NFL season.

Take your team all the way in Madden NFL Mobile and bring the best in football action straight to your fingertips.
Requires acceptance of EA's Privacy & Cookie Policy and User Agreement.
Developer
ELECTRONIC ARTS
Category
Sports
Last Update
December 13, 2016
Update notes
Enjoy daily Live Events, frozen collectibles, and limited-time in-store content. You can also pick up the cool frozen logo by completing a set of special Ultimate Freeze achievements.
Thanks for playing!

Are you ready for some football?
No need to wait until the season starts when you have the power of Madden NFL Mobile. Any season is football season as you choose your ultimate team and rise to the top of the league. Play against famous current stars and legends that will never be forgotten. To keep things fresh all season long, watch for daily events, live events and plenty of extra rewards and challenges. Now you are the GM of your favorite team, and this year's Super Bowl dreams rest squarely on your shoulders. Everyone is depending on you... Are you going to let them down?

With so many game changing decisions resting on your shoulders, make sure you give your players the best chance at Super bowl fame and Play Bigger with the new Bluestacks Android Emulator app for PC and Mac. Bluestacks is a small tool that gives your gaming big freedom by allowing you to play most Android apps and games right on your home computer. Sick of hoping your battery has a charge or you have data plan minutes left? The free Bluestacks app is the answer to your gaming woes. Now you have the power to truly play your favorite games anywhere, anytime.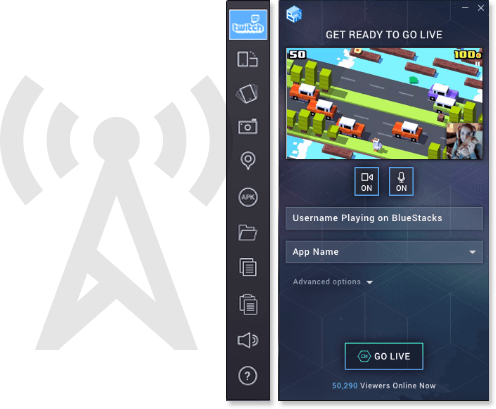 Time to Get the Crowd Pumped Up!
Being a great player is only half of being a football superstar. It takes a lot of hard work and talent, but a true star must also be able to command a crowd and get the fans pumped up for anything. Become the showman for your team when you broadcast Madden NFL Mobile games to millions of rabid football fans on Twitch.tv. Twitch gives players a place to watch live video game footage, follow specific players, and even chat and connect with gamers from different areas. Play Bigger with BlueStacks 2 and now you can stream Madden NFL Mobile to Twitch with easy, one-click controls.