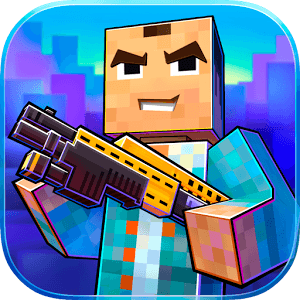 Block City Wars
Welcome to the Block City!
Welcome to the vast open world where the real war is going! Constant skirmishes between gangsters and cops, bangs, mafia and police - that is Block Сity Wars about.
Complete impossible missions, drive cool cars, parkour, destroy different enemies (even zombies and angry monsters) or just do what you wanna do! Check out third person shooter in the great megalopolis with top high skyscrapers and military base. Play multiplayer mode on the big map with your friends!
Main FEATURES:
- online modes: Sandbox and PVP Deathmatch
- singleplayer mode - Adventure! Take Jobs and missions, pass them and grab cash!
- Huge megalopolis with several districts - 10 PVP maps: Old city, Port, China Town, Military Base and others.
- Play with your friends from all around the world (use online chat)
- drive cool cars, flight via jet pack and helicopters!
- participate great shooting assault with tanks and APС!
- Great variety of weapons and guns: M16, Ak47, MINIGUN, Sniper rifle, RPG, Knives, Katana and many more!
- use hero room to choose one of the custom skins. Choose the favorite skin or skins and fight!
- awesome pixel graphics with dynamic light.

————————————————————————
Block City Wars is not an official application of Mojang. Minecraft is a trademark of Mojang AB, and this product isn't connected with or approved by the developers of this game.
Creatore
D-Games Apps
Categoria
Simulazione
Ultimo Aggiornamento
24 novembre 2016
Note di Aggiornamento
Bug fixes.

La Guerra è Scatenata su Block City
Block City non è come qualsiasi altra città che hai visitato finora. La città è in guerra e nessuna strada è sicura. In questo ampio blocco a mondo aperto dovrai scegliere da che parte stare e completare missioni per diventare il re di Block City. Combatti poliziotti, bande, e persino zombie mentre esplori alti grattacieli e mentre guidi una varietà di fantastici veicoli. PvP è disponibile non in uno, bensì in due modalità gioco separate con nuove mappe aggiunte regolarmente. Goditi nitida grafica HD con un divertente design pixel e illuminazione dinamica.

Con un tale spazio vasto ed aperto da esplorare e combattere, sii certo di fare la cosa giusta e gioca a Block City Wars su PC o Mac usando gratuitamente BlueStacks Emulatore Android. Con BlueStacks, il tuo computer diventa un player Android in grado di installare ed avviare qualsiasi app Android. Questo significa che non dovrai più preoccuparti di esaurire la tua batteria o di trovare un segnale internet decente. Ora, hai il potere di giocare ai tuoi giochi e app Android preferite ogni volta che vuoi. Tutto quel che dovrai fare è cliccare sul link di sopra per iniziare.