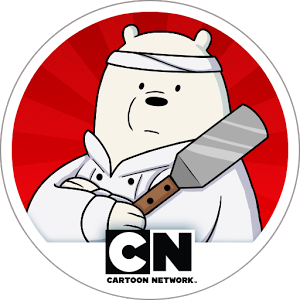 StirFry Stunts – We Bare Bears
Use Ice Bear's awesome cooking skills to serve up some delicious dishes in Stirfry Stunts!
This app is only available in English. Don't worry. It's super fun and doesn't have much text. Have fun!
GRILLIN' AND CHILLIN'
Working the grill at a teppanyaki restaurant is no easy task. You've got to juggle ingredients and orders to satisfy a nonstop rush of hungry customers. Luckily, Ice Bear is the coolest chef around. With him manning the spatulas, everybody will leave happy!
MAKE MAGNIFICENT MEALS
Unlock new foods like shrimp, scallops and lobster to cook your culinary masterpiece. Use more exotic ingredients to increase your multipliers and really rack up the points.
GET HELP FROM YOUR BROS
Call on Grizz and Panda to distract your customers with a little song and dance, giving you more time to perfect your recipes.
BECOME A GRILLMASTER
Upgrade your grill and plates to give you more room to work. Pull out tricks like the classic onion volcano to boost your score sky high.
Get ready to cook up a storm with Ice Bear in STIRFRY STUNTS!

*********************
This game is available in the following languages: English
If you're having any problems with this app, feel free to contact us at advanced.platforms@turner.com. Tell us about the issues you're running into as well as what device and OS version you're using.
*********************
IMPORTANT CONSIDERATIONS:
This app may contain ads that feature other products, services, shows or offers from Cartoon Network and our partners.
PRIVACY INFORMATION: Your privacy is important to us at Cartoon Network, a division of Turner Broadcasting System, Inc. This game collects and uses information as described in Cartoon Network's Privacy Policy linked below. This information may be used, for example, to respond to user requests; enable users to take advantage of certain features and services; personalize content; serve advertising; perform network communications; manage and improve our products and services; and perform other internal operations of Cartoon Network web sites or online services. Our privacy practices are guided by data privacy laws in the United States. For users residing in the EU or other countries outside the U.S., please note that this app may use persistent identifiers for game management purposes. By downloading this application, you accept our Privacy Policy and End User License Agreement, and you give permission for such uses for all users of your device. The Privacy Policy and End User License Agreement are in addition to any terms, conditions or policies imposed by your wireless carrier and Google, Inc. Cartoon Network and its affiliates are not responsible for any collection, use, or disclosure of your personal information by Google or your wireless carrier. 
Terms of Use: http://www.cartoonnetwork.com/legal/termsofuse.html
Privacy Policy: http://www.cartoonnetwork.com/legal/privacy/mobile.html
Nhà phát triển ứng dụng
Cartoon Network
Thể loại
Trò chơi điện tử
Last Update
23 tháng 3, 2016

Giống như trò bida lỗ mà bạn chơi ở ngoài, nhưng bạn còn có thể tính toán được chính xác sức mạnh và sức xoáy của những lần đánh. Thách đấu với những người chơi khác hoặc tự luyện tập một mình để nâng cao kỹ năng.Tính toán khôn ngoan và luyện tập cho đôi tay khéo léo, bạn sẽ là người chiến thắng !
Với đồ họa 3D hấp dẫn, âm thanh sống động chắc chắn sẽ mang đến cho bạn cảm giác như đang tham gia một trận đấu thực sự. Bida mobile có nhiều chế độ chơi hấp dẫn và vô cùng thú vị đang chờ đón bạn ở phía trước.Hãy nhanh tay tải game và tham gia ngay thôi nào các bạn!