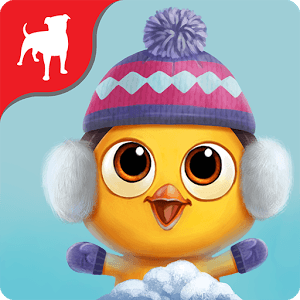 FarmVille 2: Country Escape
Escape to the world of farming, friends and fun! Go on farm adventures to collect rare goods and craft new recipes. Raise animals and grow your farm with friends. Join a farm Co-Op to trade and share or play on your own in Anonymous Mode. You can play FarmVille anytime, anywhere… even when not connected to the internet. Best of all, the world's most popular farming game is free to play!
**Google Play Best Games of 2014**
** "FarmVille is back and this time, it's portable" – TIME **
** ""Officially not just for Facebook anymore"" - Los Angeles Times **
** ""They may have built the best FarmVille game of the series"" - Kotaku **
- CRAFT a variety of baked gourmet goods like classic country apple pies
- HARVEST farm fresh crops of your favorite fruits and vegetables
- CUSTOMIZE your own farm for charming country living
- COLLECT hidden and rare items as you discover a new coastal farm
- NURTURE and raise a wide variety of adorable animals like your very own farm dog
- EXPLORE a new FarmVille story filled with special farm adventures
- BUILD a lush family farm by the coast so all your friends can visit
- FISH with your fellow farmers and sell your catch at Pike's Landing
- GARDEN by the beautiful blue ocean as you decorate your farm with flowers and fresh produce
- TRADE and chat with friends or play anonymously with people from all over the world
- ESCAPE to the coast and then connect to your Facebook farm to send free water
- EARN daily rewards with the Mystery and take a spin at the Prize Wheel
ADDITIONAL DISCLOSURES
• For specific information about how Zynga collects and uses personal or other data, please read our privacy policy at http://company.zynga.com/privacy/policy.
• This game does permit a user to connect to social networks, such as Facebook, and as such players may come into contact with other people when playing this game.
• The game is free to play, however in-app purchases are available for additional content and premium currency. In-app purchases range from $0.99 to $99.99.
• You will be given the opportunity to participate in special offers, events, and programs from Zynga Inc and its partners.
Use of this application is governed by the Zynga Terms of Service. Collection and use of personal data are subject to Zynga's Privacy Policy. Zynga's Privacy Policy is available in the Privacy Policy field located in the Developer section below. Both policies are available at www.zynga.com. Social Networking Service terms may also apply.
http://m.zynga.com/legal/terms-of-service
Nhà phát triển ứng dụng
Zynga
Thể loại
Thông thường
Last Update
Ngày 28 tháng 11 năm 2016
Các chú giải về cập nhật
Winter Ice Festival Event: It's time to roll out the welcome mat as your Farm has been selected to host this year's National Ice Carving Expo! Craft cozy gloves and hot chocolate to help you get warmed up for the Ice. Prove you're the best of the best to win the adorable Snow Fox Farm Hand.
- We've also fixed several bugs in this update!

Tựa game cực kỳ nổi tiếng và cuốn hút 32 triệu người chơi trên Facebook một thời - Farmville, nay đã chính thức có truyền nhân trên mảng mobile
Với FarmVille 2: Country Escape, người chơi sẽ phát triển mô hình trang trại và nền kinh tế cá thể của mình với một tốc độ riêng, cho dù bạn chỉ có 30 giây hay tới 30 phút để chơi. Chơi với bạn bè hoặc một mình trong chế độ Anonymous mới, không yêu cầu kết nối mạng xã hội Facebook