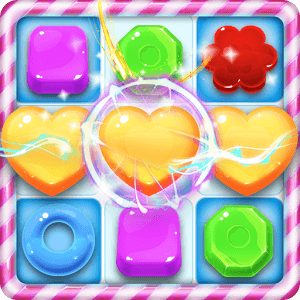 Jelly Blast
Match three candies to collect jelly drops in order to advance along the candy track. With sweet surprises around each corner, a new mystery unfolds in every realm of Jelly Kingdom. Whether you enjoy the excitement of brain teasers or seek a fun way to relax, Jelly Blast provides the ultimate experience of high quality entertainment. 
 
Help Lily and her friends on their journey to save Jelly Kingdom! Playing as Lily, you will fight off witches, monsters, mysterious elves, and more on your travels throughout the many realms of the kingdom. Master your moves and match up more than three candies to be rewarded with a variety of board clearing boosters! Use jelly spoons, cross bombs, sweet juice, and other magic boosters to step up your game. Jelly Blast – Delicious Candy Trip offers several new features, game modes, and battles. Take on Jelly Kingdom alone or compete with your friends for the highest score! 
 
With built in game currency, Jelly Blast is completely free to play! To buy more lives, extra moves, and other special items, payment with real money is required. The payment feature can be turned off by disabling in-app purchases in your device's settings.
 
Jelly Blast – Delicious Candy Trip Features
·      Hundreds of candy filled levels with more added every month!
·      Harvests of new rewards every day.
·      Up to 10 spins on the Candy Wheel to earn gold, magical boosters, and more!
·      Raccoon's Requests to earn fun rewards.
·      Leaderboards to track your friends and competitors scores.
·      Easily sync the game between mobile and tablet devices.
 
Already a fan of Jelly Blast – Delicious Candy Trip? Like us on Facebook for the latest news! https://www.facebook.com/JellyBlast/  https://www.facebook.com/groups/439902082843443/ 
  Contact us directly at jellyblast_service@microfun.com 
Nhà phát triển ứng dụng
MicroFun
Thể loại
Câu đố
Last Update
Ngày 27 tháng 11 năm 2016
Các chú giải về cập nhật
New Level
There are 15 brand new challenges of Wisps. What are these troublemakers planning?
New Event
The warrior challenge starts again. The strong magic elf is frozen due to overuse of magic. Brave challengers should collect life crystals to get its magic back and pull us through!
In order to commend challengers, during the event challengers can get Warrior Coins in exchange for magic items!
optimization of other functions

Tựa game giải đố ăn 3 (match 3) siêu kẹo ngọt Jelly Blast vừa chào sân bản cập nhật siêu hot, thêm vào trong game nhiều chế độ chơi mới, nhiều loại kẹo lạ và những giải đấu hàng tuần cực kì hấp dẫn.
Đối với những ai chưa từng nghe đến cái tên Jelly Blast, đây là một tựa game giải đố ăn 3 trong đó, người chơi có nhiệm vụ giúp đỡ Alicia, một cô bé đang tìm cách ngăn chặn thế lực xấu xa phá hủy vương quốc của mình bằng cách nổ kẹo để dọa bà ta biến đi.