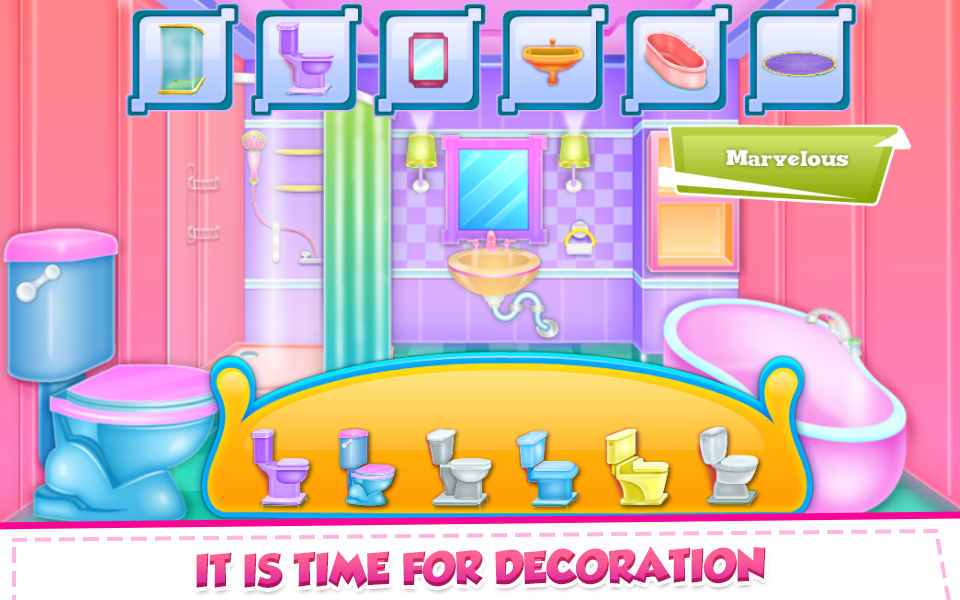 Bathroom Cleaning Time
Entretenimento | winkypinky
Jogue no PC com BlueStacks - A Plataforma de Jogos Android, confiada por mais de 500 milhões de jogadores.
Página modificada em: 22 de outubro de 2019
Recursos do Jogo
Oh my God! This bathroom looks like a disaster and your guests are minutes away. How fast you can handle an imaginary stressful situation that might prepare you for a real issue. Let's see the way you are doing in this cleaning game when you are asked to fix and wash away all the dirt and problems that make this bath appear like a total mess.This decorating game will definitely challenge your designer skills in order to create a beautiful bathroom that would have the touch of your unique style, but also will let you refresh not only the aspect as much as the smell while you are cleaning it.To be able to design the area you need to clean it right away. Each part is cleaned with a different kind of tool and you actually have to accomplish all the given tasks so you can move to the next step.

First, you have to make sure you eliminate that stinky garbage that is spread all over the bathroom and put it in the trash can. The spiderweb is all over the place and as soon as you clean that it might look even better, the mirror doesn't look good at all, remove the dirt from it too. There are another cleaning activities on there and to be able to reach the decoration part you must go through all of them. Clean the bath tube, the sink needs her pipes to be replaced and the toilet has to be taking care of because there is where the most bacteria is gathered. When the cleaning part is over you go straight to the step where your creativity and imagination should flow in because you will decorate the bathroom as you wish. Last, but not least is the laundry step where you get to wash the clothing items then hang them up to dry. Use the iron and fold them to be ready to be put in the closet.

You could find features like:
- Variety of tools and processes to accomplish
- Free and easy to play
- Awesome accessories and interesting styles to adopt
- Cleaning and designing challenges
- Play with textures and merge it with the special theme
- Try to decorate in your own style
- Find the secrets for a perfect cleaned spot
- Learn how the housekeeping is actually done
Jogue Bathroom Cleaning Time no PC. É fácil começar.
Baixe e instale o BlueStacks no seu PC

Conclua o login do Google para acessar a Play Store ou faça isso mais tarde

Procure por Bathroom Cleaning Time na barra de pesquisa no canto superior direito

Clique para instalar Bathroom Cleaning Time a partir dos resultados da pesquisa

Conclua o login do Google (caso você pulou a etapa 2) para instalar o Bathroom Cleaning Time

Clique no ícone do Bathroom Cleaning Time na tela inicial para começar a jogar