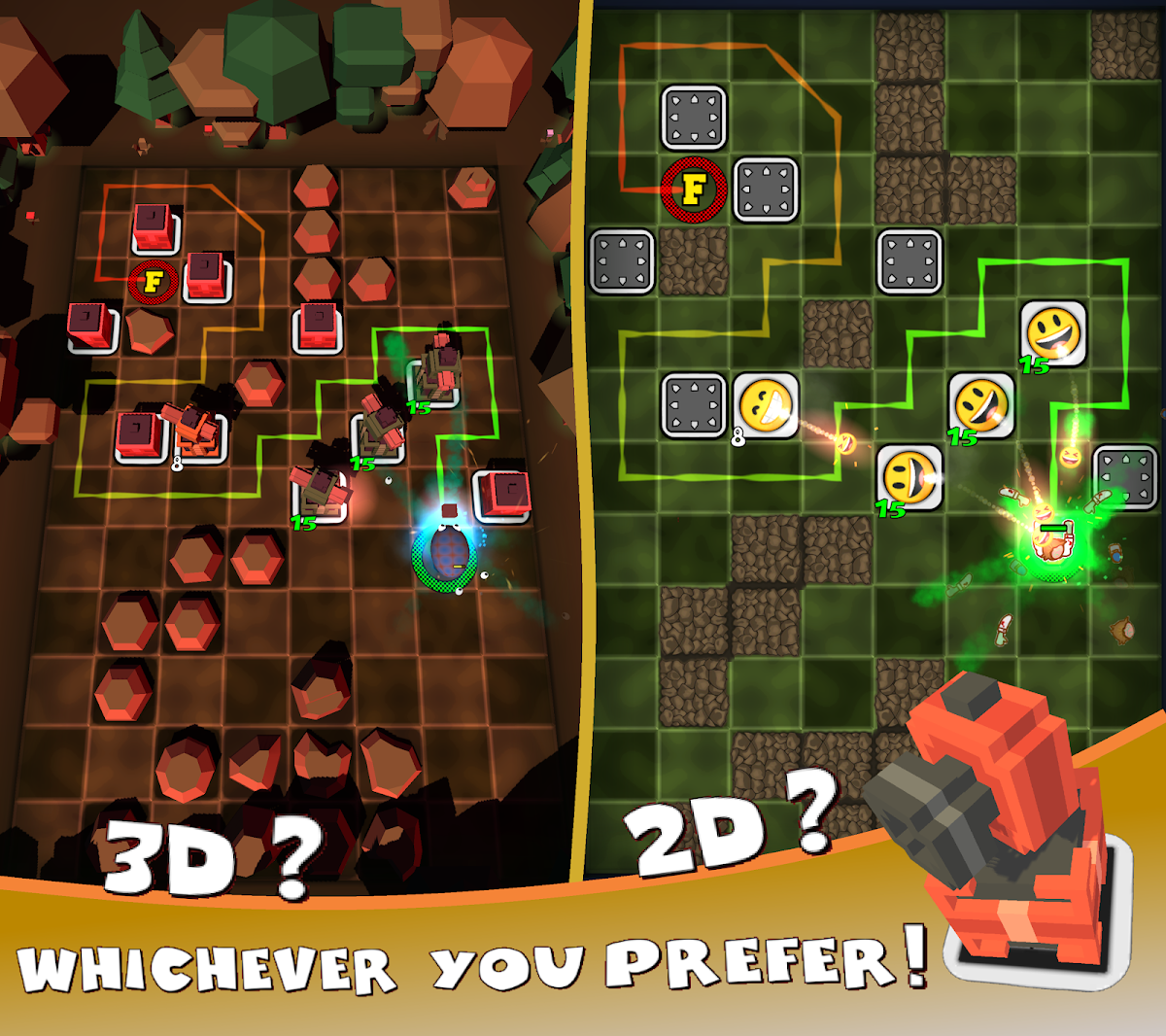 AMazing TD - A Mazing Tower Defense
العب على الكمبيوتر الشخصي مع BlueStacks - نظام أندرويد للألعاب ، موثوق به من قبل أكثر من 500 مليون لاعب.
تم تعديل الصفحة في: 21 مارس 2019
مميزات اللعبه
✤Outsmart people in this uniquely deep strategy game from the creator of countless supreme tower defense games✤

Steam version for desktop computers coming soon with the same "AMazing TD" name.

Block monster's path! Build mazes! The longer the monsters stay on the map, the more time your tower will have to do damage. The more damage you do, the higher will you rank against other players!
Every map have distinct randomized square tiles, which makes every maze you create different.

Level up to unravel advanced map features, towers, monsters and leaderboards.
Easy to learn, hard to master!


Survive Duels!
Clash against other clever players in fair real time battles.
You and your opponent play on a mirrored map, where you can effect your opponent maze. You and your adversary can even maze together in a mutual area. Envision superior mazes than your challenger. And aim to reach higher damage than your foe in this vivid tower defense mode.
Climb the elo ranking to become pinnacle of duelers!

Progress on Leaderboards!
Score more damage than anyone else on your skill level. Leaderboard's map reset weekly or daily. After reset new pseudo random maps generated and you are rewarded based on your rank and damage.
Rise in the ranks! Grasp the number 1 position on the leaderboard to become the star player!

Constantly Evolving!
Look out for new cool map features, turrets, special events and game modes in the near future.
While routine updates nourish the proper vitality of the game's meta.

Features:
✶ Endless maps, games only end when you run out of lifes
✶ Immense variation of randomized maps provide unique gameplay every time
✶ Up to 16x wave speed up, no more boredom between waves
✶ 3D or 2D graphics, whatever you adopt
✶ Real-time online 1v1 PvP multiplayer fights against players across the world
✶ Daily and Weekly global leaderboards with unique maps
✶ Comparative playback of other player's game
✶ Over 35 000 monster mixture from 35 monster aspect
✶ 10 turret types (more due soon)
✶ Unlock and upgrade new turrets
✶ Pure clean artwork
✶ Comprehensive environment settings
✶ No advertisements, No pay to play
✶ No loot boxes
✶ Unsurpassed TD game design with many unique map properties, like money spots
✶ Steady development, there is lot more to come!


AMazing TD is free to download and play. However, some items can also be purchased for real money. If you do not want to use this feature, please set up password protection for purchases in the settings of your Google Play Store app.

This is an Indie Game - it is under the aegis of one guy.
This guy's aim is to cherish an endlessly deep and progressive competitive strategy game for even casual players.

AMazing TD is the legitimate successor to other cogent tower defense games like Entropy TD, Random TD and Split TD.
العب AMazing TD - A Mazing Tower Defense على جهاز الكمبيوتر. من السهل البدء.
قم بتنزيل BlueStacks وتثبيته على جهاز الكمبيوتر الخاص بك

أكمل تسجيل الدخول إلى Google للوصول إلى متجر Play ، أو قم بذلك لاحقًا

ابحث عن AMazing TD - A Mazing Tower Defense في شريط البحث أعلى الزاوية اليمنى

انقر لتثبيت AMazing TD - A Mazing Tower Defense من نتائج البحث

أكمل تسجيل الدخول إلى Google (إذا تخطيت الخطوة 2) لتثبيت AMazing TD - A Mazing Tower Defense

انقر على أيقونة AMazing TD - A Mazing Tower Defense على الشاشة الرئيسية لبدء اللعب