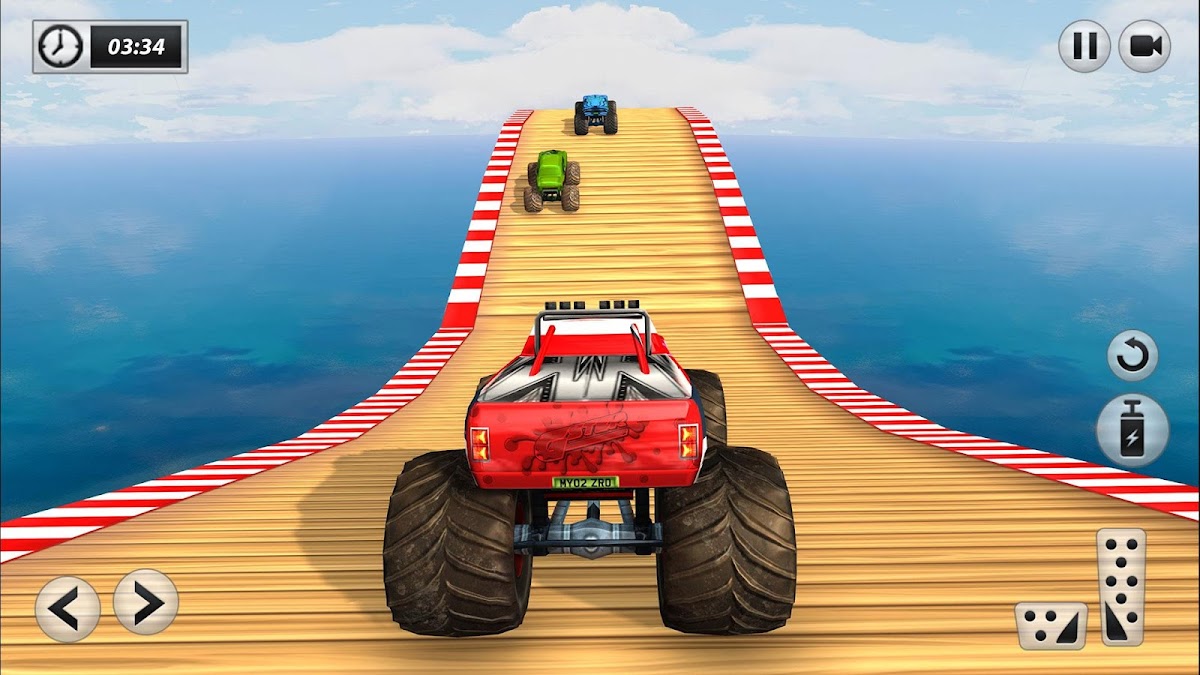 Monster Truck Impossible Tracks Racing Simulator
العب على الكمبيوتر الشخصي مع BlueStacks - نظام أندرويد للألعاب ، موثوق به من قبل أكثر من 500 مليون لاعب.
تم تعديل الصفحة في: 2 مارس 2019
مميزات اللعبه
Monster Truck Impossible Tracks Racing Simulator game 2019 is a fantastical Four Wheeler toughest Mega Ramp Monster Truck Racing Stunts extreme driving games race for glory. This Extreme GT Monster Truck City Racing Stunts arena is about driving the four wheeler monster truck in the best of GT Car Racing Monster Truck Mega Ramp Racing Stunts games 2019 xtreme driving. You will forget all other xtreme racing stunt car games after playing vertical mega ramp impossible stunts xtreme monster truck games for kids to simulate your world in all about your car games. Show off your monster gt truck extreme city car driving skills in monster truck mega ramp extreme stunts where you have to perform difficult multiple car stunts of extreme city gt monster truck racing stunts 2019 get behind the wheels In top monster truck toughest mega ramp racing car gt stunts you will be driving crazy monster stunts truck racing extreme monster wheels in the best of Xtreme Monster Truck Racing Stunts game 2019.


Extreme City Monster Truck Racing stunt game is about showing some furious impossible stunts while enjoying real monster truck driving physics on vertical mega ramps. Control Truck Jump & high monster jump through mega ramp stunts track. Extreme Monster Truck Racing Mega Ramp Stunts perform some daring stunts on monster gt truck as each level in Xtreme Monster Truck Racing Stunts is challenging, exciting & tricky than the previous stunt tracks. There are amazing xtreme racing monster trucks that you can select and unlock. Get ready for an amazing stunt drift car racing monster gt stunts truck racing adventure on impossible stunts vertical mega ramp stunts games and prove that you are the real Xtreme Monster Truck Stunt Racing Driver 2019 in this driving simulator game. This extreme city gt monster truck stunts will drive you crazy monster stunts and gives you the best chance to enjoy toughest mega ramp vertical reckless stunts car driving race for glory.


Get behind the wheel and Simulate your world with this Top Speed Monster Truck Crash Stunts in Extreme city GT Truck Crash stunts racing on realistic Mega Ramp car stunts on impossible tracks tricky stunts in Extreme City GT Monster Truck Mega Ramp stunts environment where you will experience amazing stunt driving games & mega ramp stunts game on impossible tricky tacks to enjoy extreme car racing and extreme car driving on fast pace speed tracks racing stunts challenge as well as impossible stunts racing fearless mega ramp truck stunts 2019 crash stunts on google games before you Run out of fuel in now a days trending games of 2019 that are monster truck tracks derby stunts, flying car stunts & extreme gt car stunts but here is your chance to rule in extreme city gt environment of American Mega Ramp Monster Truck Tracks Crash Stunts on Impossible racing tracks.


Monster Truck Impossible Tracks Racing Simulator 2019 Innovative Features
• Challenging Monster Truck Extreme City Car Stunts Tracks with extreme time limit.
• Xtreme Monster Truck Stunt Driver with Realistic HD graphics & engaging sound effects.
• Superb Top Monster truck racing games for kids with most addictive gameplay.
العب Monster Truck Impossible Tracks Racing Simulator على جهاز الكمبيوتر. من السهل البدء.
قم بتنزيل BlueStacks وتثبيته على جهاز الكمبيوتر الخاص بك

أكمل تسجيل الدخول إلى Google للوصول إلى متجر Play ، أو قم بذلك لاحقًا

ابحث عن Monster Truck Impossible Tracks Racing Simulator في شريط البحث أعلى الزاوية اليمنى

انقر لتثبيت Monster Truck Impossible Tracks Racing Simulator من نتائج البحث

أكمل تسجيل الدخول إلى Google (إذا تخطيت الخطوة 2) لتثبيت Monster Truck Impossible Tracks Racing Simulator

انقر على أيقونة Monster Truck Impossible Tracks Racing Simulator على الشاشة الرئيسية لبدء اللعب