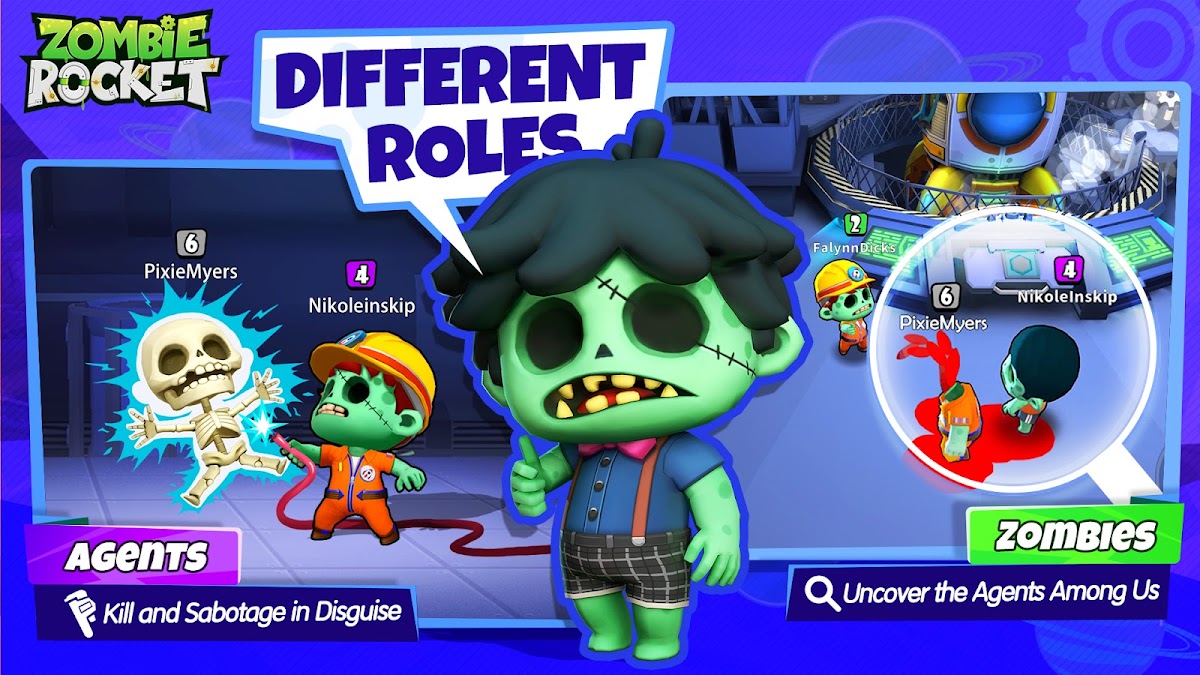 Zombie Rocket
Ação | Agents among Zombies
Jogue no PC com BlueStacks - A Plataforma de Jogos Android, confiada por mais de 500 milhões de jogadores.
Página modificada em: 28 de julho de 2021
Recursos do Jogo
The year is 2530... A dark struggle between Zombies and Humans is unfolding...

As Zombies now rule the Earth, most surviving humans have to escape to Mars by rocket. Ever in search of more brains to eat, the Zombies are planning to use captured rockets to follow the humans to Mars! However, human Agents are hiding in the shadows! While sabotaging tasks and eliminating Zombies, Agents hide their identity as they try to prevent the Zombies from launching their rocket.

Call meetings, share information via voice chat and vote to uncover the Agents in your midst. Watch out! Those cunning agents may post fake locations…Feel your brain burn as you desperately try to figure out who's telling the truth, and who's lying!

[Game Features]
- More Strategic in Social Deduction
Cooperate with zombies to finish the tasks and launch the Rocket to Mars, but stay suspicious! Agents can sabotage in disguise, make emergency events and even kill zombies just behind your back! However, you can also slay an agent making good use of the wires. Enemy or friend, Zombie or Agent, it's so hard to know for sure!

- Fast-paced 5 Minute Party Game
Play with family and friends, anytime, anywhere! Is your Mom an Agent? Your best friend now a Zombie? Uncover the traitors at all costs! Zombie Rocket will make you laugh til you cry - every game is like a 5-Minute Party!

- No Cheats, No Hacks
We're not rocket scientists ourselves, but we do know a lot about quality games. No cheats, no hacks, and great features to block annoying players with the tap of a finger!

- 3D Art and Brand New Maps
It's an adorable Zombie invasion! Cute characters and exquisite maps all brought to life with high-quality 3D graphic design. The ultimate casual gaming experience!

- Rich Gameplay, Casual Vibes
A variety of highly creative and engaging mini-games add to the fun of completing tasks, which help in preparing the rocket for launch! Be careful, don't be addicted to our mini-games and get alone, otherwise you will be voted during discussion.

- Cute Customizable Characters
With all these different Zombie skins to choose from, which one will you pick as your favorite? In addition to set skins, mix and match accessories as you like to show off your creative side!

- An Awesome Native Voice Chat System
Discuss with other Zombies from all over the world, as if they're sitting right next to you! Wait a second - actually, that's might be an Agent sitting right next to you! Could you find out and vote the agents out?

The rocket is almost ready for launch, and the Zombies are hungry for more brains! Join our community for all the latest Zombie Rocket news!
Facebook: https://www.facebook.com/Zombie-Rocket-102524358544082/
Discord: https://discord.com/invite/PXdWHQQqjh
Jogue Zombie Rocket no PC. É fácil começar.
Baixe e instale o BlueStacks no seu PC

Conclua o login do Google para acessar a Play Store ou faça isso mais tarde

Procure por Zombie Rocket na barra de pesquisa no canto superior direito

Clique para instalar Zombie Rocket a partir dos resultados da pesquisa

Conclua o login do Google (caso você pulou a etapa 2) para instalar o Zombie Rocket

Clique no ícone do Zombie Rocket na tela inicial para começar a jogar