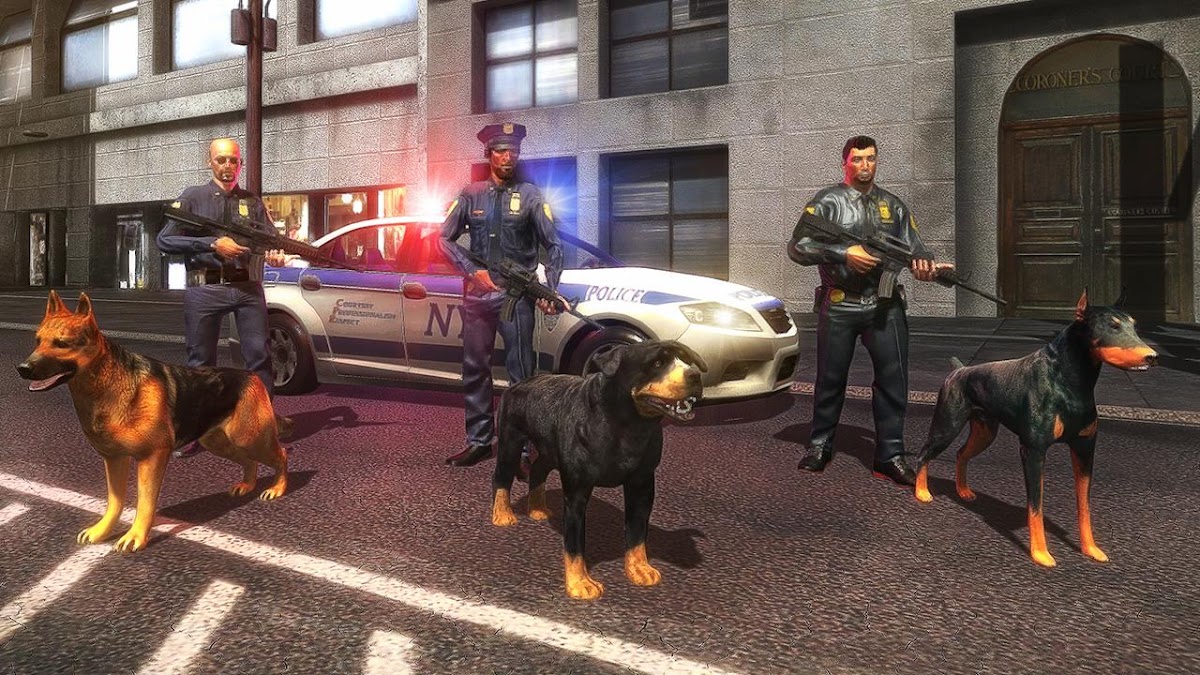 US Police Dog Survival
سيارات ومركبات | Toucan Games 3D
العب على الكمبيوتر الشخصي مع BlueStacks - نظام أندرويد للألعاب ، موثوق به من قبل أكثر من 500 مليون لاعب.
تم تعديل الصفحة في: 27 أكتوبر 2018
مميزات اللعبه
US Police Dog Survival is a blend of police games & survival games. US Police Dog & Gangsters rivalry is getting serious. The police dog game takes a new twist by making you in-charge of the city security job. Become a real super hero crazy fighter dog to keep a watch on gangsters, robbers and criminals. As an in-charge killer dog, prevent police crimes and catch jail break prisoners. The real Police Dog Survival story begins with you playing as the crazy dog to catch police Criminals and gangsters. Keep in mind that hunger & thirst can kill you so survive as long as you can in this survival games. An ultimate adventure begins when you start catching monster criminals and control police crimes with the special force. Safety of the citizens is your first priority so start your duty in this police dog survival games. You have been chosen as an expert secret agent as dog to stop and catch the mafia involved in the prison break crime. Use your sniffing skills to chasing down and lockup dangerous criminals with k-9 German Shepherd. Assist the police officer as a skilled fighter dog to end up the criminal activities. police Dog survival is an action packed crime game with the best chasing missions. As a trained security police officer, your duty is to keep an eye on any suspicious activity involving fighting Gangsters, thugs & Mafia people.

The Police dog survival is all about killing Crime squad while fighting for control crime rate of the town. Play this police dog survival with adventures and enjoy exciting police missions by shooting at Monster gangsters and killing your rivals as hero fighter dog. Gangsters of Downtown are back in urban town with their underground force and they are doing heist & crime in the main city. Become ruthless dog and make yourself ready to stop gang war of gangsters and robbers in wildest crime chase. Don't let them escape with their crime squad and shoot all Vegas gangster in city of crime. Give a hard time to police rivals & take revenge. It's time to start a real rival action against these cruel gangsters in this survival game. Be a super hero and don't let the criminals and gangster killers to catch you. It's really an incredible crazy simulator of dog for those looking to have fun as a doggy. In this survival game you are the police pursuit trained German shepherd. As a hunting dog your real mission is to chase down the thieves, robbers and criminal who are trying to escape and getting away after breaking into the city and running fast through the streets. Follow police criminal suspects and gangsters in various challenging missions with secret officer masters in this simulator game. sniff out bombs, prevent street crimes and help police officers to keep city safe! Use your powerful sense of smell, night vision, and keen hearing. Gangsters kill and attack thugs by pouncing on them! Utilize a combination of attacks to sharpen those teeth and claws! Discard illegal weapons and chase convicts! Don't let the bad guys escape! Use your energies and try to successfully chase & arrest prisoners. Surprise dangerous criminals and never let your town turn into a city of crime! Enjoy Dog survival game help cops to save the city. Use Clever dog hunting and sniffing skills to being the best super hero dog in city! Actually this simulator of dog game is for those who always want to play like a clever k9. Help cops to chase and catch hard time criminals.
Features:

• An Ultimate Dog survival Simulation game
• Real time simulation of police dog
• Adventure of K-9 Sniffing and catching criminals, gangsters & robbers
• downtown streets to explore
• Realistic 3d environment
• Easy and fun entertainment to play
• extreme action simulation packed challenging missions
العب US Police Dog Survival على جهاز الكمبيوتر. من السهل البدء.
قم بتنزيل BlueStacks وتثبيته على جهاز الكمبيوتر الخاص بك

أكمل تسجيل الدخول إلى Google للوصول إلى متجر Play ، أو قم بذلك لاحقًا

ابحث عن US Police Dog Survival في شريط البحث أعلى الزاوية اليمنى

انقر لتثبيت US Police Dog Survival من نتائج البحث

أكمل تسجيل الدخول إلى Google (إذا تخطيت الخطوة 2) لتثبيت US Police Dog Survival

انقر على أيقونة US Police Dog Survival على الشاشة الرئيسية لبدء اللعب