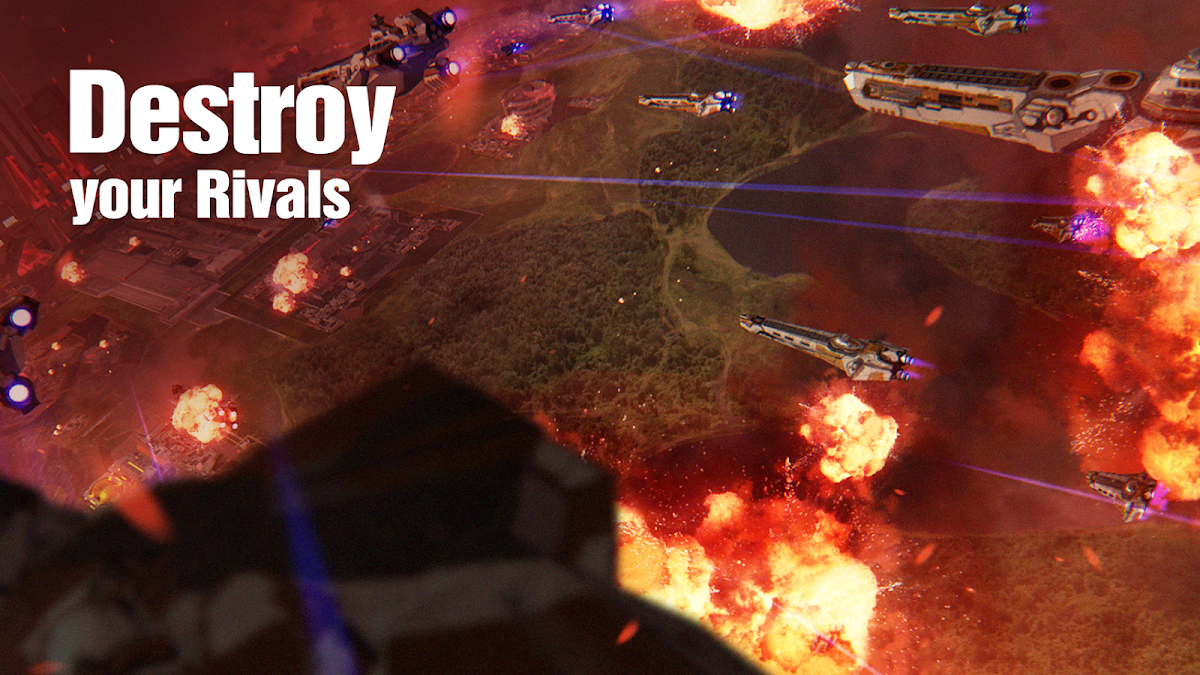 ASTROKINGS
Tilting Point
آخر تحديث 21 أغسطس 2020
العب على الكمبيوتر الشخصي مع BlueStacks - نظام أندرويد للألعاب ، موثوق به من قبل أكثر من 500 مليون لاعب.
صالة عرض

مميزات اللعبه

كيف ألعب

ألعاب مشابهة
مميزات اللعبه
Clash with rivals in powerful cosmic spaceship battles, manage futuristic resources and build planetary facilities on countless worlds! Bid to become the absolute galactic imperator in this epic, sci-fi real-time strategy multiplayer saga. Download ASTROKINGS to experience one of the best MMO space games on a universal scale!

Immerse yourself in the game story written by New York Times bestselling sci-fi authors Amie Kaufman and Jay Kristoff of the Illuminae Files series, who won numerous awards such as the esteemed Aurealis Award for Best Science Fiction novel in 2015 and 2016!

STORY
The Nebula Imperium is no more – the emperor is dead. An untold number of worlds that served as the second cradle of mankind now lie in ruins. The unfathomable alien invaders -the Crux- and vile pirates are razing civilizations to the ground. In midst of the chaos, various factions forge federations to vie for supremacy and dominance. It is time for you to rewrite history and carve your throne in the stars!

FEATURES
★ Revitalize your planet!
- Construct and upgrade buildings and rebuild your planet in ruins
- Recruit galactic heroes to set planetary policies, harvest resources and lead your fleets to victory and conquest
- Vanquish space pirates and galactic criminals to gain spoils of war
- Mine and trade space resources to build up your space colony and spaceships

★ Crush your rivals in all-out space fleet battles!
- Battle against alien fleets, space pirates, and enemy squads
- Build legendary spaceships including cruisers, interceptors and motherships to amass powerful fleets to wage war
- Research weapons and technologies to strengthen your nation's power and prestige
- Join or lead a galactic federation with players around the world to battle against alien spaceships, and aspire to become the defender of humanity

★ 4X MMO space war!
- Defeat hordes of enemy forces with your allies in massive MMO clashes
- Gain state-of-the-art equipment and arms through your federation and dominate your foes
- Battle and conquer enemies to secure precious resources in a space strategy game of cosmic scale!
- Command using your nation's strongest leaders and lead your fleet to MMO battle domination
- Customize your fleet with dozens of spaceships to suit your space war strategy

★ Decide a national policy!
- Create a national policy for your planet with each side providing specific benefits
- Choose a policy of despotism and build up your space empire
- Take the path of liberalism to create a powerful scientific society
- Enforce your national policies to reap the benefits of your decisions

★ Form Powerful Alliances!
- Create a planetary embassy and join a galactic federation
- Conquer the galaxy with your friends or with new allies
- Build a fleet with your allies to battle space pirates and hostile alien forces
- Coordinate strategic war against enemy planets in rally attacks

★ Immersive, cinematic 3D graphics never before seen on mobile!
- Space war, planetary battles and PvP action with beautiful HD graphics
- Incredible galaxies to explore with stunning PC-quality visuals
- Fast-paced MMO PvP spaceship battles rendered in beautiful 3D

> Official Facebook: www.facebook.com/playastrokings
> Official Twitter: https://twitter.com/playastrokings
> Homepage: www.playastrokings.com
> Customer Service: https://astrokings.freshdesk.com/en/support/home
العب ASTROKINGS على جهاز الكمبيوتر. من السهل البدء.
قم بتنزيل BlueStacks وتثبيته على جهاز الكمبيوتر الخاص بك

أكمل تسجيل الدخول إلى Google للوصول إلى متجر Play ، أو قم بذلك لاحقًا

ابحث عن ASTROKINGS في شريط البحث أعلى الزاوية اليمنى

انقر لتثبيت ASTROKINGS من نتائج البحث

أكمل تسجيل الدخول إلى Google (إذا تخطيت الخطوة 2) لتثبيت ASTROKINGS

انقر على أيقونة ASTROKINGS على الشاشة الرئيسية لبدء اللعب