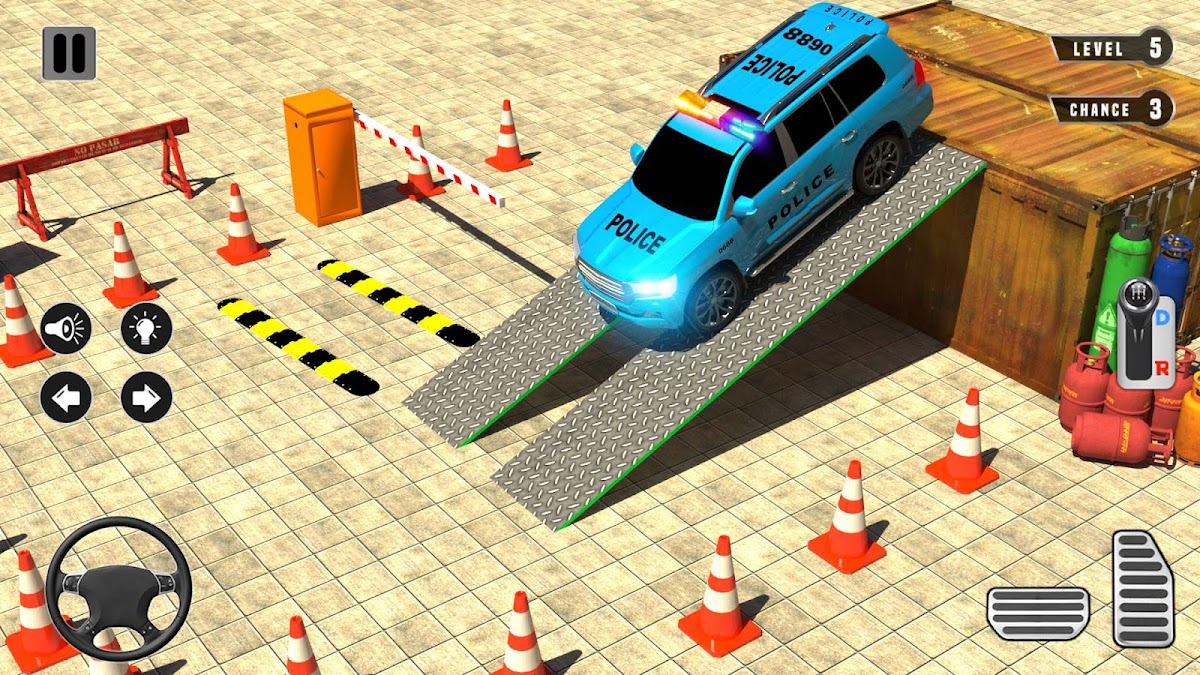 Police Car Games Parking 3D
Jogue no PC com BlueStacks - A Plataforma de Jogos Android, confiada por mais de 500 milhões de jogadores.
Página modificada em: 7 de março de 2022
Recursos do Jogo
Police Car Games 2021: Car Parking 3D Master🚗🚥🚧

Get ready to play the sequel of new police car games which is filled with tons of modern car parking games adventures. We know you are fed up of playing regular type of car games🚘 that's why Zmmy Games 2020 introduces a biggest mobile parking simulation game for the fans of real.car.parking.games. Car parking 3D master is more than just a car game🚘 because it has superb graphics, real car driving and car parking levels with multiple luxury cars such as police truck, 4x4prado car and police siren car.

Car parking 3d master is an addictive mobile kar game as compared to other modern car driving games 2021. Unlike other offline car games and free games 2021 this modern police parking simulator has its own class in sense of real parking and modern car driving experience. Theme of this parking simulator 2021 is very simple but hard to play even for professional drivers. Steer away your car🚘 from barriers to prevent your prado car from getting bumped. Park your car in exact parking space, if you bumped your car with parking cones more than 3 times then your game will be failed.

This modern car parking is a master piece in car parking 3d offline games 2021 category. Like other top free car games this gadiwali game will developed your car driving skills because it is design with supervision of real car driving trainers. Different driving school tips are added in this parking games new 2020. This car simulator assign you a different parallel parking and hard parking tasks which are difficult because racing a car on impossible tracks or mega ramps is not difficult as compared to park a car in parking lot. One of the core feature of this police parking game is its power steering which gives you a smooth and real driving experience even in hard parking mode. Real parking environment of this police wala game is enough to train you like a parking master 2021.

This police car parking game gives you a chance to compete with highly skilled parking masters around the globe because in future we add multiplayer parking mode in this free game 2021. Get this ultimate car parking simulator from play store and feel a thrill of realistic car parking. This latest driving simulator is capable of providing an experience of what driving a real car is. Real driving school 2021 allows you to get behind the wheels of luxury cars and become a best car driver of 2021.

Police Car Games 2021: Car Parking 3D Master Features:
🚓Virtual steering wheel provides a real driving and parking experience.
🅿360° camera angle is enough for detailed gameplay experience.
🏆No stability and compatibility issues: Highly optimized game for almost every type of device.
🚧Traffic rules tutorials are added just like driving school games.
🚥Hard parking garages and parking lots are available.
🚓Multiple vehicles are available such as police truck, real SUV Prado car and police sports car.
🅿Real prado car parking experience for boys and girls.
🏆New games 2021 for boys, play without internet connection and wifi.
🚧Offline car parking games with addictive gameplay
🚥Free car games embedded with limitless parking fun.
Jogue Police Car Games Parking 3D no PC. É fácil começar.
Baixe e instale o BlueStacks no seu PC

Conclua o login do Google para acessar a Play Store ou faça isso mais tarde

Procure por Police Car Games Parking 3D na barra de pesquisa no canto superior direito

Clique para instalar Police Car Games Parking 3D a partir dos resultados da pesquisa

Conclua o login do Google (caso você pulou a etapa 2) para instalar o Police Car Games Parking 3D

Clique no ícone do Police Car Games Parking 3D na tela inicial para começar a jogar