Exclusivos BlueStacks
Por que o BlueStacks é a melhor plataforma para jogar Garena Free Fire?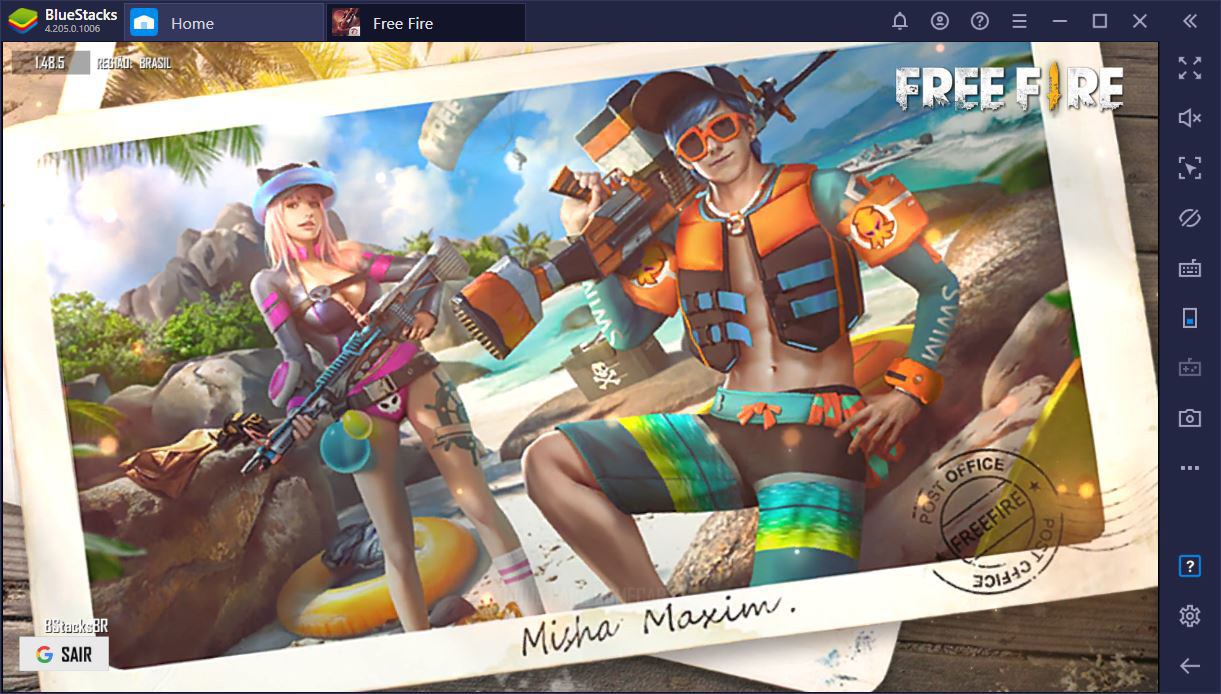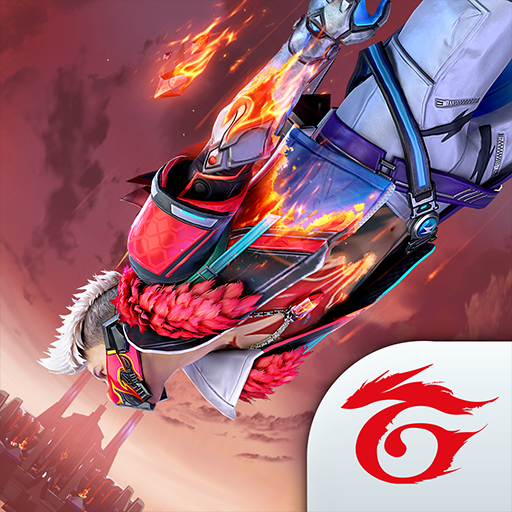 It is not an easy task to bring the Garena Free Fire gaming experience to your computer. That's because the game is all based on gestures and touches using the touchscreen of the phone or tablet, while the computer works with keys being pressed and mouse clicks.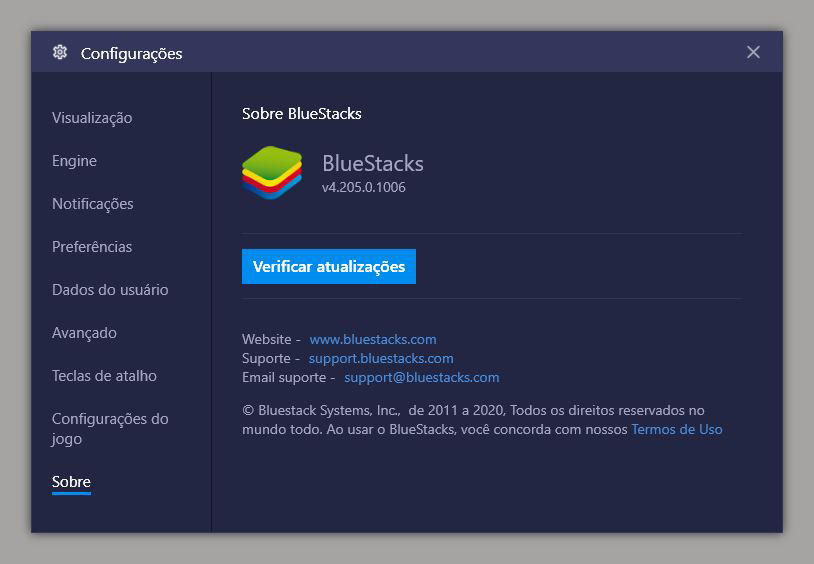 Pensando nisso, o BlueStacks conta com um recurso chamado Smart Controls, o qual já se encontra ativo e pré-configurado pela própria equipe do emulador para funcionar perfeitamente com os jogos mais famosos. Ou seja, se você já está jogando através do BlueStacks, é quase certo que já esteja usufruindo dos recursos de Smart Controls. Percebeu como está dando mais capas aqui do que no celular? Já conseguiu alguns BOOYAH! desde que começou a jogar no computador? Não se admire, é o Smart Controls funcionando na prática!
Checando a versão do BlueStacks
Antes de mais nada, é importante que você se certifique de que está com a última versão do BlueStacks instalada em seu computador. Para fazer isso, é muito simples:
Abra o aplicativo BlueStacks;
Clique no ícone da engrenagem, na parte inferior da barra de menus à direita da tela;
Isso abre o menu de configurações. Nas opções que você vê à esquerda, clique em "Sobre"
Agora basta clicar em "Verificar Atualizações", e o próprio BlueStacks se encarregará de checar se você está mesmo utilizando a última versão do programa.
Como foi o caminho até chegar na perfeição do Smart Controls?
Até antes da versão 4.140 do BlueStacks, o Smart Controls não estava disponível, e contávamos apenas com a opção de mapear as teclas da maneira básica. Isso fazia com que a experiência do usuário em determinados jogos não era a ideal… em jogos como o Free Fire, por exemplo, era necessário estar todo o tempo apertando o botão referente a ativar ou desativar o modo de tiro.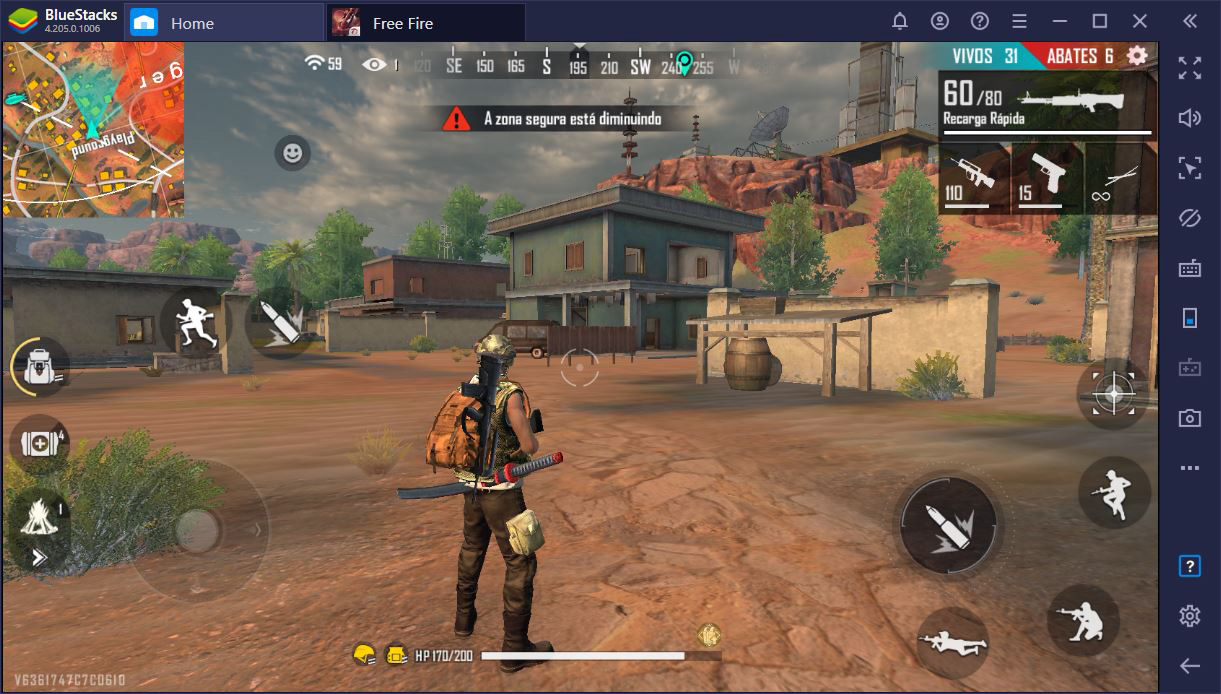 The shooting mode, which, in turn, is a feature that makes the mouse used to control the screen, just like in FPS games on the computer. It turns out that on the cell phone, this is done by dragging the finger in the desired direction, and the activated shooting mode transformed the movements of the mouse in this movement of dragging the finger on the screen.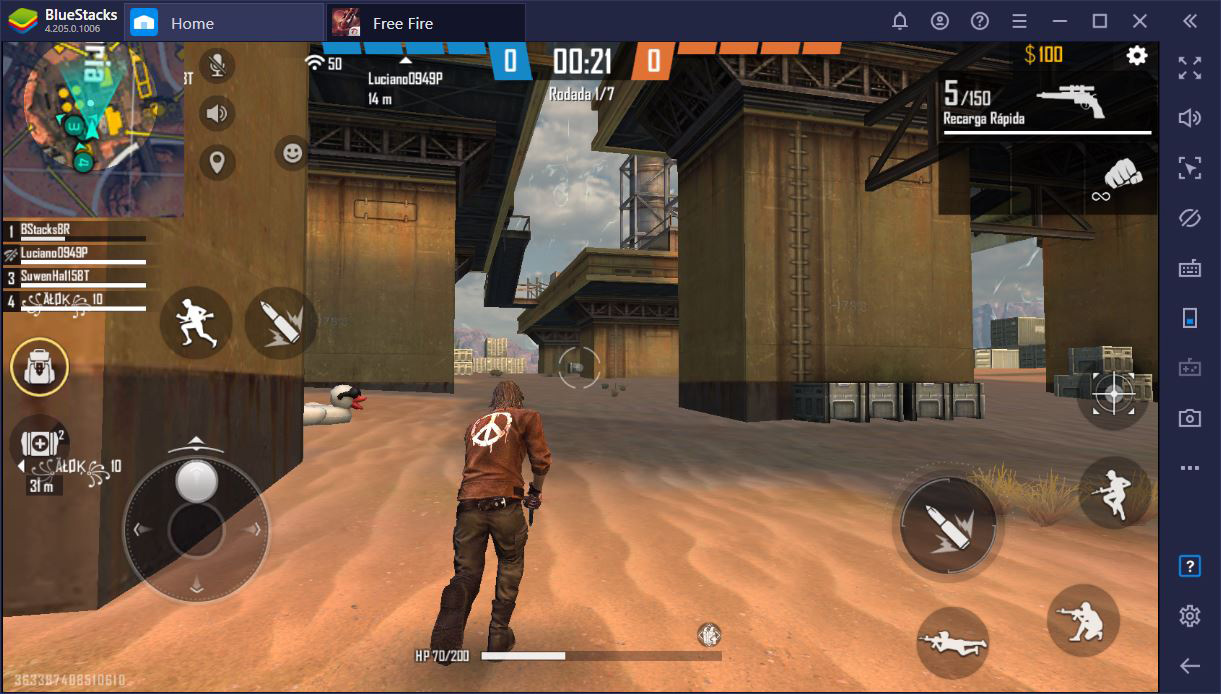 Therefore, Smart Controls is nothing more than a way to delegate to a sophisticated artificial intelligence that work that we would have to do by pressing a key to switch between activated or deactivated shooting mode.
Examples of how Smart Controls solves your life on Free Fire
Imagine a situation of killing an enemy and going to get your loot. While you are picking up the items, another enemy comes to confront you. Without smart controls, that would be a problem for sure, since you would have to press a button to disable the shooting mode when making the loot, then you would have to press that button again to go to the shooting mode, maybe a long enough for the enemy to get you down.
Another tangible example is the ease with which we access the menus and navigate through them from the moment we start the game, until opening the map in the middle of the game. Without Smart Controls, each time we had to use the mouse cursor, we would have to press a button on the keyboard, which would have to be pressed again when we entered the game.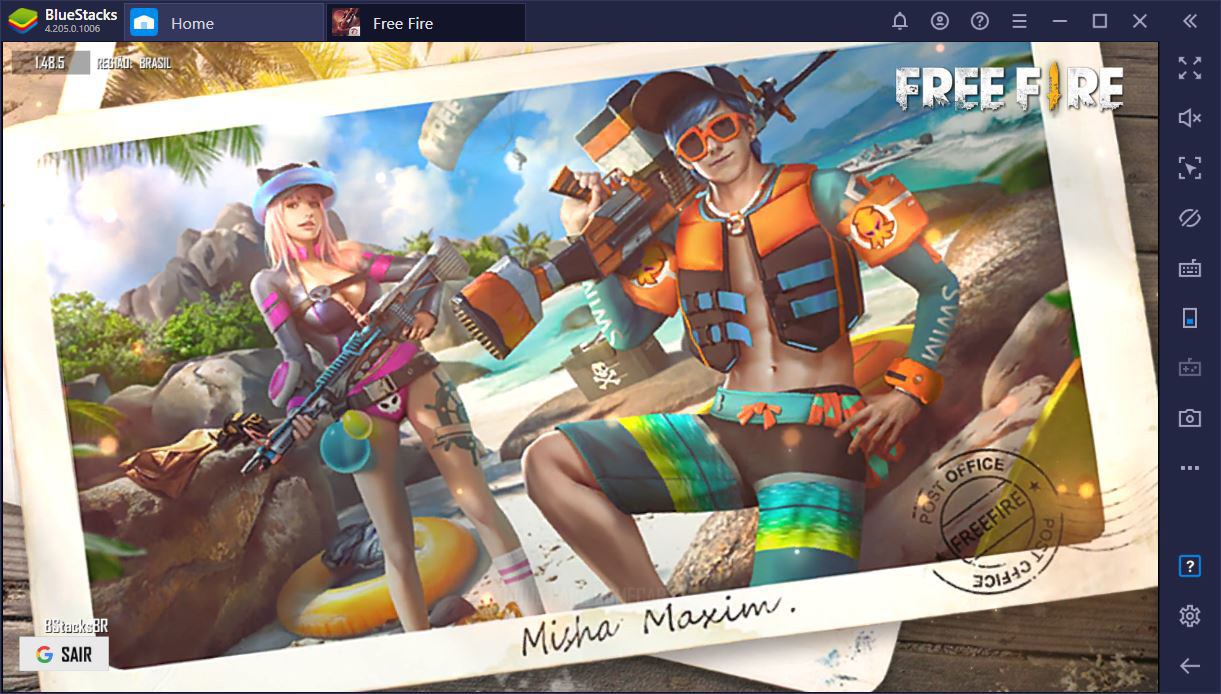 The fact that it is possible to play Free Fire using a mouse, just like in a FPS game for a computer, alone makes Smart Controls a commendable tool.
An important feature of BlueStacks that not every user is aware of is controlling the sensitivity of the mouse for FPS games. To adjust the sensitivity, while Free Fire is open, open the settings (just click on the gear icon in the options bar on the right). Right away, you will already see a field where you can increase or decrease the value for the mouse sensitivity.
How do I edit the commands for Garena FreeFire on BlueStacks?
Rest assured, it is not because Smart Controls is a sophisticated technology that changing the controls should pose any problem. We start by clicking on the "Show Controls" option, where we will see a sidebar on the right, with a whole list of commands. Notice that at the top we have selected the "Smart" scheme.
Basic controls are rarely changed by players, not to mention the sensitivity of the mouse, which is usually very low by default. It's worth going up a bit if you have experience with FPS games.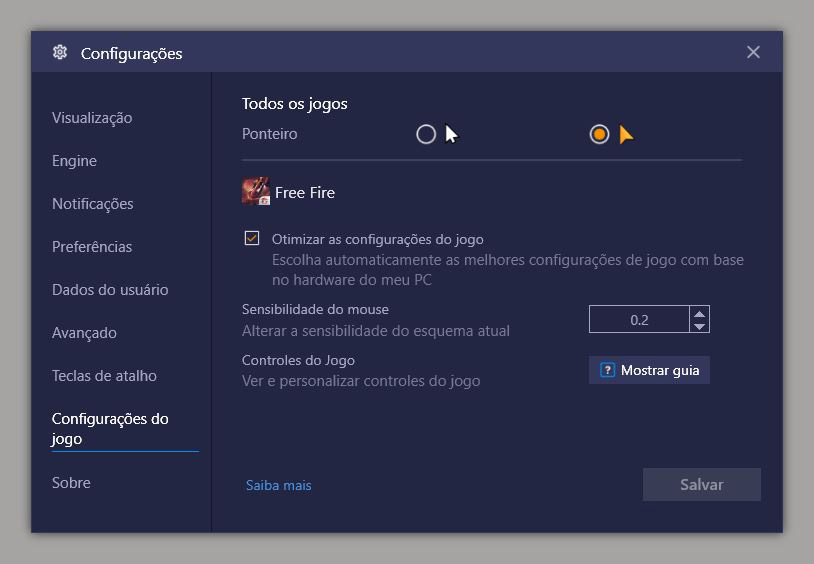 For combat commands, many players already prefer to change some things. The most important thing is that you always try to remember the commands you chose, or let this little screen be displayed on the screen until you memorize everything, so you don't waste time testing a thousand buttons until you find the right one.
The commands in the last part, called "General", are the most important ones to customize the way you prefer. See that important functions such as "Revive" and "Microphone" must be in comfortable places on the keyboard for you to use them without compromising your performance in the game.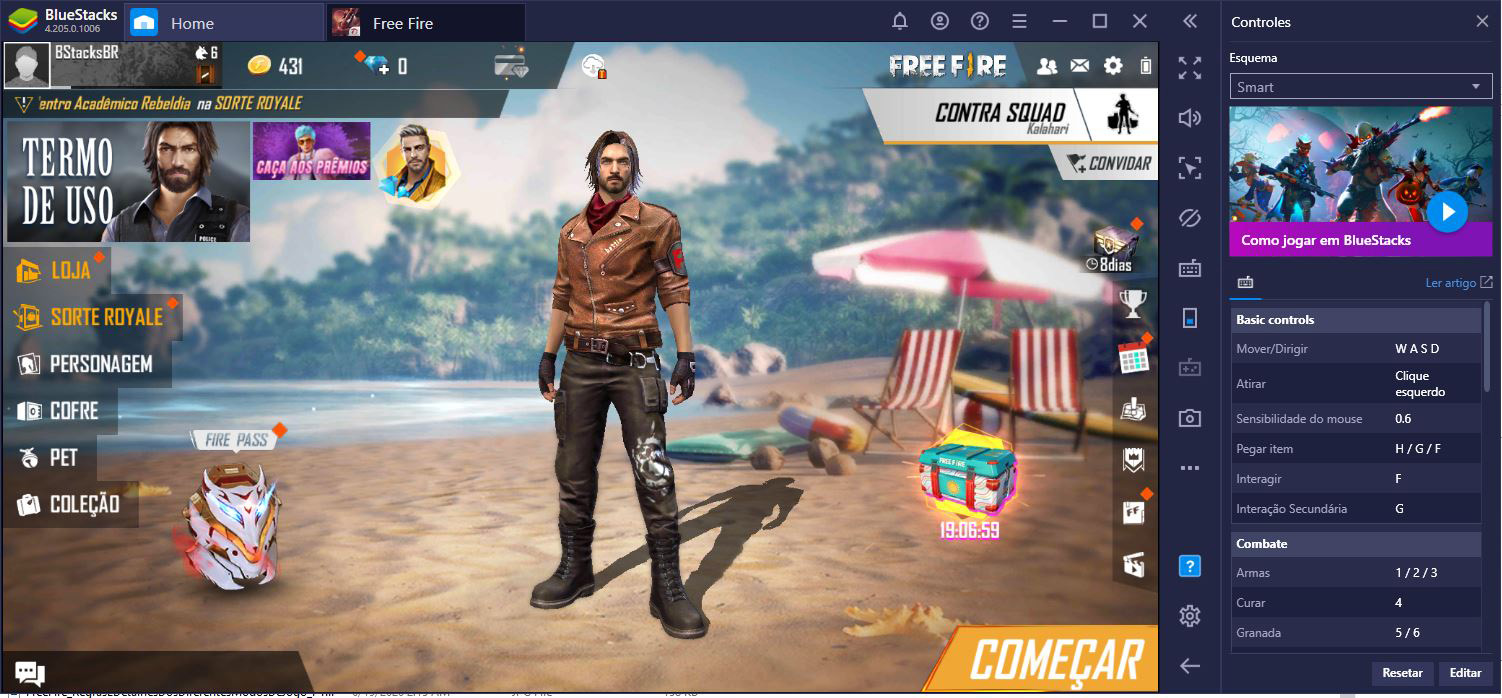 Can I create my own Smart Controls profiles for the games I want?
Yes for sure! In fact, other people have already made their versions of Smart Controls for Free Fire or other games like Call of Duty. Anyway, it is something that requires some technical knowledge of the tool itself, in addition to a minimum of programming logic already internalized.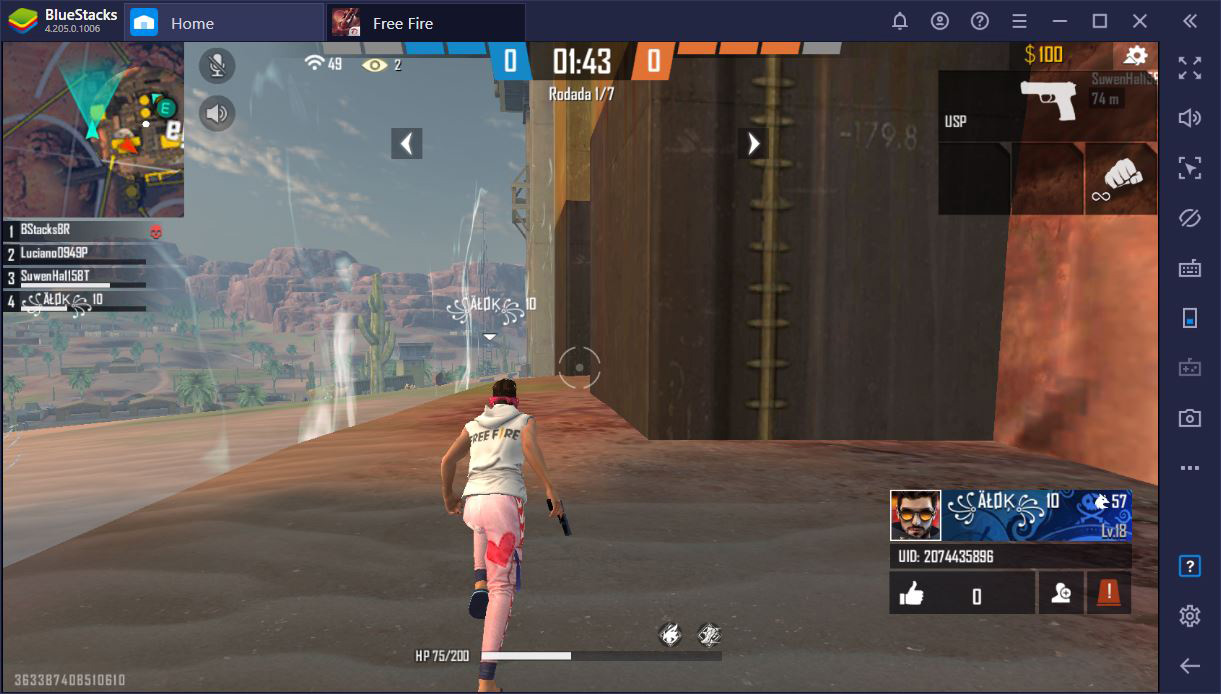 That's because Smart Controls uses 11 different commands to describe actions on a cell phone screen translating these actions to a specific shortcut created by us. The commands are "Touch Point", "Repeated Point", "D-Pad", "Aim, Move and Shoot", "Zoom", "MOBA Skill Pad", "Slide", "Look Free", "Tilt" , "Script", "Rotate". Within each of these actions, it is possible to configure several details, such as movement intensity, strength, speed, etc.