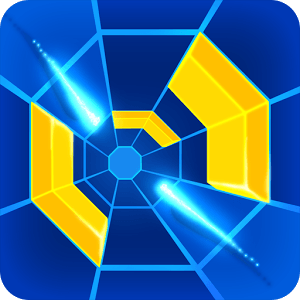 StarFly
Welcome to StarFly! Do you have what it takes to fly over the universe avoiding obstacles in a mystifing maze?
Control the two stars at the same time and drive them into a tunnel where every block is a deadly collision.
Going forward you will collect sparks to speed up or slow down your space trip. Learn how to fly in this new interconnected way. How far can you go?  
Unlock all different colors and skins combinations to personalize the tunnel graphic environment and maximize your visual experience.
Use the single player mode as a training ground for the real challenge: real-time online multiplayer race! Challenge people from all around the world and try to be the best in the global leaderboard or in the local one. Invite your friends to beat you, and when you'll be at the top, pay attention: all other pilots will try to steal your crown!
FEATURES
- Tight and fast paced gameplay
- Amazing graphics
- Simple controls
- Unlockable colors or graphics to customize your tunnel
- Real-time multiplayer mode
- Endless hours of flying fun
----
PERMISSIONS FOR NEW UPDATE
We added the replay function with Everyplay, so now you can share your gameplay videos with your friends!
For this reason, the game will ask you for the following permissions:
- RECORD AUDIO: allows an application to record audio.
- ACCESS TO CAMERA: required to be able to access the camera of the device.
- ACCESS PHOTOS, MEDIA AND FILE: allows an application to write to external storage.
Thank you for your understanding and enjoy all new features of last update!
Keep Starflying with us!
Please leave a positive review on the App Store if you like the game! 
This helps us to develop many other engaging games.
Thank you for playing!
Developer
Tiny Games Srl
Category
Arcade
Last Update
August 9, 2016
Update notes
Hi pilots of stars, are you ready to fly? In this update:
- added "replay" function: share your gameplay videos (n description all info about new permissions required)!
- more languages (Italian and Russian)
- minor bug fixes
Thank you for playing!
We hope you'll enjoy your flight.
If you need support, please contact us at support@tinygames.it.

Take Flight and Control the Stars on Your Computer
A flight unlike any other is about to join two stars in a non-stop race. Play the exciting StarFly to control two different stars at the same time. Race through winding maze corridors and avoid any obstacles that may be in your way. As you make your way through these never-ending space tunnels, be on the lookout for special sparks that can either speed your stars up or slow them down. Both have great benefits, once you learn how to master them. Unlock new skin and color combinations to turn your tunnel maze into a personalized display of colors.

Once you think you have a handle over the controls in StarFly, feel free to rake on the real challenge of intense, head-to-head racing with players from all over the globe. Become the most controlled racer in the galaxy to rise up the leader boards. Don't get lazy, or you may lose your top spot.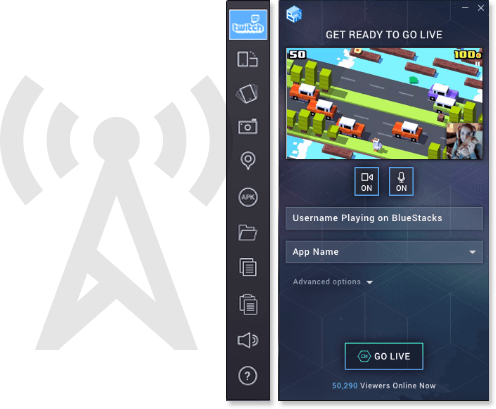 Beam Your Starlight Around the World
A shooting star is a thing of beauty that is enjoyed by millions of people all over the world. Make players smile by sharing your shooting stars with them via the massive Twitch.tv network. Every day, there are more than one million different video game streams broadcast over Twitch. Users can watch these live feeds while chatting with other viewers and even the broadcasters themselves. More and more often, big name gamers are coming to Twitch.tv to show off their skills and have a good time. With the free BlueStacks 2 player, every mobile gamer can now stream StarFly to Twitch with the ease of one-button controls.