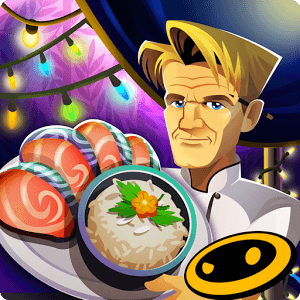 GORDON RAMSAY DASH
JOIN GORDON RAMSAY AND COOK YOUR WAY TO SUCCESS!
Travel around the globe and master your skills in unique restaurants w/ Gordon Ramsay as your guide! Build your restaurant empire!
BATTLE OTHER PLAYERS ONLINE!
Use strategy along with your culinary skills and battle other players or friends online to reach the top of the leaderboards!
CHOOSE YOUR CHEF'S LOOK!
Create your chef's own personal look with the all new avatar system, a first for any DASH game!
CELEBRITY CHEF BOSS BATTLES!
Got what it takes to compete with the best? Face Gordon Ramsay and others in new Boss Battles!
EARN AND TRADE ITEMS FOR BETTER RECIPES!
Upgrade your recipes for even better rewards by collecting rare and unique items throughout the game!
High-end, immersive tablet gameplay!
Gordon Ramsay DASH © 2016 Glu Mobile Inc. All rights reserved.
DASH, Gordon Dash, Gordon Ramsay Dash, Glu, the "G-Man" Logo, Flo, and her appearance are the trademarks or registered trademarks of Glu Mobile Inc. in the United States and/or in other jurisdictions.
Likeness, voice and images of Gordon Ramsay provided under license by Humble Pie Media Limited for Studio Ramsay. All rights reserved.
Gordon Ramsay DASH is free to play, but you can choose to pay real money for some extra items.
Use of this application is governed by Glu Mobile's Terms of Use. Collection and use of personal data are subject to Glu Mobile's Privacy Policy. Both policies are available at www.glu.com. Additional terms may also apply.
FOLLOW US at
Twitter @glumobile
facebook.com/glumobile
Developer
Glu
Category
Casual
Last Update
November 23, 2016
Update notes
Bring to life a festive Street Fair in Singapore with an All New Restaurant: Sweet 'n' Savory Street Food!
- 60 new challenging Levels
- New Auto Chef, Customer, and VIP!
- New Prep Kitchen Boost to give you more Time to complete any level
Various Gameplay Updates:
- Venue 2 AutoChef now fully prepares orders
- Cooking Meters were not "fun" enough; as a result we have reduced their difficulty and frequency
- New Avatar items
- Optimizations and Improvements to improve performance

Learn from the Master Chef Gordon Ramsay Himself
The man that makes the kitchen too hot to handle is back in a scorching new video game. From the makers of Diner Dash comes Gordon Ramsay DASH for the Android system. Travel the globe with Chef Gordan Ramsey as you learn to make exotic dishes and serve demanding customers. Thye faster and better you can cook, the more quickly you will grow your restaurant empire. Take your skills on the road as you battle it out with other players to score cool rewards and climb up the leaderboards. Think you're the best around? Watch for Boss Battles where you have the chance to cook against some of the greatest chefs in the world, including Gordan Ramsey himself. Collect rare items and upgrade recipes to make your showing even stronger. Play the exciting Gordon Ramsay DASH on PC and Mac using the free BlueStacks 2 Android player today.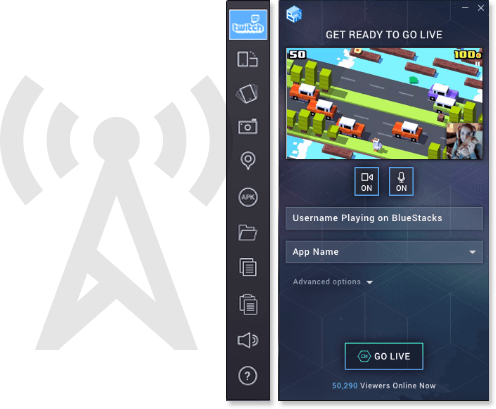 Cook for the Entire World
If you're going to be the greatest chef in the world, you are going to have to learn how to please large crowds with your delicious creations. Take your show on the road when you play Gordon Ramsay DASH on Mac and PC with the new and improved BlueStacks 2. Now, the latest version of the free player includes one-click access to the amazing world of Twitch.tv broadcasting and streaming. Join the millions of gamers that come to Twitch.tv every day to watch live video game feeds, chat with broadcasters and other Gordon Ramsay DASH fans, and even start building a following of their own.