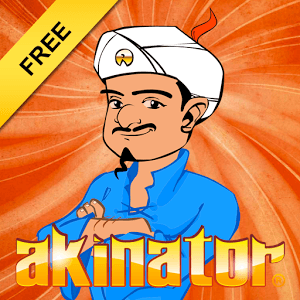 Akinator the Genie
The famous Genie needs to take up challenge. To help him, go in search for Aki Awards...
Akinator can read your mind and tell you what character you are thinking about, just by asking a few questions. Think of a real or fictional character and Akinator will try to guess who it is. Will you dare challenge the Genie?
Discover the new Akinometer, Challenge your friends on the leader boards to prove who is the best. To let your children play safely, turn on the child filter.
PLAY MORE, WITHOUT ANY LIMITS!
Akinator welcomes you to his lab to show you the most extraordinary and unusual potions (paid potions).
- The supercharged potion unlocks many new characters. Will you manage to beat Akinator?
- The radiant potion removes all ads from the app.
THE ULTIMATE POTION ! Akinator deserves the best! This potion combines the effects of all the others. It will also allow you to customize your characters so you too can impress your friends.
GO IN SEARCH FOR AKI AWARDS
Akinator invites you to think outside the box. As you know, he likes to guess characters and takes up challenges ever more difficult. To do that, make him guess forgotten characters, who have not been played for a very long time. Compare your trophies with your friends in Facebook Games.
UNLEASH YOUR CREATIVITY
Thanks to Geniz, you unlock and play with new backgrounds and customize Akinator as you want.The genie will turn into a vampire, a cow-boy or a disco man.
KEEP ON GUESSING
Each day, try to find 5 mysterious characters and win extra Geniz to customize your favorite Genie.
TRY OUT THE MyWorld EXPERIENCE
The talents of Akinator never end! Another surprise from the Genie: with MyWorld, discover a new way of playing. Challenge Akinator even more: make him guess who are your relatives and friends and gather them all into your own galerie MyWorld. Even better! Akinator can guess your friends and relatives even if you are not playing. Impossible?!
Pass your mobile to your friends and try out the MyWorld experience… and be ready for the amaze!
---------------------------
Follow:
http://www.facebook.com/Akinator
http://twitter.com/akinator_team
---------------------------
Please note:
-Akinator requires an Internet connection to use his magic lamp. Turn on Wifi or be sure to have a data plan.
-Available in several languages (French, English, Spanish, Portuguese, German, Japanese, Arabic, Russian, Italian, Chinese, Turkish, Korean, Hebrew, Polish and Dutch)
-To select your language, don't forget to scroll down the list to find it.
Developer
Elokence
Category
Entertainment
Last Update
January 6, 2017
Update notes
Compatible with Android 7.1
Faster first launch
Optimization of background working
Improvement of running on Android v7.x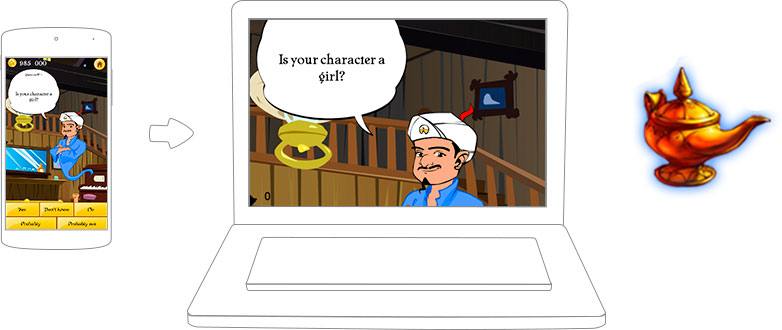 Akinator the Genie Must Take Up a Special Challenge
Help the great Akinator the Genie search the world for Aki Awards. Akinator is more than a mere genie to grant a few wishes. He can use his mystical powers to think of any character that your mind can dream up. Don't believe me? Just give him a shot. Think of any character fictional or real and allow Akinator to guess who you are thinking of. As you and Akinator the Genie progress on your journey, you will be able to challenge him to even tougher mind reads and challenges. Use the new Akimeter to challenge your friends and climb up the leaderboards. To make your gaming experience even more personal, Geniz allows you to customize you favorite Genie and add in cool looking backgrounds. Take on the daily challenge and earn even more Geniz to allow a greater range of customization options.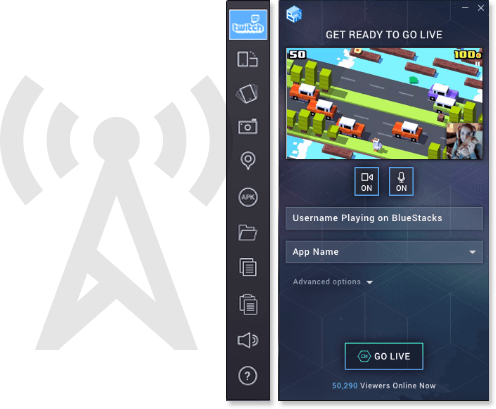 Test the Power of Aki With Twitch and BlueStacks 2
The world of video games is quickly changing and always evolving. With the loss of the classic arcades that many of us have grown up on, the need for more social interaction in gaming has arisen. To answer the prayers of gamers around the world, Twitch.tv has come along and allowed players to share their gaming footage with other fans and gamers around the globe. Now the largest online gaming community, Twitch is the perfect place to share your Akinator the Genie gaming with other fans. When you Play Bigger using the free BlueStacks player, you have access to sharing your mobile gaming footage onto to Twitch.tv quickly and easily.