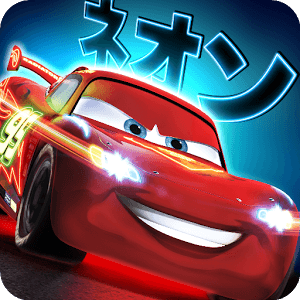 Cars: Fast as Lightning
Lightning McQueen and Mater are hosting a Radiator Springs car racing EXTRAVAGANZA, and they need some speed! Do you have the drive to play?
Race fast and free as Cars characters with nitro-charged arcade racing! Then build your own 3D Radiator Springs, home of Lightning and his buddies. Watch it go from a humble town to a thriving city!
This is your time to shine and be as fast as Lightning!
THE OFFICIAL DISNEY • PIXAR CARS GAME!
• Drive into a true Cars experience, capturing the fun personality of the characters that kids and fans have come to love, including Mater, Francesco, and more!
• Play high-quality animated cutscenes with amazing voice acting, including Owen Wilson as the voice of Lightning McQueen!
• From the legendary Lightning McQueen to the exuberant Francesco Bernoulli, race as 20 Cars characters that you can upgrade and customize with quirky paint jobs! Race as the Radiator Springs Cars, Tuner Cars, Spy Cars, or International Racers!
HIGH-OCTANE, CUSTOMIZABLE ARCADE RACING!
• Are you up to speed? Feel the heat building beneath your hood in acceleration-charged racing games with easy-to-learn controls, fast nitro boosts and other high-speed surprises!
• A completely customizable racing game! From Rocky Loops to Roller Coasters, build a 3D track to perform fun stunts!
• Hit the nitro and GO!
BUILD YOUR OWN RADIATOR SPRINGS!
• A Radiator Springs building game, featuring over 30 interactive town buildings, including Luigi's Casa Della Tires and Fillmore's Taste-In!
• Almost every character, building and landmark iconic to the Disney - Pixar movies created in beautiful 3D graphics, all with cute and fun animations!
For fans of Disney - Pixar movies, city or town building, free arcade games, racer games, Lightning McQueen, Mater, Francesco, and the rest of the Cars characters!
_____________________________________________
You can download and play this game for free. Please be informed that it also allows you to play using virtual currency, which can be acquired as you progress through the game, or by deciding to watch certain advertisements, or by paying with real money. Purchases of virtual currency using real money are performed using a credit card, or other form of payment associated with your account, and are activated when you input your Google Play account password, without the need to re-enter your credit card number or PIN.
In-app purchases can be restricted by adjusting the authentication settings within your Play Store settings (Google Play Store Home > Settings > Require authentication for purchases) and setting up a password for each purchase / Every 30 minutes or Never.
Disabling password protection may result in unauthorized purchases. We strongly encourage you to keep password protection turned on if you have children or if others could have access to your device.
This game contains advertising for Gameloft's products or some third parties which will redirect you to a third-party site. You can disable your device's ad identifier being used for interest-based advertising in the settings menu of your device. This option can be found in the Settings app > Accounts (Personal) > Google > Ads (Settings and Privacy) > Opt out of interest-based ads.
Certain aspects of this game requires players to connect to the Internet.
_____________________________________________
Visit our official site at http://www.gameloft.com
Follow us on Twitter at http://glft.co/GameloftonTwitter or like us on Facebook at http://facebook.com/Gameloft to get more info about all our upcoming titles.
Discover our blog at http://glft.co/Gameloft_Official_Blog for the inside scoop on everything Gameloft.
Privacy Policy : http://www.gameloft.com/privacy-notice/
Terms of Use : http://www.gameloft.com/conditions/
End User License Agreement : http://www.gameloft.com/eula/
Developer
Gameloft
Category
Racing
Last Update
October 13, 2015
Update notes
Minor bug fixes.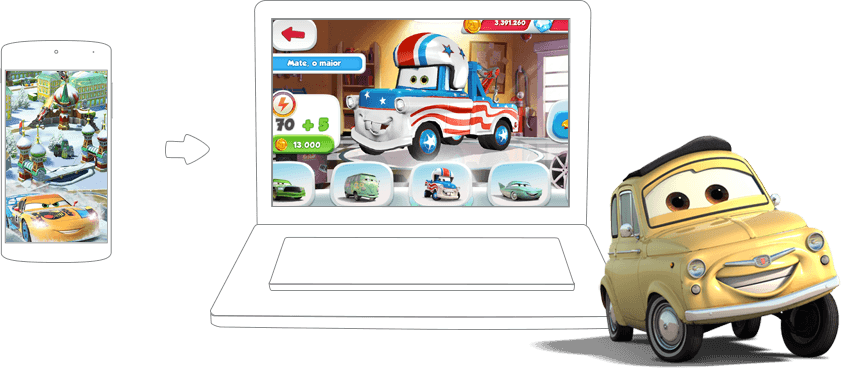 Bring the Excitement of Disney's Cars to Your Home Computer
Lightning McQueen and Mater have decided to host their very own racing event in Radiator Springs. They have everything they need except speed, so join them in some of the most exciting racing action available. Choose from many of your favorite characters from the hit Cars films and mix in a bit of speed to be the first across the finish line. As you win races, you can build your very own Radiator Springs in 3D and watch as it grows. Customize your cars and pimp them out to showcase your unique style in this officially licensed video game.

Free the Cars from your mobile device and let them live large on your home computer screen. By downloading the new BlueStacks Android Emulator, you can download and install Cars: Fast as Lightning on PC so you can enjoy as much racing fun without worrying about data plans or poor internet connections. Using your computer mouse instead of a touch screen device will give you better handling and ensure you finish every race at the top. Enjoy fully animated cutscenes featuring your favorite characters over and over again from the comfort of your home.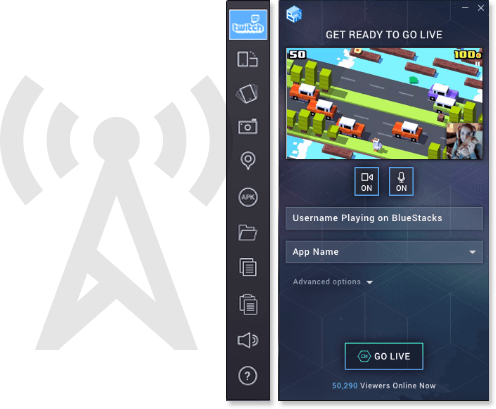 Show Your Ka-Ching to Twitch.tv
Twitch.tv is a gaming site dedicated to helping gamers get the most out of their video games. They do this by allowing players to share their own video game footage with other users to help them win tough races, show them sweet racing tricks, or even post a funny Mater video or two. Now, with the latest version of the free BlueStacks 2 gaming app, you can quickly stream Cars: Fast as Lightning gameplay and footage to the large Twitch.tv network. Meet other racing fans and maybe even start your own group of followers.