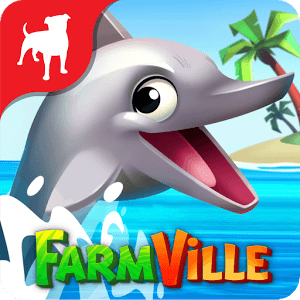 Farmvile: Tropic Escape
Escape to an island getaway filled with adventure, mystery, and fun new mini games in this colorful free-to-play game from the makers of FarmVille, the number one farming franchise!
Build your very own beachside inn complete with island workshops, tropical crops, and exotic animals. Farm island fruits like pineapples, coconuts, and mangos to delight your guests. Craft delicious recipes and rare goods like piña coladas, grilled fish, and flower leis.
Catch fish with Capri the dolphin and explore with Odney the playful monkey! Feed tasty treats to the cute, playful animals on your island to get unique photo ops for your guests. Story-based quests help you explore uncharted areas, learn more about your island and find rare items and goods.
Adventure unfolds all around your island!
ESCAPE TO THE TROPICS
- Seek adventures on your very own tropical island
- Farm unique fruits and veggies, craft fun drinks and meet adorable animals
- Discover all of the tropical crops and exotic animals that call your island home
- Run a beachside inn and start a new life in paradise
- Play mini games and have fun with new characters like Ting
UNCOVER MYSTERY, SECRETS AND TREASURES
- Complete story-based quests with island guides like the archaeologist and surfing expert
- Explore the bubbling volcano and ancient monkey temple
- Discover hidden treasures and rare goods in the secret chamber
- Investigate uncharted areas to find even more island secrets
BUILD AMENITIES FOR YOUR GUESTS
- Fix up island workshops and create your own personal paradise
- Buy a Tiki Bar, Sushi Stand, Artisan Workshop and more
- Expand your inn and hire guides to help your guests enjoy the island
DISCOVER AND PHOTOGRAPH ADORABLE ANIMALS FOR REWARDS
- Build a Wildlife Center on your island with the help of Ting, the wildlife guide
- Attract rare and exotic animals to your island like the colorful Iguana by feeding them treats
- Earn rewards by snapping photos of the animals as souvenirs for your guests
TRADE WITH OTHER ISLANDS
- Trade with other players using the trade boat
- Short on eggs? Buy the goods you need from neighboring islands
- Have too many pineapples? Name your price and sell off extra crops and crafts
- The more coins you have, the more you can do on your island
Escape to a shimmering world of sunshine, adventure and fun in FarmVille: Tropic Escape!
Download today and start building your island paradise!
ADDITIONAL DISCLOSURES
• For specific information about how Zynga collects and uses personal or other data, please read our privacy policy at http://company.zynga.com/privacy/policy.
• This game does permit a user to connect to social networks, such as Facebook, and as such players may come into contact with other people when playing this game.
• The game is free to play, however in-app purchases are available for additional content and premium currency. In-app purchases range from $0.99 to $99.99.
• You will be given the opportunity to participate in special offers, events, and programs from Zynga Inc and its partners.
Use of this application is governed by the Zynga Terms of Service. Collection and use of personal data are subject to Zynga's Privacy Policy. Zynga's Privacy Policy is available in the Privacy Policy field located in the Developer section below. Both policies are available at www.zynga.com. Social Networking Service terms may also apply.
http://m.zynga.com/legal/terms-of-service
Developer
Zynga
Category
Simulation
Last Update
December 19, 2016
Update notes
· SANTA'S CRASH LANDING HOLIDAY EVENT: Rescue the holidays by helping Santa rebuild his crashed sleigh. But was it really an accident? Play the quests to find out. Tugboat and search for parts on floating wreckage. Hire Jingles the Elf to find magical parts at the landmarks. Spread Holiday Cheer and win festive rewards, including Holly the Elf, a new visitor for your landmarks.
· LEADERBOARD: Enjoy the excitement of competing for the top spots and great rewards on the improved Leaderboard.

The Farmville Story Continues to Unfold
The old Merryweather family has been farming for generations in the long-running Farmville video game series. Come along on a mysterious trip to a tropical island that holds even more secrets of the Merryweather family and farm.

Farmville: Tropic Escape is a brand new adventure in the hit Farmville series. This time, begin growing your very own tropical resort while unlocking the ancient mysteries of the island. Grow and harvest new crops to create unique items and sell them to your guests or to your helicopter shipper. Create a Beach Club or join on already going to make friends and help each other complete orders and even send special guests back and forth. As your resort grows, you will uncover hidden secrets of the island, find amazing chests full of treasure, and learn about the connection the Merryweathers have to this island. Play FarmVille: Tropic Escape on PC and Mac by clicking the link above.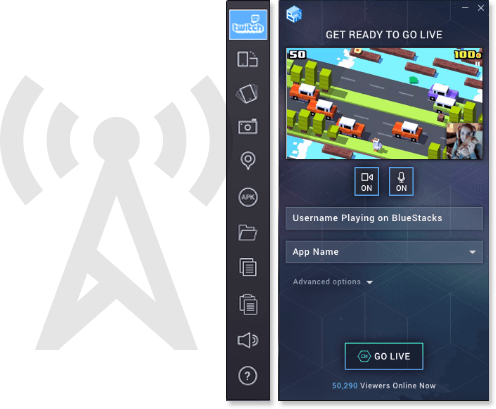 Share Your Farm With the World of Twitch
Thanks to the amazing advances in modern gaming technology, it is now possible to share all of your gaming exploits and adventures with gamers from all over the world. Twitch.tv has become one of the most popular gaming sites in the world by hosting over one million live video game broadcasts every single day. These streams are watched by Twitch users from all over the globe while they chat live with broadcasters and other gamers. BlueStacks 2 now has one-click access to Twitch broadcasting which means you can easily share any Android game or app you enjoy. Join the revolution and bring the social back to gaming.