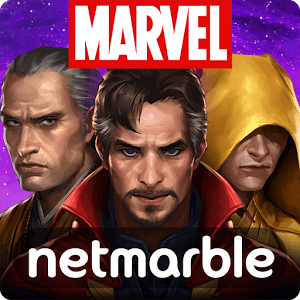 MARVEL Future Fight
1) Event period : 11/24 - 11/30
2) Event details
-Purchase items at a discounted price!
-Collect Black Friday tokens and exchange them for exclusive items!

The Avengers...Spider-Man...the Guardians of the Galaxy and now with the Sorcerer Supreme, Doctor Strange! You can unite the greatest heroes from all corners of the Marvel Universe for the epic battle that will decide the fate of all realities - MARVEL Future Fight!
S.H.I.E.L.D. Director Nick Fury has sent a dire call from the future: The multiple dimensions of the multiverse are collapsing upon each other – and it's up to you to ensure humanity survives! Gather the mightiest Super Heroes and Super Villains, assemble your team, and protect the universe at all costs!
ASSEMBLE YOUR TEAM! - Create your squad from Avengers like Hulk, Iron Man, and Captain America, as well as other famous Marvel heroes like Spider-Man and Daredevil! Upgrade your weapons and master your skills to give your team the ultimate power-up using a deep RPG leveling system.
LIVE THE STORY! - Explore the Marvel Universe in an original story created by acclaimed writer Peter David!
EPIC 3v3 BATTLES! - Test your mettle against other players in 3v3 battles! Choose from four unique hero types – Combat, Blast, Speed, and Universal – then pit your champions against your opponents' teams for supremacy.
SINGLE PLAYER CAMPAIGN - Wage epic battle against Super Villains in stage-based battles across a deep, immersive single player RPG campaign to unlock exclusive content, new costumes and rewards!
TEAM BONUSES - Team up classic Marvel characters to earn special boosts and bonuses!
SUMMON ALLIES - Need a little help to get through the next Super Villain battle? Summon your friends via the Ally System for reinforcements and claim victory as a team!
EASY TO USE, ONE-FINGER CONTROLS - Play with just a single finger, or use the virtual control pad to guide your team through the Incursion and defeat your foes!
For your convenience, we require the the following access:
-Access to Read/Write on an SD Card to download resources at game launch.
-Access Location Info for better matchmaking during co-op play.

Terms of Service: http://help.netmarble.com/policy/terms_of_service.asp
Privacy Policy: http://help.netmarble.com/policy/privacy_policy.asp
Nhà phát triển ứng dụng
Netmarble Games
Thể loại
Nhập vai
Last Update
Ngày 31 tháng 10 năm 2016
Các chú giải về cập nhật
Bug Fixes
Meet the most powerful Heroes from Marvel's Doctor Strange, 7 NEW characters, in Marvel Future Fight!
Get Doctor Strange, the Sorcerer Supreme, from the new EPIC QUESTS!
4 New Uniforms added!
DOCTOR STRANGE, BARON MORDO, WONG, ANCIENT ONE (Inspired by Marvel's Doctor Strange)
New Tier-2 characters (Doctor Strange and more), plus updated Tier-2 characters (Thanos and more)
New content from Shadowland: King of the Hill updated.
Compete for the top floor and prove your worth!

Tựa game nhập vai hành động hấp dẫn đang thu hút hơn 10 triệu lượt tải. Với lối chơi hấp dẫn cùng yếu tố đồ họa, âm thanh hoành tráng sẽ đưa người chơi du hành cùng các siêu anh hùng nổi tiếng của thế giới Marvel.
Tham gia vào game, người chơi sẽ có cơ hội nhập vai những nhân vật siêu anh hùng nổi tiếng của thế giới Marvel từng xuất hiện trong rất nhiều bộ phim bom tấn gần đây như Spider-man, nhóm Avengers với Iron, Black Widow, Captain America, Thor hay nhóm Vệ Binh Dải Ngân Hà có Star-lord, Drax, Groot, Gamora, Rocket Raccoon hay thậm chí là những nhân vật phản diện như Loki, Ultron. Phong cách lối chơi của Marvel Future Fight đi theo đúng công thức nhập vai hành động, với những pha chiến đấu điên cuồng và mạnh bạo bậc nhất.