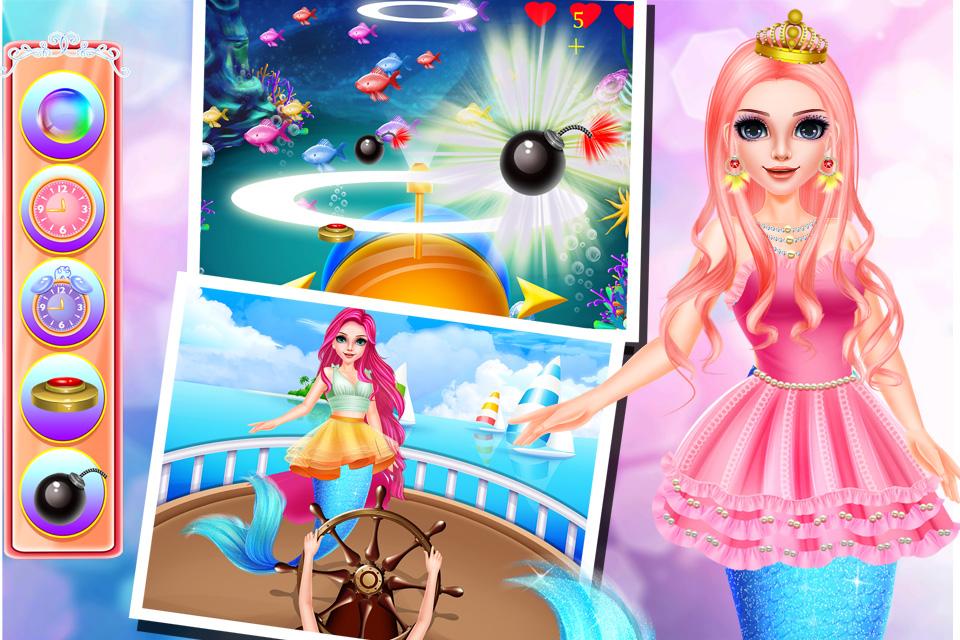 Mermaid Queen Return
lemonbab
Dernière mise à jour 16 novembre 2019
Jouez sur PC avec BlueStacks - la plate-forme de jeu Android, approuvée par + 400M de joueurs.
Galerie

Caractéristiques de Jeu

Comment Jouer

Jeux Similaires
Caractéristiques de Jeu
The mermaid princess is about to be crowned. She is so excited and happy that she wants to make her coronation perfect. So she invited the best witch in the sea kingdom to help her concoct magic potion which can enhance her power. Unfortunately, the witch wants to instead of the princess and rule the ocean world .She will persecute the princess and drive her out of the sea kingdom. I can't imagine what a disaster the witch would bring to the sea world! Come and help the princess through this dangerous period!
Features:
1. The witch will help the princess to predict the divination through tarot, crystal ball, magic mirror and astrolabe. And then make the potion for her which will help the princess to gain more power. In fact, it was a process of cheating the princess, but the princess insisted that the witch was kind. She will drink the potion.
2.Look at the poor princess! She became an old lady without supernatural power.She was badly hurt and she was about to die. Fortunately, the crew were willing to help her recover.
3.The crew will take the princess to find the long-lost spring water, and ride the submarine avoiding obstacles to find it!

4.The goddess who helped to defend the mouth of spring water has been mutilated by the witch. The spring water has been sealed.So help to the goddess restore powers, and only she can restore the spring water.
5. In order to open the mouth of the spring,put the various artifacts and treasures in order.It is really difficult and complexity,but it has to be done.
6.When the princess is restored, she must first stop the witch from being crowned. and she has to go all out.
7.In order to thank the crew for her help, the princess invited her to join the coronation.Let us quickly dressed them. It is the first time that they takes part in the coronation of a mermaid princess,please helped them take pictures.
Jouez à Mermaid Queen Return sur PC. C'est facile de commencer.
Téléchargez et installez BlueStacks sur votre PC

Connectez-vous à Google pour accéder au Play Store ou faites-le plus tard

Recherchez Mermaid Queen Return dans la barre de recherche dans le coin supérieur droit

Cliquez pour installer Mermaid Queen Return à partir des résultats de la recherche

Connectez-vous à Google (si vous avez ignoré l'étape 2) pour installer Mermaid Queen Return

Cliquez sur l'icône Mermaid Queen Return sur l'écran d'accueil pour commencer à jouer