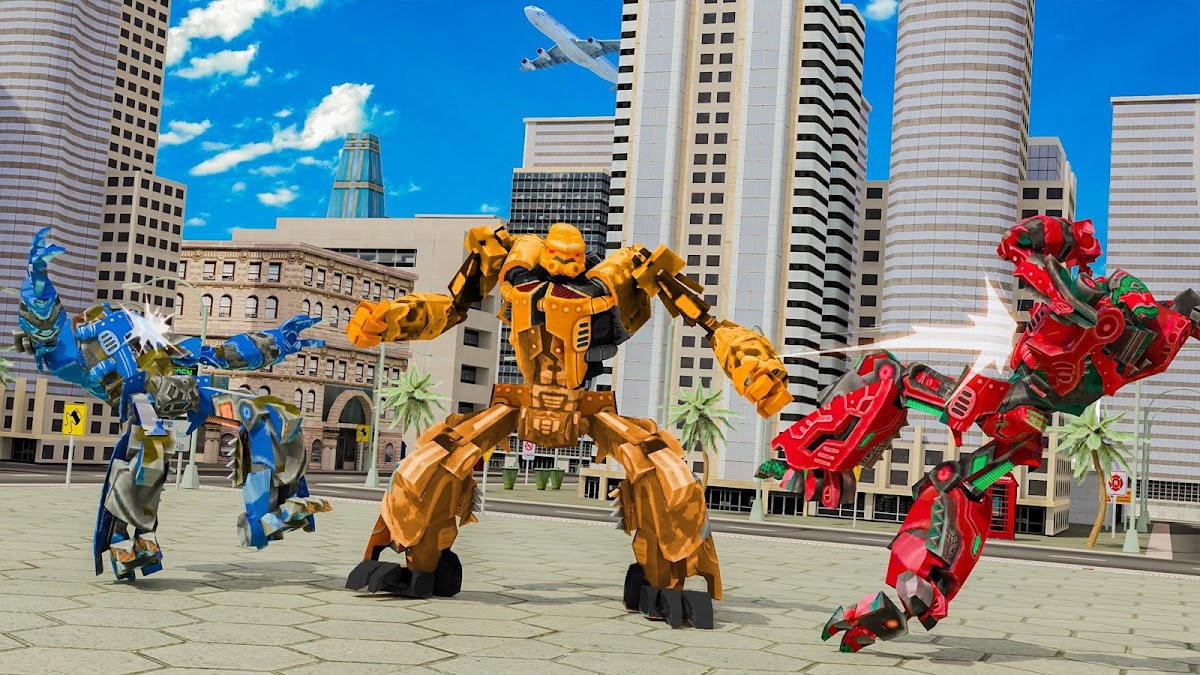 Formula Car Robot City Battle 2019
การเดินทางและท้องถิ่น | Robot Life Games
เล่นบน PC ผ่าน BlueStacks - Android Gaming Platform ที่ได้รับความไว้วางใจจากเกมเมอร์ 500 ล้านคนทั่วโลก
Page Modified on: 10 ธันวาคม 2562
Game Features
Convert your dream formula car into the big giant robot. The robot formula car modified conversion is totally action and racing game you as a formula car racer convert your real car into giant robot and then start you robot car war battle. In this robot formula car, convert your formula cars into giant robots & enjoy the ultimate robot car battle. Play challenging mission of converting robots and beat the enemy robots to win the robot formula car battle simulator. You have played a lot of formula cars modified giant robot simulator but this game is different from other robot car games, thus it contains both conversion, racing and battle at the same time. So get your hands on the most amazing and thrilling robot formula car conversion game of the year 2019.

Experience the new thrilling super battle robot formula car conversion game. You as a formula car racer have to beat the opponents or enemies that are going to attack on your giant real robot car. Collect rewards and upgrade your robot car in giant robotic missions. The futuristic city is now turned into the condition of war zone which is giving to be the most realistic and amazing fun of robot car war battle games & futuristic robot converting car fighting game. The robot car fighter have to face challenging missions which are risky too but you have to win the super battle robot car war of the year. The ultimate car conversion giant robot simulator is here with police chase in futuristic flying car bot in formula car robot games.

Explore the big city environment and become the winner in the ultimate thrilling robot formula car conversion simulator. Modify the robot formula car according to your own choice. Download robot car conversion games & enjoy a new level of fun.


Features

Ultimate robot car challenges.
Thrilling war missions and formula race.
HD graphics and stunning animations.
Select formula car for grand robot war.
Convert you formula car into giant robots.
Collect rewards and earn coins.
Best background sound effects.
Realistic robot conversion features.
Smooth and easy control gameplay.
เล่น Formula Car Robot City Battle 2019 บน PC ได้ง่ายกว่า
ดาวน์โหลดและติดตั้ง BlueStacks บน PC ของคุณ

ลงชื่อเข้าใช้แอคเคาท์ Google เพื่อเข้าสู่ Play Store หรือทำในภายหลัง

ค้นหา Formula Car Robot City Battle 2019 ในช่องค้นหาด้านขวาบนของโปรแกรม

คลิกเพื่อติดตั้ง Formula Car Robot City Battle 2019 จากผลการค้นหา

ลงชื่อเข้าใช้บัญชี Google Account (หากยังไม่ได้ทำในขั้นที่ 2) เพื่อติดตั้ง Formula Car Robot City Battle 2019

คลิกที่ไอคอน Formula Car Robot City Battle 2019 ในหน้าจอเพื่อเริ่มเล่น