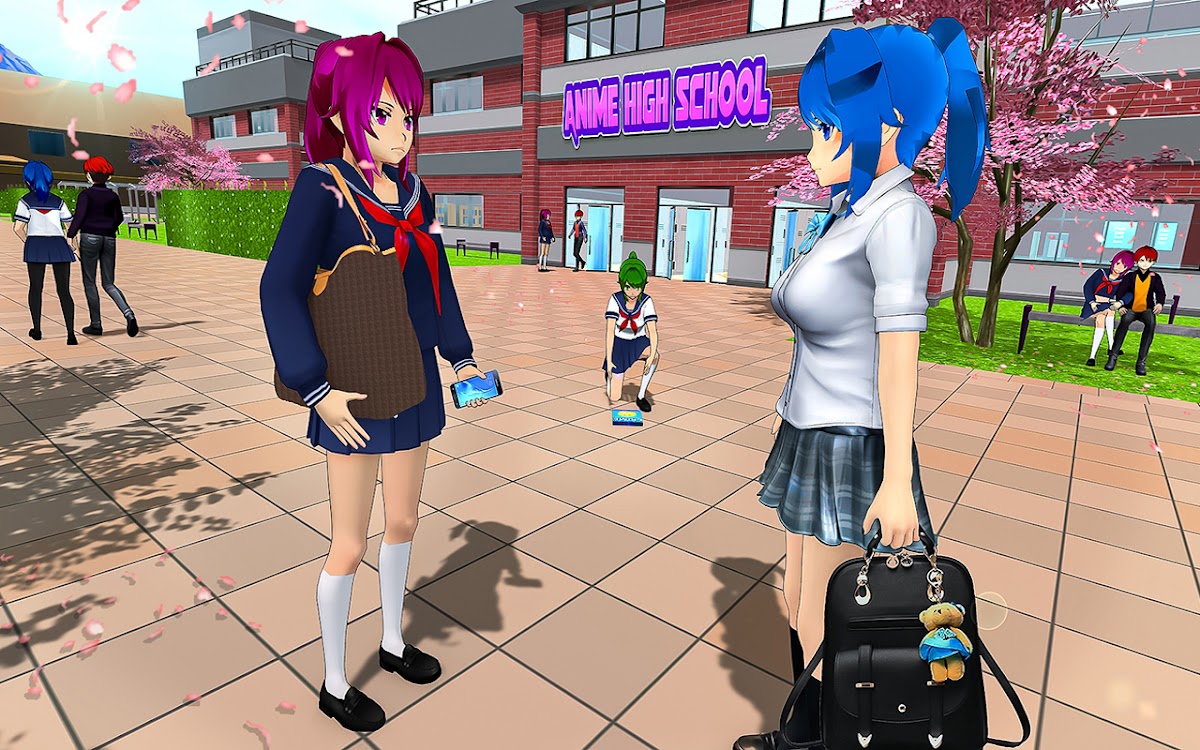 Anime School Girl Life Simulation Sakura Simulator
Simulation | Shy Cow Games
เล่นบน PC ผ่าน BlueStacks - Android Gaming Platform ที่ได้รับความไว้วางใจจากเกมเมอร์ 500 ล้านคนทั่วโลก
Page Modified on: 10 มิถุนายน 2564
Game Features
Welcome to another exciting Anime School Girl Life Simulation Story 3D: Part 2 which is a brand new addition in the category of anime school girl games. But this time we bring you some extra and unique features never seen before in another girl games. so get yourself ready to play one of the most exciting anime school girl games and explore the life of the yumi girl in virtual high school girl games. we have brought an awesome and top of the line school girl life simulator games which is no match in fun game play due to its exciting in game missions and tasks which you were totally missing out now added specially added for your pleasure.

You have already played our anime school girl simulator game which was the initial story of a yumi girl and sukara girl rivalry. so basically you are playing the life story in this school girl life simulator games which is an exciting and fun game with so much to do and have fun in this high school simulator.

Gameplay and story line :

You are new in an anime high school and you have to be the awesome and wonderful school girl which is good in studies and also good in sports and also loved and liked by all the senpai anime boys in the anime school simulator games. So what are you waiting for download one of the best and exciting girl games now and start your exciting journey of a anime girl life simulation and do what it takes to be a real girl in this sakura high school games. with all the virtual high school tasks. you also have to be good in dance moves so you can win the senpai heart so practice your dance move in beautiful dress we have specially designed for you. get a chance be the next cheerleader and senpai girlfriend in this anime girl simulator. don't let the other bad anime girl soil your love story . keep an eye on every one who is jealous of you and prank them before they get to make fun of you. hold your grounds like a real and win all the competitions and enjoy your love story with senpai while yoyo get jealous of you. this is a unique amalgamation of anime love story games and sakura high girl games which is made fun for you. now you just have to get this unique school girl simulator now embark on the journey of the anime girls adventures.

Features of Anime School Girl Life Simulation Story 3D:

-Unique and detailed anime high school environment with so much to explore and play the life simulation of sakura girl.
-Exciting and new anime school girl levels which are first time seen in this game not in other anime girl simulator games.
-Adventurous life story to get you engaged in the anime high girl story for the next few hours.
-Exciting and fun game play missions with smooth controls and relaxing music effects so you can enjoy this anime girl school game in peace.
เล่น Anime School Girl Life Simulation Sakura Simulator บน PC ได้ง่ายกว่า
ดาวน์โหลดและติดตั้ง BlueStacks บน PC ของคุณ

ลงชื่อเข้าใช้แอคเคาท์ Google เพื่อเข้าสู่ Play Store หรือทำในภายหลัง

ค้นหา Anime School Girl Life Simulation Sakura Simulator ในช่องค้นหาด้านขวาบนของโปรแกรม

คลิกเพื่อติดตั้ง Anime School Girl Life Simulation Sakura Simulator จากผลการค้นหา

ลงชื่อเข้าใช้บัญชี Google Account (หากยังไม่ได้ทำในขั้นที่ 2) เพื่อติดตั้ง Anime School Girl Life Simulation Sakura Simulator

คลิกที่ไอคอน Anime School Girl Life Simulation Sakura Simulator ในหน้าจอเพื่อเริ่มเล่น