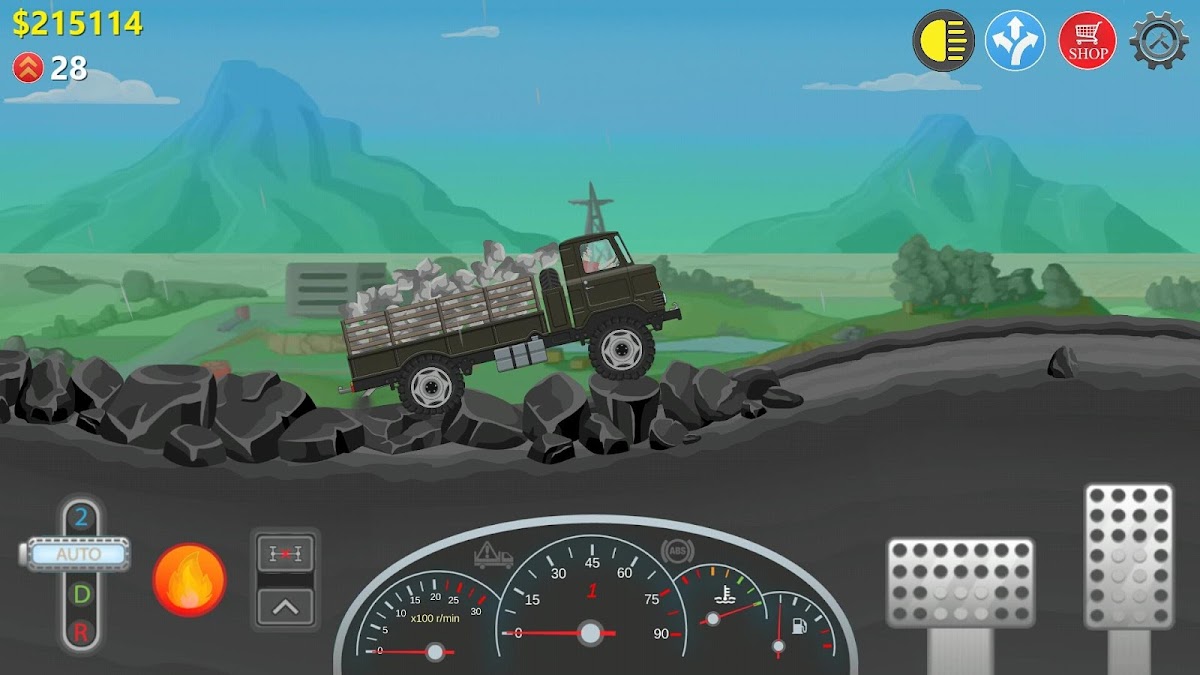 Trucker Real Wheels - Simulator
ILXAM
Son Güncelleme 13 Aralık 2019
400M + oyuncunun güvendiği Android Oyun Platformu, BlueStacks ile PC'de oynayın.
Zaten bir BlueStacks kullanıcısı mısın?
Şimdi Aç
Galeri

Oyun Özellikleri

Nasıl Oynanır ?

BENZER OYUNLAR
Oyun Özellikleri
Take on the role of Trucker, transport various cargoes, earn money and restore the city.

Test your skills in difficult road situations, use differential locks and low gears, overcome difficult mountain roads and snow.

Open new plants, use powerful trucks to transport goods, overcome difficult weather conditions, make your way on trucks on the road.

Feel like a trucker, transport goods using large trailers, you can transport Wood, iron ore, cars, trucks, tractors.

A realistic truck physics simulator, you can adjust the suspension height, shock absorber stiffness, change tires to achieve the best off-road grip.

Excellent 2D graphics, detailed trucks and cars, Working headlights for night trips, customization of trucks and cars is also available to you, you can change the colors, wheels and tires of cars.

More than 30 different plants, restore all plants and enterprises, more than 30 different types of cargo, starting with simple boards, ending with Trucks and cars.

If you want to become a trucker, our roads will help you, in the game more than 50 roads, 6 types of terrain, Forest, Fields, Mountains and hills, Desert and Winter.

Also in the game there are time races, take your truck or car, take part in races, get into the leaders and all players will know your name.

A dynamic change of weather conditions, a change of day and night, rain, snow, make your way through all the difficulties to the top on the road on your cars.

During the ride, you can turn on the differential lock, use lower gears, use the boost button, monitor the temperature of the engine, otherwise you will have to pay for repairs, refuel the car so as not to be left on the road without fuel.
Daha az gör Daha fazla gör
Trucker Real Wheels - Simulator oyununu PC'de oyna. Başlamak çok kolay.
BlueStacks'i PC'nize İndirin ve Yükleyin

Play Store'a erişmek için Google girişi yapın ya da daha sonraya bırakın.

Sağ üst köşeye Trucker Real Wheels - Simulator yazarak arayın.

Trucker Real Wheels - Simulator uygulamasını arama sonuçlarından indirmek için tıklayın.

(iEğer Adım 2'yi atladıysanız) Trucker Real Wheels - Simulator uygulamasını yüklemek için Google'a giriş yapın.

Oynatmaya başlatmak için ekrandaki Trucker Real Wheels - Simulator ikonuna tıklayın.