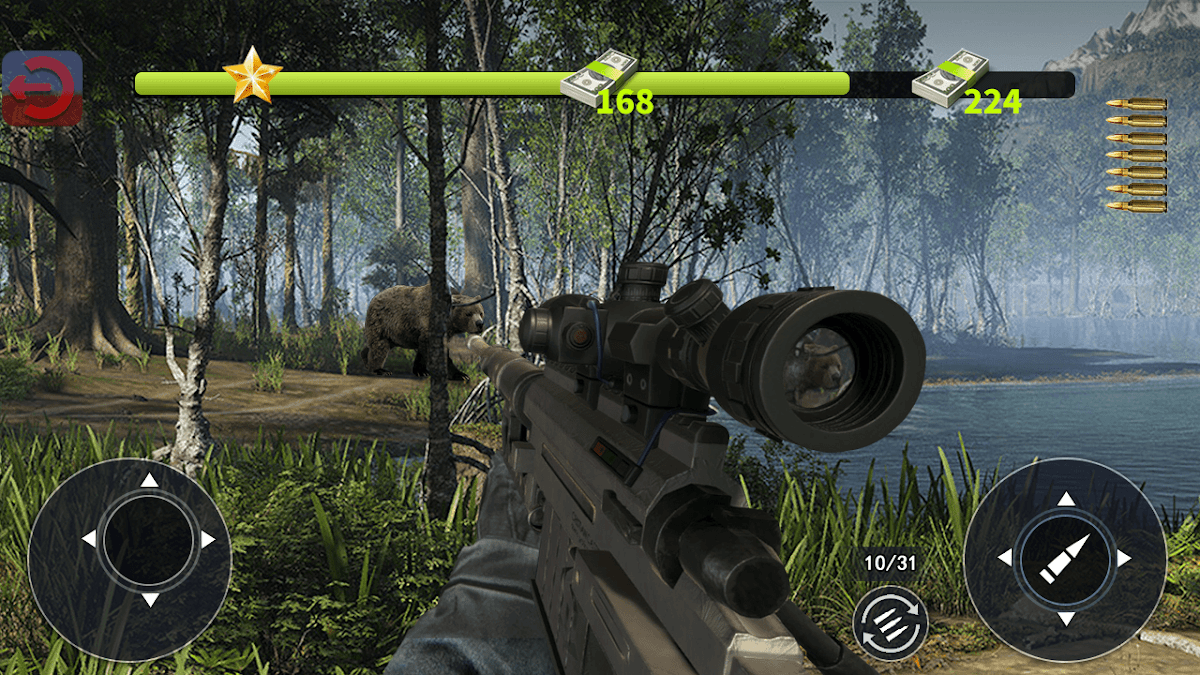 The Hunting World - 3D Wild Shooting Game
500M + oyuncunun güvendiği Android Oyun Platformu, BlueStacks ile PC'de oynayın.
Sayfa Değiştirilme tarihi: 3 Ağustos 2021
Oyun Özellikleri
It's time to collect your hunting gear, mount a sniper rifle with your friends, hone your senses in the wild and track wild animals in real hunting locations. Become a real hunter and respond to the call of the wild!

Are you ready for the ultimate hunting experience?
Do you like visiting new amazing hunting locations and photographing realistic wildlife?
Do you dream of trying different modes of hunting games: hunting freely and shooting animals as you like, or putting up a sniper rifle with your partner to participate in hunting competitions, forming your own club or joining other people's clubs to form a hunting event together to see who shoots The most accurate.
Are you interested in competing with other real hunters using sniper rifles in PvP online mode?
Are you eager to learn how to use a sniper gun to shoot various wild animals or any other hunter games?

Features of wild hunting:
→ Use a sniper rifle to shoot deer quietly or compete with other hunters to shoot other wild animals.
→ Shoot rare and rare prey in the forest,
→ Team up to explore in the mountains and shoot some ferocious beasts
→ Leisurely hunting deer humming in the grassland
→ Need to pay attention to the weather and different types of equipment and ammunition. This is the most realistic hunting game!
→Hone your hunting skills, compete in PvP online mode, and become the best animal hunter in the world!
→ Create a new hunting club or join an existing hunting club. Enjoy the fun of hunting with friends, and meet hunters from all over the world in the exciting hunting club activities!

Explore a vibrant world
Immerse yourself in a diverse environment full of hundreds of animals! In the mountains, Chinese medicine is careful to be attacked by violent bears. Just avoid cheetahs on the vast grassland, but don't be attacked by predators! Now the hunt begins!

Animal hunting tournaments and tournaments-take part in the competition now!
Climb the leaderboard and become a famous animal hunting expert! You will find many hunting tournaments that you can participate in for free. When challenging other hunters in our PvP online mode, hone your hunting skills to perfection and prove that you are a real hunting master! Let the best shooter win!

Choose your weapon
Get your favorite sniper rifle from free hunting equipment or repurchase other weapons and equipment. You can choose to use a sniper rifle into the soul with a single shot, and some people like to use a sport hunting crossbow to show their archery skills. Weapons and equipment should be regularly repaired and upgraded, and different equipment should be selected for different locations and hunting games. Whether you are a classic bow and arrow fan or a fan of firearms and weapons like us, there will be weapons to meet your needs, making you a top predator on the hunting ground!

Stimulus 3D graphics
What sets The Hunting World apart from all other action shooting games is the attractive 3D graphics. Observe the hunted animals up close through the weapon scope, aim and pull the trigger carefully! Watch the bullet fly in slow motion, pass through the bushes and hit the target-bullseye!
Daha az gör Daha fazla gör
The Hunting World - 3D Wild Shooting Game oyununu PC'de oyna. Başlamak çok kolay.
BlueStacks'i PC'nize İndirin ve Yükleyin

Play Store'a erişmek için Google girişi yapın ya da daha sonraya bırakın.

Sağ üst köşeye The Hunting World - 3D Wild Shooting Game yazarak arayın.

The Hunting World - 3D Wild Shooting Game uygulamasını arama sonuçlarından indirmek için tıklayın.

(iEğer Adım 2'yi atladıysanız) The Hunting World - 3D Wild Shooting Game uygulamasını yüklemek için Google'a giriş yapın.

Oynatmaya başlatmak için ekrandaki The Hunting World - 3D Wild Shooting Game ikonuna tıklayın.