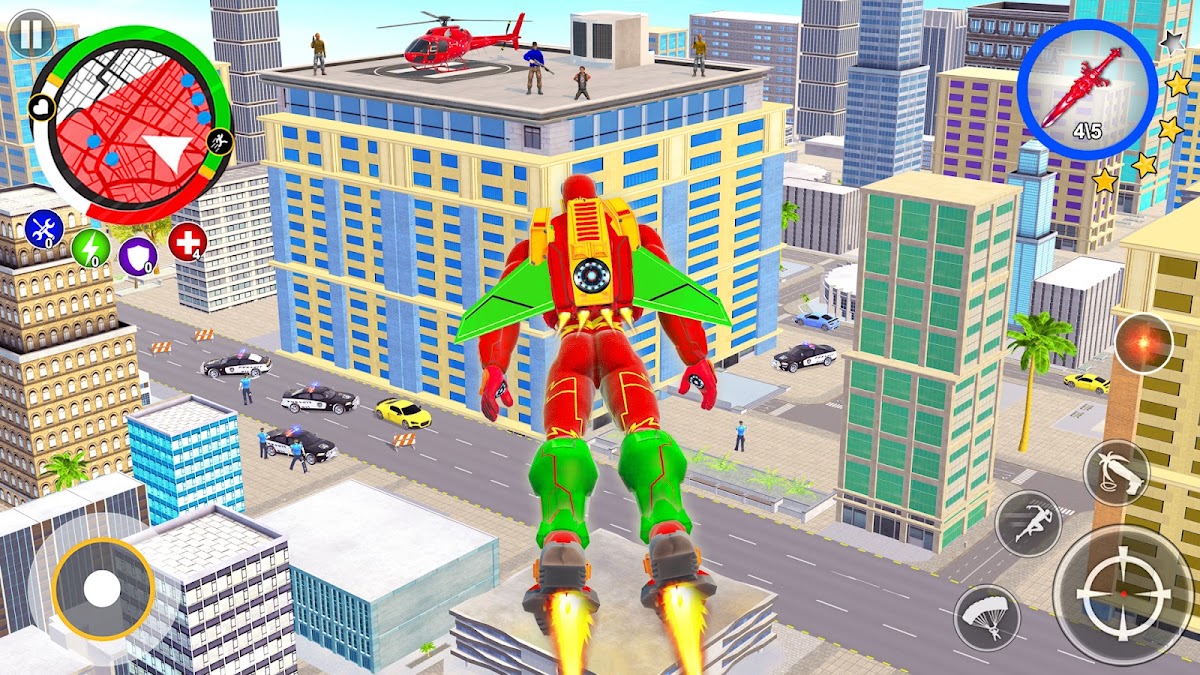 Rope Robot Hero Superhero Game
500M + oyuncunun güvendiği Android Oyun Platformu, BlueStacks ile PC'de oynayın.
Sayfa Değiştirilme tarihi: 3 Ağu 2022
Oyun Özellikleri
Climb and Rescue
Fly for grand robot rescue missions against real gangster squad in this superhero game. Play Flying Police Robot Rope Hero: Gangster Crime City and get ready for super hero rescue mission. Become futuristic robot superhero for a great climbing experience with flying rope hero in flying police game. The cop robot hero got ready to play rescue simulator game. People trust superhero rescue against city gangster mafia in super speed. They really think that flying hero robot can save them from real gangster squad by climbing with the ropes in super hero game. Flying rope hero can fight the battle for crime city survival against rival gangs. So, get ready for police robot rescue to enjoy futuristic robot game. Fight like a genuine warrior in hero fighting game against city gangster mafia and save your city.


Defeat Gangster Crime Mafia
Only you as a flying rope hero is not less than a powerful heroes team so you won't need other super hero fighters with you in flying robot game. Super hero vs gangster mafia fight going to take place in your home town and as a flying police superhero you need to settle it down. Flying police robot war is full of such super human that's why there's a big robot adventure awaits for you in rope hero game. Being a flying robot warrior dash to the superhero rescue missions against rival gangs for crime city survival. The cop robot rescue mission is not limited to police chase only in real gangster game as the treacherous Vegas crime mafia is also active in the sin city. Increase your fighting capabilities by upgrading powerful heroes in the giant clash of super hero vs gangster mafia.

Rope Hero Robot Fighting
Get ready for fly hero rescue as a robot hero in flying robot game. Super hero fighters are ready for powerful superhero fight in cop robot rope hero game. Fold your sleeves for flying robot adventures in city rescue and save precious lives as a merciful rope hero. A flying police rope hero robot is a super human and can win the hearts in street fighting. Take part in city rescue missions of police game with your significant flying powers.


Flying Police Robot Rope Hero: Gangster Crime City' Features :
- Number of city rescue missions with rival gangs
- Superhero game also contain flying heroes robot movement
- Futuristic robot fight with flying police chase
- Extra ordinary superhero and super rope hero
- Grand robot fighting high quality animations
Daha az gör Daha fazla gör
Rope Robot Hero Superhero Game oyununu PC'de oyna. Başlamak çok kolay.
BlueStacks'i PC'nize İndirin ve Yükleyin

Play Store'a erişmek için Google girişi yapın ya da daha sonraya bırakın.

Sağ üst köşeye Rope Robot Hero Superhero Game yazarak arayın.

Rope Robot Hero Superhero Game uygulamasını arama sonuçlarından indirmek için tıklayın.

(iEğer Adım 2'yi atladıysanız) Rope Robot Hero Superhero Game uygulamasını yüklemek için Google'a giriş yapın.

Oynatmaya başlatmak için ekrandaki Rope Robot Hero Superhero Game ikonuna tıklayın.