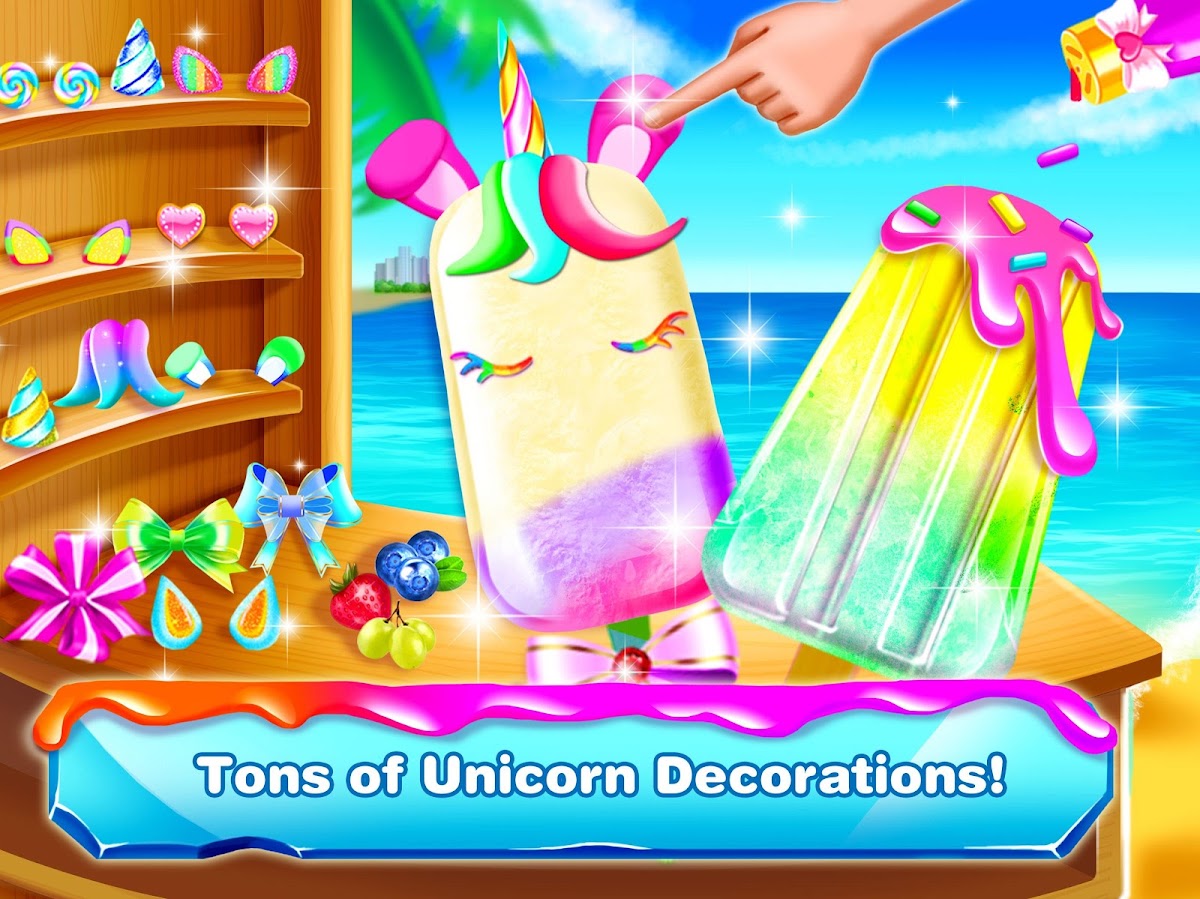 Unicorn Icepop - Ice Popsicles Mania
500M + oyuncunun güvendiği Android Oyun Platformu, BlueStacks ile PC'de oynayın.
Sayfa Değiştirilme tarihi: 28 Ağustos 2019
Oyun Özellikleri
Unicorn Icepop - Ice Popsicles Mania is the best ice cream game to make ice pops and popsicles. For ice cream games, making icepops, slushine, milkshake, ice cone, ice cream sandwich, helado are really fantastic. Summer is coming, you will have nice yummy treat with all kind of memo ice creams. In this ice lolly maker game, icepops are the best. Fruit icepop, unicorn icepop are offered, such as strawberry popsicles, cream icepop and juice icepops. Popsicles mania, come to join this ice dessert salon and make rainbow unicorn ice-cream.

IcePop & Ice Popsicles Mania Game Features
1. Wow, ice fever is already arriving. Welcome to ice cream bar and cook food with lollipop. Here is ice lolly maker game, say goodbye to bad ice cream, excellent icecream and icepop is calling you.
2. Hot summer is coming, to be ice cream maker in sweet ice cream shop will help you break ice and Ice popsicles will calm you down then pop your stress. Pop maker! DIY your own icepops and popsicles.
3. For girls, strawberry are welcomed, such as strawberry ice cream, strawberry short cake or strawberry star, so fruit icepop is in demand; As for unicorn style, rainbow are forever, add unicorn element in this icecream food game must be a good idea.
4. If you are dessert maker, fruit might be your closed friend. In any food maker games, fruit is a good ingredients to get food. In ice cream truck, you can choose tons of fresh fruits. I recommend strawberry, I like strawberry ice cream or icepop.
5. Unicorn ice pop is so cute. Making creamy popsicles must be an extraordinary experience. Put on your ice cream stack, cook food in unicorn style immediately and cream the ice pop., you can make the best popsicles that ice cream shop ever sold.
6. Icy feeling is precious in summer, ice bucket is huge, If you like slushy maker, this quick ice maker is suitable for you. Making popsicles as soon as possible and get ice fever in this summer time.
7. Decoration time! In this pop maker game, diy your own unicorn popsicles, it is no longer a normal popsicles but a new ice levels. Join this super fun free games and make ice crean by yourself.
8. Ice pop is made by pop maker. Making food is not easy thing. In this ice cream game, food making become interesting, everyone could become desert maker and make memo ice creams.
9. Are you ready for this ice popsicles mania? Make the excellent icepops in this food making games. Do you love this kids game with food?
10. Unicorn chef, popsicles chef, ice creams are prepared. Come to enjoy this yummy treat.
11.Lovely girls, if you like this icecream food game, remember share it with your family and friend.

ABOUT FunPop
FunPop are specialize in kid's games on mobile platform. We are aiming to provide innovative & educational game for the whole family. We help them to learn the basic life skills and good habits through our games.
Visit us: http://www.funpop.com.cn
Watch us: https://www.youtube.com/c/FunPopMedia

CONTACT US
Let us know what you think! Questions? Suggestions? Technical Support? Contact us 24/7 at contact@funpop.com.cn
Daha az gör Daha fazla gör
Unicorn Icepop - Ice Popsicles Mania oyununu PC'de oyna. Başlamak çok kolay.
BlueStacks'i PC'nize İndirin ve Yükleyin

Play Store'a erişmek için Google girişi yapın ya da daha sonraya bırakın.

Sağ üst köşeye Unicorn Icepop - Ice Popsicles Mania yazarak arayın.

Unicorn Icepop - Ice Popsicles Mania uygulamasını arama sonuçlarından indirmek için tıklayın.

(iEğer Adım 2'yi atladıysanız) Unicorn Icepop - Ice Popsicles Mania uygulamasını yüklemek için Google'a giriş yapın.

Oynatmaya başlatmak için ekrandaki Unicorn Icepop - Ice Popsicles Mania ikonuna tıklayın.