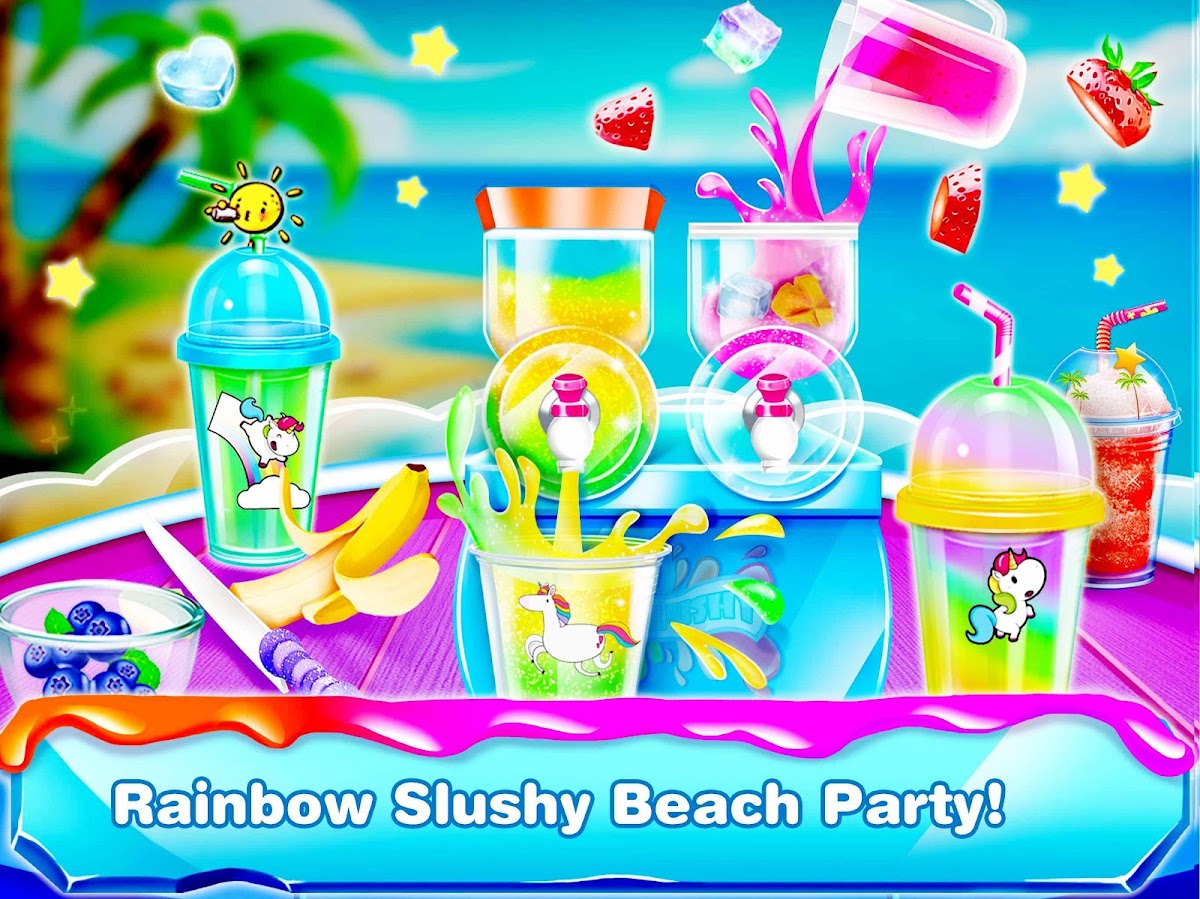 Unicorn Slush Maker – Ice Slush Magic Games
500M + oyuncunun güvendiği Android Oyun Platformu, BlueStacks ile PC'de oynayın.
Sayfa Değiştirilme tarihi: 17 Ocak 2020
Oyun Özellikleri
Do you like food making game like Unicorn Slushie Maker – Ice Slushy Games? Unicorn kid always like unicorn food. In this game, you can become food maker and make sweet unicorn rain bow slushie by using slushie machen. Slushy, you can also call it batidos, is one of the best ice desserts in all summer drinks. Summer is my favorite season, we can make and eat all kind of summer desserts, such as ice candy bars, rainbow snow cones, ice cone, icepops, ice cream sandwich, ice candy popsicle. Now, Slushy maker& unicorn ice maker, icy food maker games are waiting for you, you can totally experience the slushy magic and frosty feeling during hot summer. I believe you will like this juicegame.

Icy Slushie Maker Game and Ice Candy Bars Feature
1.I appreciate ice desert maker, they can make icy drinking in rainbow shops. Do you want become unicorn desserts maker to DIY your loved summer desserts?
2.Wow, so many icy summer desserts! Using machen to make icy dessertes must be a good idea. Summer time can't live without ice creams, popsicles, slushie, snow cones. Come on! Go for this sweetice cone and snow cones.
3.Sweet unicorn slushie maker! Can you reject frappe batido in hot summer. You will love this yummy nummies. Let's create ice dessert like icy slush to chill out in summer season
4.In this slushie food making game, three brand-new badios are offered. Popsicles slushie, magic soda cup slushy and fruit slushie. You can make sluishie like ice cream maker or ice lolly maker in this ice maker game.
5.In popsicles slushie, you will get food through shave ice. Rainbow unicorn icepop will bring you fantastic icy feeling, come to join the food maker games.
6.What a pretty magic soda cup slushy! Adding ice, bebidas and juice then mix it, a great slushy were finished.
7.I like fristy strawberry, strawberry ice cream is my love. How about frappe strawberry slushy or other frappe furit slushie, it must taste good. Do you want to try our slushy maker game?
8.Great desserts maker, you are the best unicorn chef in this hot days. Try your best to make more dessertes. Ice maker! I am looking forward your talented making skill in this ice desert game.
9.Juicegame decoration time! In this ice maker game, we are not only care about your food making experience, decoration process is also really important in this food maker game, so many soda cup and sprinkles are there. Just enjoy this decoration carnival in unicorn sluhie maker game.
10.Sweet slush and batido is calling you in this slushie magic game, you can't miss this rainbow app!
11.Hoping this slushy maker game will provides you happiness, you can get food and enjoy this icy feeling in hot summer.

ABOUT FunPop
FunPop are specialize in kid's games on mobile platform. We are aiming to provide innovative & educational game for the whole family. We help them to learn the basic life skills and good habits through our games.
Visit us: http://www.funpop.com.cn
Watch us: https://www.youtube.com/c/FunPopMedia

CONTACT US
Let us know what you think! Questions? Suggestions? Technical Support? Contact us 24/7 at contact@funpop.com.cn
Daha az gör Daha fazla gör
Unicorn Slush Maker – Ice Slush Magic Games oyununu PC'de oyna. Başlamak çok kolay.
BlueStacks'i PC'nize İndirin ve Yükleyin

Play Store'a erişmek için Google girişi yapın ya da daha sonraya bırakın.

Sağ üst köşeye Unicorn Slush Maker – Ice Slush Magic Games yazarak arayın.

Unicorn Slush Maker – Ice Slush Magic Games uygulamasını arama sonuçlarından indirmek için tıklayın.

(iEğer Adım 2'yi atladıysanız) Unicorn Slush Maker – Ice Slush Magic Games uygulamasını yüklemek için Google'a giriş yapın.

Oynatmaya başlatmak için ekrandaki Unicorn Slush Maker – Ice Slush Magic Games ikonuna tıklayın.