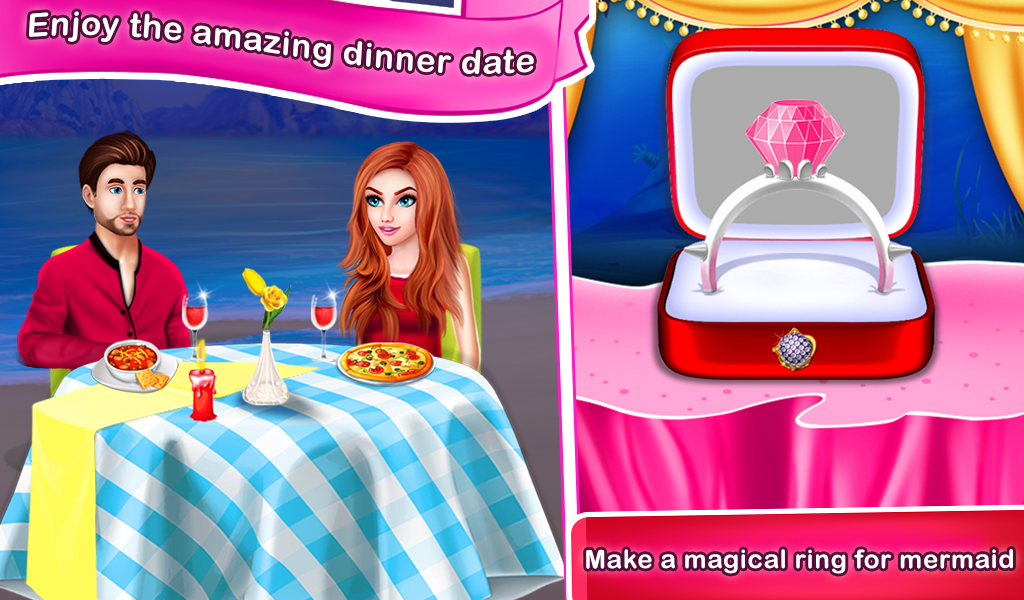 Mermaid Rescue Love Crush Secret Game
Играйте на ПК с BlueStacks – игровой платформе для приложений на Android. Нас выбирают более 500 млн. игроков.
Страница изменена: 24 декабря 2019 г.
Особенности игры
Fairytales story games like mermaid rescue love story are world-famous. That's why we have lined a series of a mermaid rescue story. This game revolves between the different phase of the mermaid Carol and Prince which is consist of different tasks and storyline. Stay tuned to enjoy more mermaid story game.

# Part 1: Mermaid Rescue Love Crush: Mermaid Carol And Prince Fall In Love With Each Other

We have come up with a fantastic mermaid's love crush story secrets game. The princess mermaid lives in a castle deep in the sea. A group of best friends came here for fishing in this mermaid rescue game. But unfortunately, they capture the innocent mermaid. Mermaid Story feels so disappointed after what happened to her. She wants to get out of there. Play this mermaid love story game to know more about the mermaid life story.

# Part 2: Mermaid Marriage Proposal: Enjoy A Romance Story Between The Mermaid Carol & Prince

Princess Mermaid Carol and Prince fall in love with each other in this Mermaid game. In this part, both enjoy a lot at the beach and spend some quality time with each other in mermaid game. But her exboyfriends find out that she's with some another boy so he fights with the prince in this princess rescue story. Mermaid introduced Prince to her father for the marriage in this story game. Play this mermaid love story game and found all your answers.

# Part 3: Priceless Diamond: See How Prince Help Mermaid To Get Diamond From Witch

We have seen that previously in mermaid rescue, the mermaid was captured by Prince then mermaid tried to take revenge but eventually both fall for each other. Mermaid's ex-boyfriend tries to be an obstacle in the mermaid's marriage proposal. Now Prince needs to complete four conditions to marry the Mermaid puzzle game. Prince is totally clueless about how to complete this messy condition in this mermaid rescue story game. So a helping fairy "Flora" manifest there and helps him in this mermaid journey game. To complete the first condition, Prince tried his best but there are so many obstacles in this escape game, puzzles, and thrilling tasks to stop the Prince in this thrilling game.

# Part 4: Rescue Mermaid's Brother: Coming Soon

In mermaid princess story adventures, we saw that Prince is on a mission to complete all the conditions to marry the mermaid. Now he's heading to complete the second condition which is to rescue the mermaid's brother. During this journey, Prince got some help from the helping fairy Flora in this open door game. When he finally reaches to rescue the Mermaid's brother but the magician captured both of them and put them in jail in this escape game.


# Key Features of Mermaid Rescue Story Secrets

Celebrate mermaid's birthday in this mermaid story game
Do fishing and capture different fishes in the fishing game
Repair the aquarium cage for mermaid game
Fix the magical ring for the mermaid in this mermaid rescue game
Swimming at the beach with skin protection
Feel the love in the air with romantic moments
Play amazing swimming minigame
Perform multiple treatment spas at the beach
Entertaining kissing prank game
Cook some delicious dishes
Decorate the castle beautifully
Find the map to the island from the hidden place
Help Prince to make poison and a magic wand
Deadly tasks like jumping over the balls and rings on fire
Solve the puzzle and open the cage to save witch's daughter
Join the pipelines and make the way for Prince
Jump over the deadly fishes and reach to the treasure box
Fix the boat by using different tools
Drive the boat to the island without any accident
Crack the puzzle and reach to the mermaid's brother
Give refreshing treatment to the mermaid's brother

Play this superb mermaid rescue love story game to enjoy the adventure of the mermaid in her crush love story. There will be many ups and downs to entertain you completely.

# What's New??
Enjoy 3 Parts Of The Game In One Game
Thrilling Love Story Of Mermaid And Prince
Играйте в игру Mermaid Rescue Love Crush Secret Game на ПК. Это легко и просто.
Скачайте и установите BlueStacks на ПК.

Войдите в аккаунт Google, чтобы получить доступ к Google Play, или сделайте это позже.

В поле поиска, которое находится в правой части экрана, введите название игры – Mermaid Rescue Love Crush Secret Game.

Среди результатов поиска найдите игру Mermaid Rescue Love Crush Secret Game и нажмите на кнопку "Установить".

Завершите авторизацию в Google (если вы пропустили этот шаг в начале) и установите игру Mermaid Rescue Love Crush Secret Game.

Нажмите на ярлык игры Mermaid Rescue Love Crush Secret Game на главном экране, чтобы начать играть.