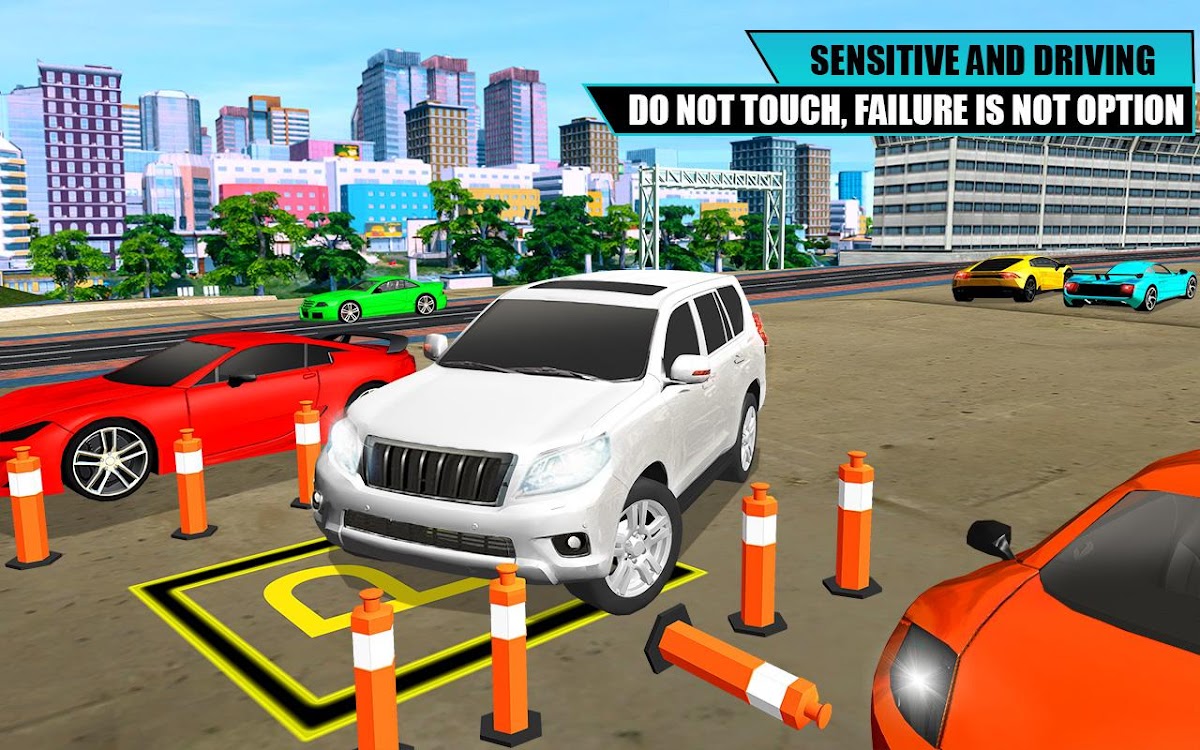 Prado Parking Site 3d Christmas: Prado Car Games
Simulation | Spartans Global INC.
Spiele auf dem PC mit BlueStacks - der Android-Gaming-Plattform, der über 500 Millionen Spieler vertrauen.
Seite geändert am: 2. Januar 2020
Game Features
On this Christmas Season 2020 we present your the craziest car parking game in which you test your driving skills and have fun in this winter. Spartans Global Inc. Wish You All Happy Christmas.

Get behind the running wheels of parking cars. Grab the steering of your car, gear it up and start the fun of car games. Do you love car parking games?

If yes then become a master driver in Christmas parking lots.

Simulate the 30 best crafted unique levels. Drive your car in busy traffic and park car in parking lot. Become expert car driver and win the fun of leisure time. There are addictive parking car levels with different strategies. Drive in the busy parking lots with manual vehicles. For your ease we have added different difficult and easy tasks. Start your driving training from easy levels and learn the basic driving skills. Repeat the levels again & again to increase the driving accuracy.

Drive the luxury cars for free. Make it possible in Prado Parking Site 3D. A perfect game for parking game lovers. This prado parking adventure 2019: car driving games is totally free. You are the owner of the super luxury Prado cars on this Xmas. Build up your driving & parking techniques. This simulation 3D game is all about parking skills. Beautifully managed levels are a real driving teacher for you.

Drivers get ready to drive in traffic cones with top camera view. Make it possible to have a look of drone camera view in this free game. Play car wala game as the winner belongs to the top rank in category of car wala games. City Prado Drive Car Free Games: Parking Car Games is simple the best driving car game of year 2019 so experience the best of car games 2019. We have added 3 different modes in car parking game so enjoy different challenging levels. On this Christmas Day don't forget to play this new car games 2020. On this Xmas season, Spartans Santa present you the unique and best experience of car driving in modern parking lot.


Let's drive the big vehicles in busy parking lots. Enjoy the finest controls in this genuine car parking game of 2019. Do you want to play best car parking games? Try Prado Parking Site 3D one of the best parking games 2019. This game is a driving book if you want to learn about how to park a car in free games. You will become the king of parking with 4x4 Prado cars. Now time is too short just get behind the wheels of super cars. Most addictive parking adventure is at your fingertips. Become a new car driver and make the new record in parking areas. Challenge your friends, master the game-play in this car driving game. Fun of new car parking games is packed in install button. Download now the most addictive car game for free.

Prado Parking Site 3d: Prado Car Games Features:

- Drive cars in busy parking lots
- Learn driving & parking skills with traffic cones
- Accept the open parking challenge
- Easy to challenging tasks
- Cool driving physics with reverse parking
- This parking game is free to play
- Available offline you can play it at any time anywhere

It's all about your driving skills, play and improves your parking skills. Learn about the driving rules before going to highway. This fun game is an entertainment for your precious time. So let's enjoy the fun for free presented by Spartans Global Inc. Wish you all Merry Christmas and dec 25 winter holidays with our new games 2020.
Weniger lesen Weiterlesen
Spiele Prado Parking Site 3d Christmas: Prado Car Games auf dem PC. Der Einstieg ist einfach.
Lade BlueStacks herunter und installiere es auf deinem PC

Schließe die Google-Anmeldung ab, um auf den Play Store zuzugreifen, oder mache es später

Suche in der Suchleiste oben rechts nach Prado Parking Site 3d Christmas: Prado Car Games

Klicke hier, um Prado Parking Site 3d Christmas: Prado Car Games aus den Suchergebnissen zu installieren

Schließe die Google-Anmeldung ab (wenn du Schritt 2 übersprungen hast), um Prado Parking Site 3d Christmas: Prado Car Games zu installieren.

Klicke auf dem Startbildschirm auf das Prado Parking Site 3d Christmas: Prado Car Games Symbol, um mit dem Spielen zu beginnen