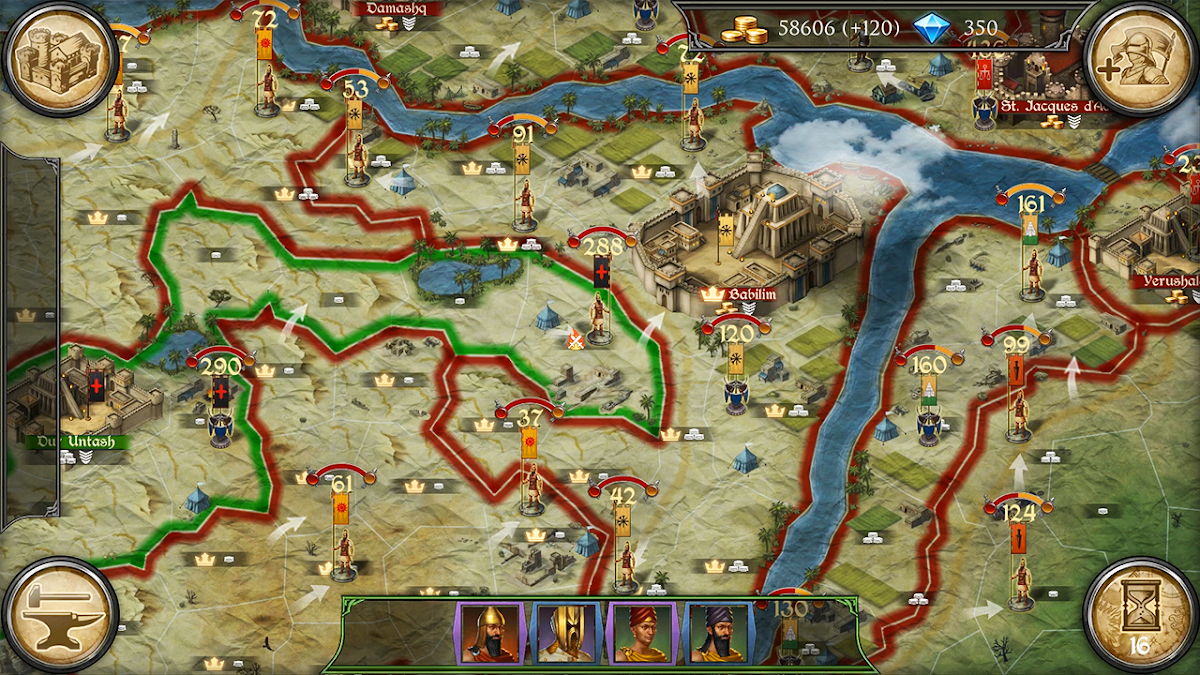 Strategy & Tactics: Medieval Civilization
Strateji Oyunları | HeroCraft Ltd.
500M + oyuncunun güvendiği Android Oyun Platformu, BlueStacks ile PC'de oynayın.
Sayfa Değiştirilme tarihi: 29 Ağustos 2019
Oyun Özellikleri
Dark Ages is a turn-based strategy game set in the violent world of an alternate Middle Ages of Europe. Vikings against war elephants, musketeers against the Mongol cavalry, ancient phalanx legions against crusaders; the deadliest armies in history of the Earth clashing in bloody victorious war.

An army without leadership is merely a mob. In Dark Ages, troops follow the lead of their commanders: unique leaders with their own virtues, vices, talents, risks, history and weaknesses.

Take the throne of a small kingdom in Europe being torn apart by feuds and threatened by militant neighbors, and try to survive the Dark Ages.

Recruit troops and commanders, train and improve their skills, practice tactical surveys and create the best army on Earth, invade towns and destroy whole countries, develop economy, politics, explore and conquer Europe! Act like a leader!

Features

⚔️NO POLITICS, JUST CONQUER
6 factions with unique generals and squads: the nimble nomads of the Horde, the well-armored and disciplined Imperial soldiers, the mad Sea Barbarians clad in furs, the Union's guilds welding gunpowder, the proud knights of the North, and the exotic cults of the Twin Rivers.

⚔️REAL VALUE
Over 50 types of squads based on real historical troops. No armored bikinis or spiked pauldrons here!

⚔️VICTORIOUS LEADERS
Generals are the linchpin of a squad, and their skills and abilities can drastically change the outcome of a battle. Each general has a unique personality generated at the beginning of each game. Each has their own appearance, character traits, and abilities. It's impossible to predict who will appear the next go 'round: a brave but simple knight, a talented but greedy tactical genius, or a bloodthirsty barbarian who instills fear in friend and foe alike.

⚔️YOUR HISTORY, YOUR SCENARIO
Feel like an elite mercenary who solves problems of influential countries: win a civil war, fight off nomads, deal with pirates raiding the coast, save a kingdom ravaged by plague, or crush a peasant uprising.

⚔️BUILD YOUR ARMY
Upgrade your squads at the royal forge and lead them to a victorious march that will go down in history of Medieval Europe!

Daha az gör Daha fazla gör
Strategy & Tactics: Medieval Civilization oyununu PC'de oyna. Başlamak çok kolay.
BlueStacks'i PC'nize İndirin ve Yükleyin

Play Store'a erişmek için Google girişi yapın ya da daha sonraya bırakın.

Sağ üst köşeye Strategy & Tactics: Medieval Civilization yazarak arayın.

Strategy & Tactics: Medieval Civilization uygulamasını arama sonuçlarından indirmek için tıklayın.

(iEğer Adım 2'yi atladıysanız) Strategy & Tactics: Medieval Civilization uygulamasını yüklemek için Google'a giriş yapın.

Oynatmaya başlatmak için ekrandaki Strategy & Tactics: Medieval Civilization ikonuna tıklayın.