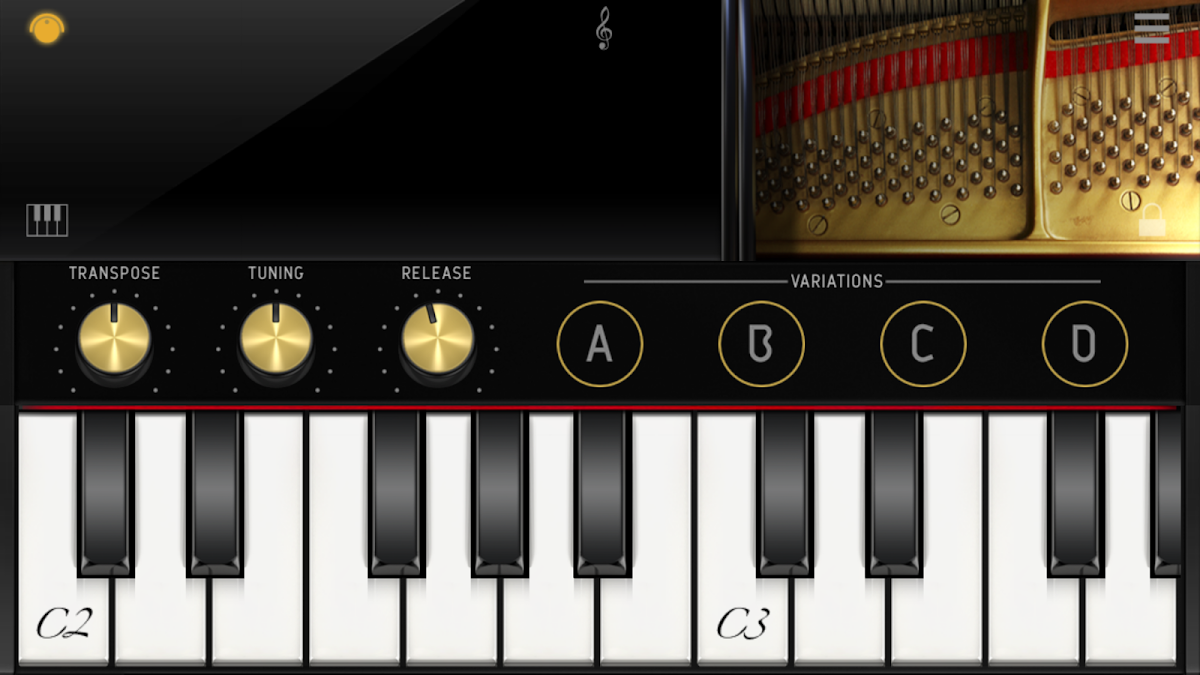 iGrand Piano
Musik & Audio | IK Multimedia US, LLC
Spiele auf dem PC mit BlueStacks - der Android-Gaming-Plattform, der über 500 Millionen Spieler vertrauen.
Seite geändert am: 30. Juli 2019
Game Features
THE CONCERT QUALITY PIANO APP

iGrand Piano is the ultimate grand piano instrument that puts an extraordinary collection of ultra-realistic acoustic pianos at your fingertips. Use the iRig KEYS and KEYS PRO portable keyboards (www.irigkeys.com) and you'll be ready to jump start your mobile playing with the absolute best sounding piano instruments for your mobile world. Edit your sounds and save up to 4 user variations per instrument.

Jam out, get inspired and capture your creativity — you can record your playing with Samsung Soundcamp if you have a Samsung Professional Audio Device.

iGrand Piano puts the world's finest pianos in your pocket with studio-grade quality that stands up to the most powerful virtual instruments available on a computer.

With high-definition stereo samples across multiple velocities, iGrand Piano brings you the most playable, expressive and beautiful sounding piano instruments available on a mobile device that you can play anytime and everywhere.

iGrand Piano gives you 8 world-class pianos (including one by registering).

Add the Piano Expansion 1 via in-app purchase to extend your piano library with 9 additional high-quality instruments or the Piano Expansion 2 with 22 all-new instruments including the Hollywood Piano, piano + strings layers and harpsichords.

Record your rehearsals or performances using iGrand Piano as a plug-in for Soundcamp, you can change the tempo of your piece or even choose to use a different piano AFTER you've completed your performance!

iGrand Piano also includes professional MIDI performances to help you audition the various piano instruments or just inspire your own creative muse!

The easy-to-use instrument editor puts real-time controls on the panel just above the keys to let you adjust the amount of ambience, the position of the lid (open, closed or anything in between), brightness, envelope release, key transposition and tuning.

iGrand Piano is designed to work seamlessly with most Android compatible MIDI controllers like IK Multimedia's ultra-portable 37 mini-key iRig KEYs keyboard and super-compact 37 full-sized key iRig KEYS PRO keyboard. An OTG to Micro USB cable is required for connection and can be purchased separately from the IK online store.

iGrand Piano features:

- World-class, multi-velocity stereo grand and upright piano instruments (Upright Piano available by registering)
- Expandable libraries offer 31 additional instruments instantly available via in-app purchase
- Intuitive instrument edit controls including ambience, lid, brightness, release, tuning and transpose
- Easy-to-use instrument editor with transpose to adjust ambience, tonality and tuning with 4 user variations per instrument
- Available as a plug-in for Soundcamp
- Low-latency for real-time playing (requires Android 5 Lollipop)
- More than 64-voice polyphony on the latest devices
- Can be used with Android-compatible MIDI controllers like iRig KEYS and iRig KEYS PRO
- Free version also available

To use iGrand Piano with Soundcamp, an Android device that supports Samsung Professional Audio technology is required, like the Samsung Galaxy S6, S6 Edge, Note 4 and Galaxy Note Edge or the Samsung Galaxy S5 or Galaxy Note 3 with Android 5 Lollipop installed.

For more information:

www.ikmultimedia.com/igrandpianoandroid
www.irigkeys.com
Weniger lesen Weiterlesen
Spiele iGrand Piano auf dem PC. Der Einstieg ist einfach.
Lade BlueStacks herunter und installiere es auf deinem PC

Schließe die Google-Anmeldung ab, um auf den Play Store zuzugreifen, oder mache es später

Suche in der Suchleiste oben rechts nach iGrand Piano

Klicke hier, um iGrand Piano aus den Suchergebnissen zu installieren

Schließe die Google-Anmeldung ab (wenn du Schritt 2 übersprungen hast), um iGrand Piano zu installieren.

Klicke auf dem Startbildschirm auf das iGrand Piano Symbol, um mit dem Spielen zu beginnen