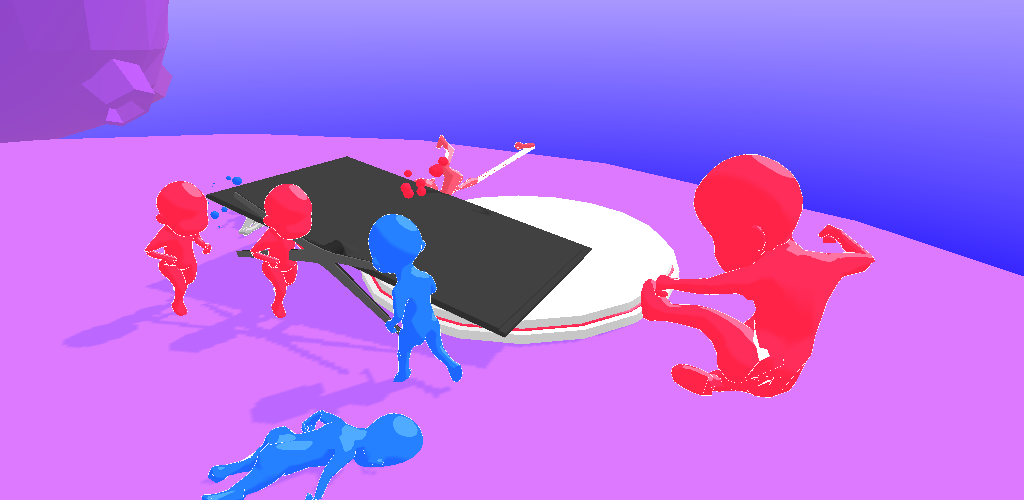 Sling Fight 3D
500M + oyuncunun güvendiği Android Oyun Platformu, BlueStacks ile PC'de oynayın.
Sayfa Değiştirilme tarihi: 28 Eylül 2021
Oyun Özellikleri
🥊 SLING FIGHT 3D – FUN SLINGING ACTION

Line up the sights of your slingshot and fling another jelly man into action 🏃‍♂️🏃🏽‍♂️ in this fast and frantic casual catapult game where lovable jelly figures do battle to claim an awesome pile of electronics and all sorts of other junk. What on earth do they need all those 🖥️ TVs and 💻 laptops for? Who cares?

Just sling some more of them into battle, grab the gadgets, ward off the enemy jelly men, and enjoy their adorable jelly victory dances 🕺🏽 when you've captured the required amount of junk. A one-of-a-kind crazy casual game guaranteed to give you short sharp shots of adrenaline and wild fun.

🤘 IF IT AIN'T GOT THAT SLING… 🤘

★ The game really couldn't be simpler — aim your slingshot at an item on the board and catapult a jelly figure into action to capture it and carry it off to your base. The other side is after those items too, though, and their jelly men are ready to fight jelly tooth and jelly nail for them, so you'll have to outpace them or outnumber them to ensure the spoils are yours.

★ Or could it? — as you progress through the levels, new features appear in the game to spice up the slinging fun, from tricky obstacles that need to be destroyed before your guys can grab the goodies to jellygnite explosives that will blast every jelly man in the vicinity (including the carrier) to pieces, and even multipliers that will swell your jelly ranks right there on the field. Use your slingshot with care to overcome the obstacles, take advantage of boosters, and keep on carrying home the loot.

★ Tremble like jelly! Boss levels are an extra challenge, with fierce and heavily armed jelly giants that will have your jelly men quaking in their jelly boots. Throw everything you've got at them, make sure to catch the boosters, and eventually even the mighty will succumb to your slingshot in these epic jelly battles.

★ All slinging, all dancing — victory in Sling Fight leads to wild celebrations. It's worth slinging in a few extra jelly men just to watch their unique and crazy victory dances and see their blank jelly faces come alive with a whole range of joyful emoticons. Quirky, fun design will keep you coming back to the game again and again for another blast of jelly joy.

ANYONE CAN SLING 😏

Looking for a fun casual game that's easy to play, engaging, and hugely entertaining? Catapult straight into a world of crazy jelly fun right now with Sling Fight 3D.

Download the game to outfox the jelly enemy, grab a pile of gadgets, and discover the sweet pure joy of slinging today.
Daha az gör Daha fazla gör
Sling Fight 3D oyununu PC'de oyna. Başlamak çok kolay.
BlueStacks'i PC'nize İndirin ve Yükleyin

Play Store'a erişmek için Google girişi yapın ya da daha sonraya bırakın.

Sağ üst köşeye Sling Fight 3D yazarak arayın.

Sling Fight 3D uygulamasını arama sonuçlarından indirmek için tıklayın.

(iEğer Adım 2'yi atladıysanız) Sling Fight 3D uygulamasını yüklemek için Google'a giriş yapın.

Oynatmaya başlatmak için ekrandaki Sling Fight 3D ikonuna tıklayın.