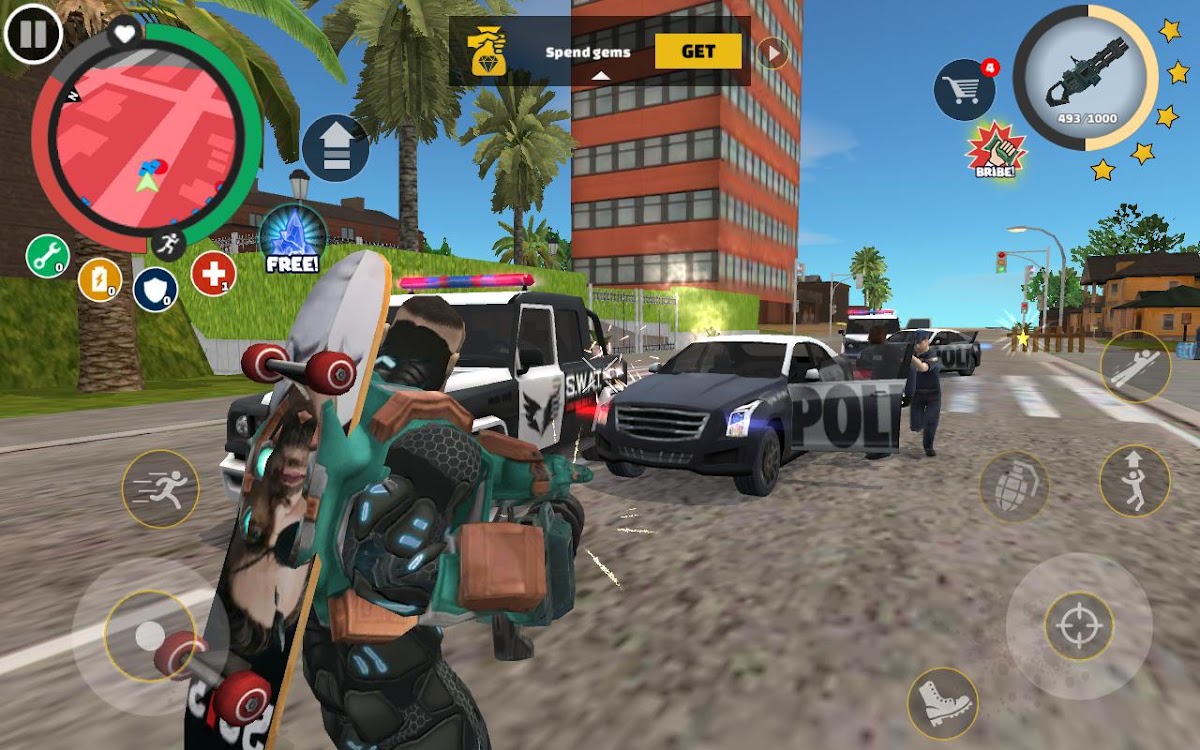 Rope Hero: Vice Town
500M + oyuncunun güvendiği Android Oyun Platformu, BlueStacks ile PC'de oynayın.
Son Güncelleme 10 Haziran 2021
Oyun Özellikleri
Meet the biggest update of the free game about the funny blue super hero. We made huge improvements and additions. The updated world has become even more interesting and exciting. We have improved the quality of graphics, completely redesigned the huge open world and increased its size.

Now it's time to become a real super hero. It's time to be strong, fast, and fearless. Start your mission right now and rise to the top of fame. Try your hand at an exciting 3D third-person shooter with RPG elements, get a new gaming experience and new emotions playing the new version.

Use your power to free the city from crime. The main character still has to fight evil by playing interesting quests. The hero will fight with gangsters and other evil that filled this city. The hero will win fame and gain huge popularity in the city. Also, the hero is waiting for exciting chases and fights with various bosses.

Your character still has super powers. He has an unlimited super rope in his Arsenal, as well as the ability to make mega jumps and landings, the ability to move around buildings, and many more interesting things. With the help of a rope, the hero can quickly move through the buildings of the city, move over the buildings and be aware of what is happening on the city streets.

We have significantly expanded the game store, as well as discounts on products. The game has updated the range of ammunition for the player, you can customize your character using any sets. This makes it unique among others.

The game has updated the set of vehicles, appeared beach SUV, bike, improved pink tank, helicopter, plane. The game has a large number of improved vehicles for movement, everyone can choose their own transport to taste.

Your super hero in the game has a huge Arsenal of cool pieces. Try the most popular of them, you can get them in the game store.

Skateboard-this thing is always available to the player, with it you can more interesting to move around the city, perform interesting tricks and maneuvers.

An improved version of the parachute, it has more controllability, with the help of the updated parachute, the hero will be able to perform more extreme tricks.

GLIDER-an addition to the super hero costume that allows him to fly on jet propulsion, like a fast military aircraft. This thing helps to move very quickly on the map, to get away from prosecution. The jet wings are equipped with a weapon system that extends the functionality and allows you to return fire.

Selfie stick-allows you to take photos of interesting moments in the game and share them with your friends. This funny thing can also be a great means of self-defense. Since a real super hero is always on the alert.

The game has expanded the Arsenal of weapons, new SCI-FI blasters and classic powerful guns.

Especially helps the hero in quests new super hero weapons.

Freezer-a gun that allows you to freeze opponents for a while. This gun allows you to freeze tanks, robots, cars.

GRAVIGUN-cool weapon that allows you to attract enemies to yourself. This is a great thing, the possibilities of its use are limited only by the imagination of the player.

FLAMETHROWER - a powerful gun that shoots fire, with it you can set fire to everything in the city that you want.

DANCE GUN - a fun thing, with the help of it, the player can make all their opponents dance. With this thing, you can have great fun in the 3D city.

We hope you will like the new version of the game very much.
Daha az gör Daha fazla gör
Rope Hero: Vice Town oyununu PC'de oyna. Başlamak çok kolay.
BlueStacks'i PC'nize İndirin ve Yükleyin

Play Store'a erişmek için Google girişi yapın ya da daha sonraya bırakın.

Sağ üst köşeye Rope Hero: Vice Town yazarak arayın.

Rope Hero: Vice Town uygulamasını arama sonuçlarından indirmek için tıklayın.

(iEğer Adım 2'yi atladıysanız) Rope Hero: Vice Town uygulamasını yüklemek için Google'a giriş yapın.

Oynatmaya başlatmak için ekrandaki Rope Hero: Vice Town ikonuna tıklayın.